Small Cap Value Report (Wed 5 Sep 2018) - SOM, QUIZ, KNOS, XAR
Good morning!
I probably won't have time for reader requests today. The reason being that the dentist needs to reverse years of neglect of my teeth, with some repairs. It's nothing serious, but more a time issue, in that I'll be out all afternoon.
To get you started, here's a link to yesterday's report. I wrote loads more sections in the afternoon, so it now covers 13 companies in total.
---
Upbeat comments & results are out today from the UK's largest housebuilder, Barratt Developments (LON:BDEV) . It's outside the remit of this small caps report, but given the importance of housing to our overall economy, I always like to quickly read the commentary & glance at the numbers for major housebuilders. Barratt's CEO sounds positive about the outlook;
The Group starts the new financial year in a good position with a strong balance sheet, healthy forward sales and robust consumer demand supported by a positive mortgage environment."
So, cheap mortgages and Help To Buy are keeping the new house market healthy, it seems. For how long though? Nobody knows. It's strikes me as a crazy market, where cheap debt is fuelling Barratt's 17.7% operating profit margin.
Housebuilder shares seem to have come down quite a bit this year, and offer amazing (but probably unsustainable, longer term) dividend yields.
---
Share price: 391.5p (up 1.7% today, at 08:32)
No. shares: 56.3m
Market cap: £220.4m
This US-headquartered company is the world leader in laser-guided concrete screeding machines. It's long been a favourite stock of ours here at Stockopedia - both with the SCVR, and also a consistently high StockRank (see below). My view is that, if human small cap specialists like it, and the Stockopedia algorithms do as well, then we've probably got a decent chance of getting it right! So far we have been right, although nobody knows what the future holds.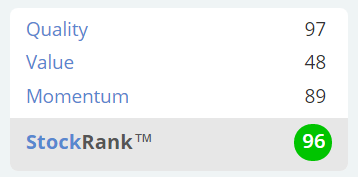 Interview with management - your questions please!
I have arranged to interview management on the telephone this Friday, and will publish the audio recording on my website. As usual, I am crowd-sourcing the questions from you, dear readers!
So please let me have…

Unlock this Article with a 14 day free trial
Already have an account?
Login here