Small Cap Value Report (Wed 8 May 2019) - EHG, VTU, DISH, ARB, REC
Good morning! 

The final list:
---
Archaeology - a quick note regarding what I said yesterday about the "archaeologists" who inhabit financial regulatory bodies. The Financial Reporting Council has only today imposed sanctions on KPMG and one of its partners for work done on the Co-Op Bank's accounts.
So which year's accounts would these be? FY December 2009! Yet again, we see how slowly the wheels of justice turn.
I'd also like to point out that cases like the Co-Op, Autonomy and Quindell are all very high-profile. In the small-company world, dodgy accounts are much less likely to even be investigated. Tread carefully!
---
Share price: 71.5p (+4%)
No. of shares: 89 million
Market cap: £63 million
Elegant Hotels Group plc

 

("

Elegant Hotels

"

, the 

"

Company

" 

or the 

"

Group

"

), the owner and operator of seven upscale freehold hotels and a beachfront restaurant on the island of Barbados, today announces its unaudited results for the six months ended 31 March 2019.
Paul and I have covered this share from time to time. Click here for my review of its final results in January.
It has looked "cheap" for a while, with a very high ValueRank. It currently has a high overall StockRank: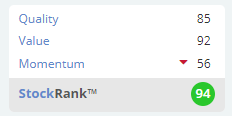 On the other hand, it's a hotel group, so we shouldn't have very high expectations of its growth prospects. Like any property company, there are natural limits in terms of how quickly it can grow.
Today's numbers:
Revenue +3%.
Adjusted EBITDA up 7%, adjusted PBT up 5%, adjusted EPS up 27%.
"Implied NAV" of 156p based on a GBP:USD exchange range of 1.3 and January 2018 property valuations by CBRE.
"comfortable" with outlook against market expectation.
Occupancy is up but average daily rates are down. All the changes are small.
RevPar (revenue per available room) is up marginally. I…

Unlock this Article with a 14 day free trial
Already have an account?
Login here