We offer unprecedented opportunities for investment writers to have their articles distributed to a wider audience across the web. Anybody who writes first class investment focused articles, whether as their profession or as an interest, can have their content reviewed for syndication.

When creating a new article on the site, you can tick the option stating 'Submit as an Article to the Editors for Syndication'. Our editors will review the content to see that it's consistent with our article publishing guidelines as stated below, categorise it and promote it to 'article' status. Alternatively, if you are a professional financial publisher and would like to deliver your content to us via xml or rss, contact support.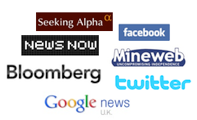 Once published on Stockopedia, the article will be featured on the front page and syndicated far more broadly to our distribution partners and social media network. Prestigious sites syndicating our content include Bloomberg, Newsnow and Google News. Our 15,000 twitter followers will also be notified that your article has been published. As your readership expands and you'll have the chance to grow a following interested in being notified of your future publications .
We also offer
Content Awards
in recognition of the best content published on Stockopedia.
Benefits to Contributors
Amongst our top contributors are professional research companies, brokers, educators and many extremely proactive private investors. There are many reasons why they contribute to Stockopedia:

Increased Profile and Exposure - As a Stockopedia Contributor, you will be exposed to a wide readership of top professional and private investors. The increased exposure provides many opportunities to enhance your reputation amongst the investment community or to publicise your company, newsletter or publications amongst a targeted audience.
Increased Web Presence - once your contributions are published as 'articles' then we syndicate the content to our web partners including Bloomberg, Newsnow, Google and more. This increases the discoverability of your content around the web creating greater readership. Why invest so much time publishing your posts, articles or research on firewalled websites when they aren't getting the audience they deserve?
Analytics and Tracking - Measure the audience engagement with your content with our bespoke readership analytics package.
Increased Media Access - we aim to bring the top financial minds amongst our userbase closer to the mainstream financial media providing opportunities for interviews and commentary.
Increased Company Access - We are in contact with company management teams and can coordinate meetings and Q&A sessions with management for our top contributors. Let us know who you want to connect with and we'll put people together.
Press Credentials - Our regularly published authors can qualify as financial press through Stockopedia. We can aid in access to conferences and media events.
Sitewide Privileges - we have lots of enhanced editorial and sitewide privileges to come. Watch this space!
Article Publishing Policy
While all contributors need only respect the Posting Guidelines to use the Forums, Stockopedia will only 'publish', promote and re-distribute articles that are of the highest quality.
In order to have an article accepted for publication on Stockopedia's Platform, it must meet also the following additional criteria:
Market-Focused - All articles must focus on macro or micro market related themes... from economics and interest rates, to funds, sectors or single stocks. General interest or politically motivated articles will not be published. Where possible, articles should be tied back to stocks as this is STOCKopedia, after all...
Primary Material - Quotations are ok where they support points that are being made, but the bulk of the article needs to be original.
Logic and Reason - We prioritise opinionated material backed by empirical evidence presented with logically reasoned arguments. Rants and Raves will not be accepted!
Balanced and Objective - An article can take a position on a given issue but it must be balanced. No pumping or dumping! While it's helpful to have anecdotal commentary in an article as that brings it to life, an article cannot only be based on your personal experience.

Grammar and Presentation - Articles must be written in prose and not require significant editing. Bullet points are fine as part of an article, but are not suitable alone.
Graphics - All graphics must be of a maximum width of 650px or else they will be resized. Please use image hosting websites such as http://tinypic.com and insert a link to the image using the image button on the Editor. We do not generally provide hosting for article images, although we can do so if you hold the copyright.
Length - All articles must be longer than 300 words but less than 2500 words in length. This does not preclude writing articles in series.
Technical Analysis - We prefer technical analysis backed by sound fundamental, empirical or historical supporting evidence.
Full Disclosure of Interest - Every article must include a full declaration in its footer whether the author has or has not any personal or affiliated interest in the stocks mentioned. Articles sponsored by the companies in question must also contain full disclosure In accordance with our T&Cs.
Not Self-Promotional - Any advertising of your interests should be kept in the Profile to distinguish content from advertising, although we will allow a one line comment at the end of the piece.
In addition, you must have uploaded a photo or avatar in your profile, and informed Stockopedia of your real name and contact number on the article submission form. While we appreciate that not everyone will want to reveal their true identities online, it is a requirement that all published Authors at least inform the Stockopedia team of their real names and contact details. These details will then be kept confidential by our Admin team.