All published Stockopedia authors receive analytics & feedback, as we recognise that this is important to ensure that you maximise the return on time invested in creating content. To provide better content metrics, we recently launched Readership Analytics for Publishers, a comprehensive tracking and measurement solution.
Our new real-time system provides readership analytics around specific stories you have published on Stockopedia (note that this is anonymized aggregate data), how many users commented, and any social media engagement. From there, you will have a better idea of what your audience finds most interesting and be able to capitalize on that engagement. Our objective with Stockopedia Analytics is to give you the same level of insight into the performance of Content that you would have if you published the content on your own blog or website. Start publishing content now!
Readership Widgets for your Articles and Dashboard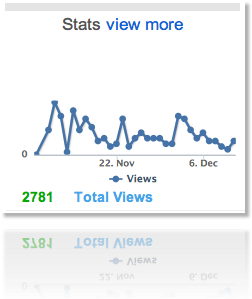 Published Authors have a chart widget on their Dashboard that show your Readership over the last 30 Days. The same widget is available to the right of each piece of content so that you can track the popularity of that specific content.
In addition to this, each Published Author receives a Monthly Readership Report by email showing a more detailed report across all their Published Content in the last 30 Days. Contribute to the Stockopedia Publishing Platform!
Advanced Readership Analytics Panel
BETA
In the Readership tab of their Profile, Published Authors also have access to a real-time readership report across all their published content. This allows you to track your last month's readership, versus your average performance.
You will also receive a detailed breakdown of both your most Recent Content and your most Popular Content showing Views and Votes. For reporting purposes, you can also download a CSV showing the readership statistics of the last 250 items published on Stockopedia. This information can be filtered by stock or topic.
Stockopedia users can also drill down into a more detailed readership analytics profile, including charting, for an individual piece of content. They are able to track click-throughs to their Profile on Stockopedia and, from there, to their own site.