Should investors worry about accounting red flags at Optibiotix Health?
As an investor, I want to know that I can rely on the accounts of the companies I buy shares in - and I bet you do too.

One metric that uses regression analysis to check the credibility of company earnings is called the Beneish M-Score. In this article I'm going to explain how it works by looking at Optibiotix Health (LON:OPTI) as an example.
About Optibiotix Health
Optibiotix Health is a speculative, small cap in the Biotechnology & Medical Research industry.
In terms of price performance, the Optibiotix Health share price has seen 1-year relative strength against the FTSE All-Share index of 26.4%.

While this momentum is positive, the Beneish M-Score - which I'll explain shortly - shows that there are areas in Optibiotix Health's accounts that might be worth closer investigation.
It's important to note that this doesn't mean that Optibiotix Health is doing anything wrong. But it does mean that the risks could be higher than for other shares. As an investor, you should know what these red flags mean - both in Optibiotix Health and any other stock you might be thinking of buying.
How the Beneish M-Score works
In 1999, a finance professor called Messod Daniel Beneish published a landmark research paper entitled The Detection of Earnings Manipulation. It showed how you can use accounting data to spot problems early.

Professor Beneish's M-Score looks at the year-on-year change in eight different ratios that can be worked out from a company's financial statements. It looks for these red flags:
Inflated revenues
Declining gross margins
Capitalised and deferred costs
Excessive sales growth
Lengthening depreciation periods
Rising sales expenses
Increasing leverage
Higher accruals
Ideally, you and I would want our stocks to be passing these checks with ease. But when a company fails one or more of them, it's time to dig deeper into the accounts to find out why.
Are there accounting risks at Optibiotix Health?
Here is a graphic that shows how Optibiotix Health stacks up against the M-Score checklist.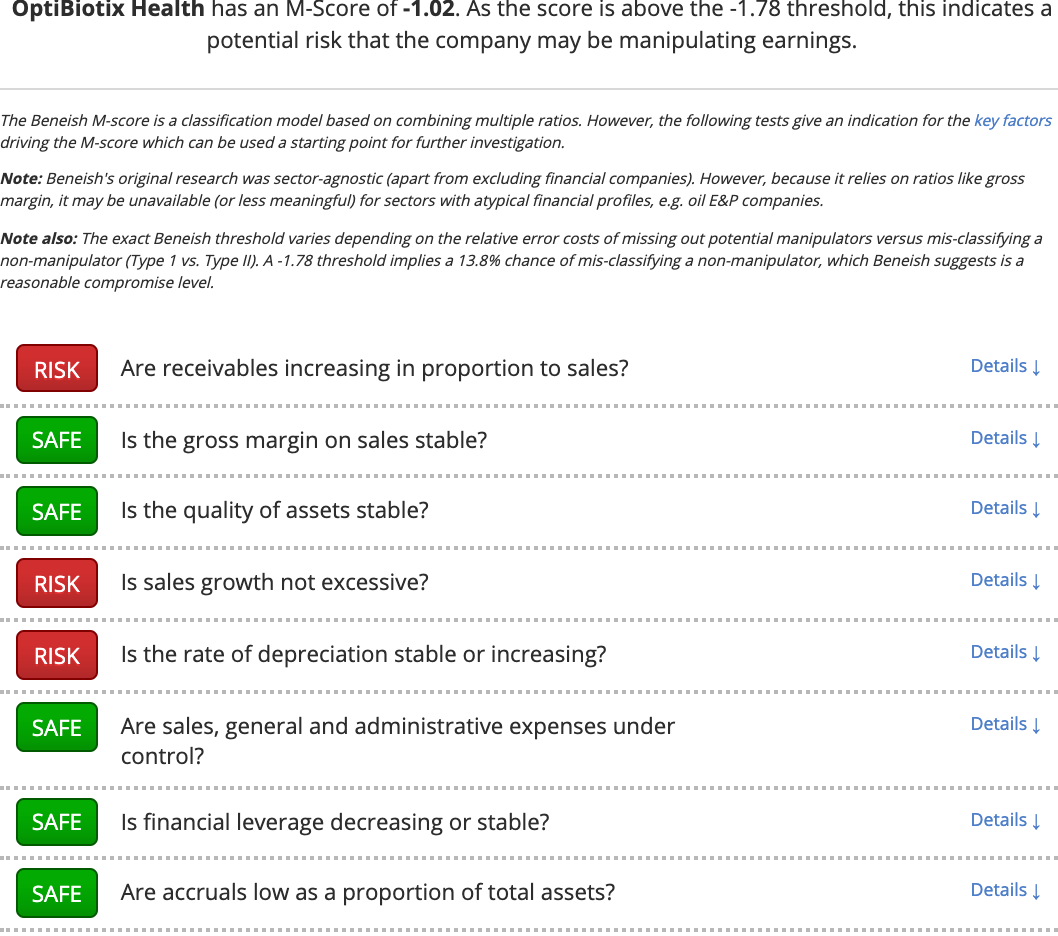 Next Steps
To find more stocks like OptiBiotix Health, you'll need to equip yourself with professional-grade data and screening tools to pinpoint the highest quality companies in the market. This kind of information has traditionally been closely guarded by professional fund managers. But our team of financial analysts have carefully constructed this screen - which gives you everything you need.
In less than a minute, you can be exploring a list of stocks with the very strongest financial ratios in the market. You'll be joining us on a journey towards owning the very best quality stocks possible. So what are you waiting for? Come and get started for free.
---
About us
Stockopedia helps individual investors make confident, profitable choices in the stock market. Our StockRank and factor investing toolbox unlocks institutional-quality insights into thousands of global stocks. Voted "Best Investment Research Tools" and "Best Research Service" at the 2021 UK Investor Magazine awards.