9282 Reads (2 mins read)
Six warning signs for Gold Road Resources' (ASX:GOR) share price
2nd Apr '19 by

Jack Brumby
As investors, we want to invest in the best and avoid those heading for trouble, but it's hard to keep tabs on hundreds of companies. That's a lot of noise and we've all got lives to lead. Even though Stockopedia's StockReports provide a wealth of financial data, filtering out the most dangerous stocks can be hard to do and takes time.
But what if you could gauge financial health with a single number?
This is what the Piotroski F-Score sets out to do. Unfortunately, what the F-Score algorithm says for Basic Materials operator Gold Road Resources (ASX:GOR) is not good - especially considering
revenues decreased from A$506K to A$0K abd net loss ballooned from A$7.7m to A$23.9m for the fiscal year ended 31 December 2018.
GET MORE DATA-DRIVEN INSIGHTS INTO ASX:GOR »
Why the Piotroski F-Score matters
The Piotroski F-Score is a nine-strong checklist split that, unlike most ratios, the F-Score looks more deeply into the direction in which a company's financial health is moving. Keeping on top of these trends can help us anticipate how a stock might perform.
When a stock gets beaten down it falls to the bottom of the stock market. From here there it either:
Stumbles along, zombie-like,
Tumbles into administration, or
Recovers emphatically
Stanford Finance Professor Joseph Piotroski wanted to identify the latter. After settling on the F-Score, he produced some remarkable results.

Piotroski found that weak stocks with an F-Score of 2 or less are five times more likely to either go bankrupt or delist due to financial problems. Working our way through Piotroski's checklist, we can see that Gold Road Resources (ASX:GOR) gets a lowly F-Score of 2 out of a possible 9.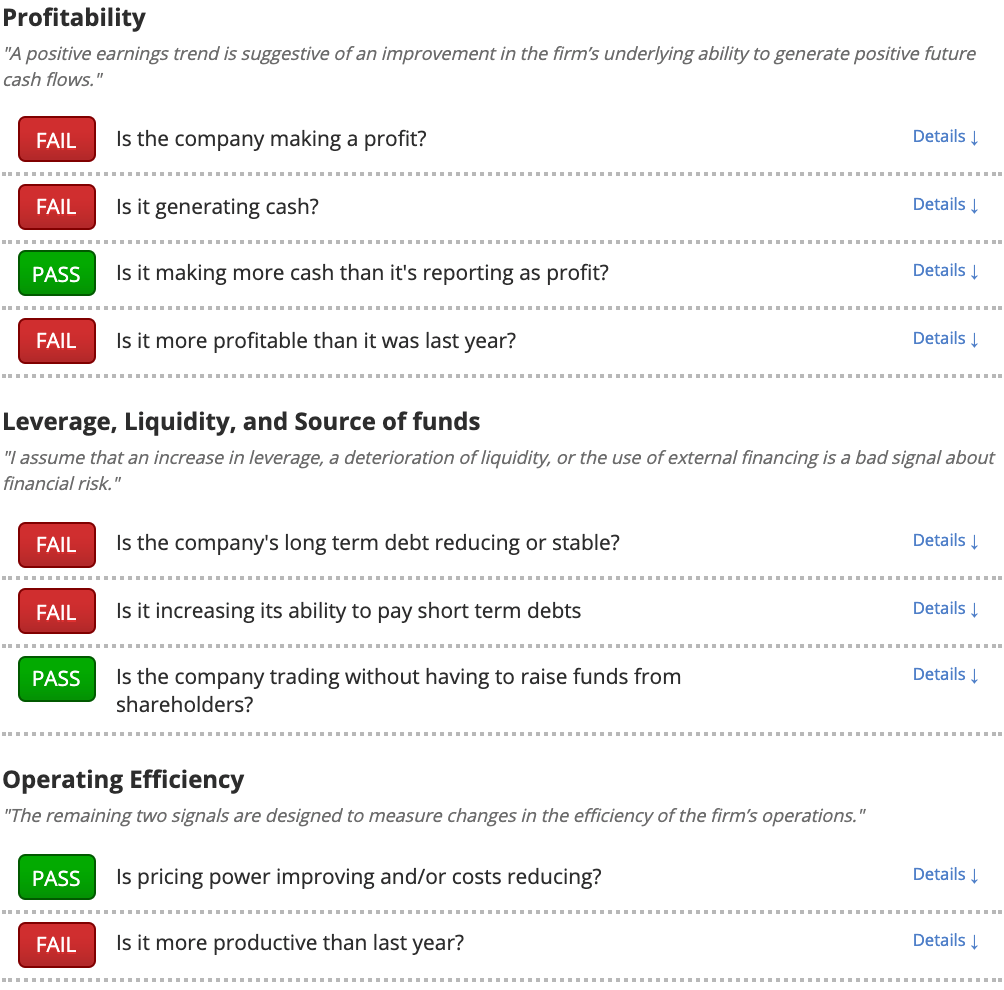 Fortify your portfolio with simple, effective tools
The problem areas for Gold Road Resources identified here can be explored in more depth on Stockopedia's research platform. All the best investors have stringent due diligence processes that reduce the chances of them suffering big losses, so why not take a leaf out of their book?
Simple tools can help us better measure and understand the risks we take. That's why the Stockopedia team has been busy building new ways of understanding investment risks and company characteristics. In this webinar, we talk about two or our most popular innovations: StockRank Styles and RiskRatings. These indicators transform a ton of vital financial information into intuitive classifications, allowing you to get an instant feel for any company on any market - sign up for a free trial to see how your stocks stack up.

Share this article