Small Cap Value Report (13 Jan 2017) - CWD, LVD, DEB, MAB, DLNM
Good morning,
Paul is taking a well-deserved break today. So I'll be covering today's trading updates solo!
Last night, Paul added a few more sections to his report, which now includes all of the following (click here to read):

(Yesterday's Part 2, covering Premier Oil (LON:PMO), SuperGroup (LON:SGP), GYM (LON:GYM), Stadium (LON:SDM) and STM (LON:STM), is here.)

Onward!
---
Countrywide (LON:CWD)
Share price: 176p (+3.5%)
No. shares: 216m
Market cap: £381m
In line with the range of expectations for 2016:
Total group income for the year was circa £737m (2015: £734m) with income for Q4 of £179m (2015: £196m).
EBITDA for 2016 is expected to be in line with the current range of market expectations.
 As anticipated, the underlying level of market transactions in Q4 continued to run below 2015 and we continue to expect full year 2016 market volumes to reflect a drop of circa 6% on 2015 levels.
Countrywide notes that Lettings provided an offset to weaker Sales volumes (which sounds rather similar to Foxtons (LON:FOXT) ).
Elsewhere in the statement:
The roll-out of our digital proposition remains on track and we continue to see performance in line with our expectations

For an example of the online sales effort, see the Frank Innes website. The fixed fee is a little bit lower than the Purplebricks ex-London price. Perhaps these hybrids can stand their ground?
There is not much success priced in here. The PE ratio (7.5x) and Dividend Yield (6.9%) make it a contrarian play.

Countrywide has a superb Value Rank, but shockingly poor Momentum: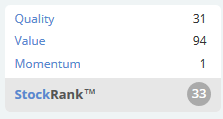 Share price momentum: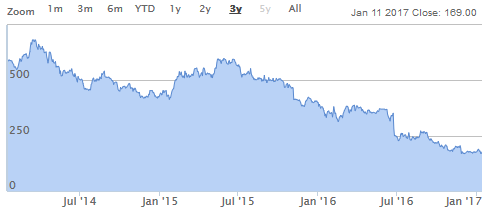 My opinion

I think a cheap rating makes sense here: Macro cyclicality plus online competition plus lack of barriers to entry. But maybe the rating…

Unlock the rest of this Article in 15 seconds
Already have an account?
Login here