Small Cap Value Report (17 Jan 2014) - BMS, RBN, BQE, TMZ, CTO, BJU, BAR, SUN, 247
Good morning! There is a mild profit warning from Braemar Shipping Services (LON:BMS) this morning. These shares have doubled from the low point in Sep 2011, and now stand at 580p, for a market cap of £125.6m. Today's IMS states that;
...slower than expected contract awards at Braemar Casbarian in the US ... is expected to result in Group profits for the year being modestly below management expectations.
This factor has offset steady or good performances in their other divisions. Checking the archive here, I haven't reported on this company before, so I'm not familiar with the relative importance of its various divisions. On a simplistic level though one assumes that shipping is likely to be a positive area to be in, as economies generally improve, generating more import/export activity.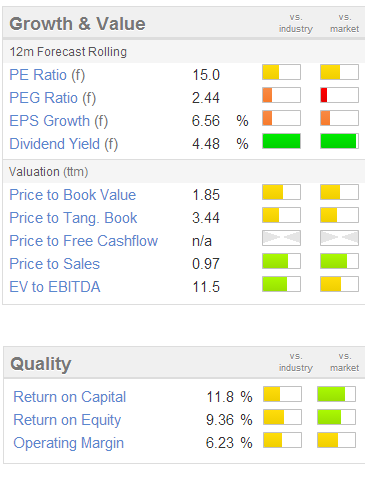 Having a cursory glance at the Stockopedia page for this share, I note that their profitability has been in steady decline since 2008/9 (it's a 28 Feb year-end), the company has (declining) net cash, and has consistently paid a 26p dividend (yielding a solid 4.5%). It doesn't look cheap on a PER basis, especially as they are now going to miss forecast slightly for 2013/14. It will be interesting to see how the shares react today, I suspect a drop of about 5-10% is on the cards. If they fall more than that, then I might research the company in a bit more detail.
As you can see from the graphics below, profitability has been in decline, whilst the valuation on a PER basis has been steadily getting more expensive, which doesn't really make sense! The consistently strong dividend yield could provide the clue though, in that income seekers might have been buying the stock - although 5%+ yields are available with plenty of large caps at the moment, so I personally wouldn't chase a small cap just for a not very well covered dividend of 4.5%.

Unusually, I'm seeing more value in large caps at the moment than small caps, so might even need to reverse my investing polarity, and start looking more at the opposite end of the size spectrum! Although there are always overlooked bargains to be found in the small caps space, even if most stocks…

Unlock the rest of this Article in 15 seconds