Good morning! Preliminary results from Solid State (LON:SSP) have been issued for the year ended 31 Mar 2013. This share has been on my watch list for a while, and I last mentioned them on 2 May 2013, concluding that it looked potentially interesting.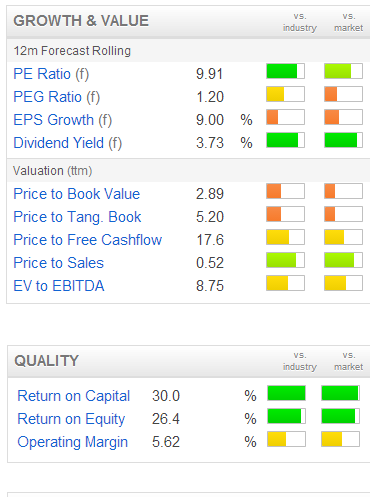 Solid State shares have more than 10-bagged in the last 4 years, and the company continues to trade well. At 225p per share the market cap is £15.6m.
As you can see from the Stockopedia excerpt from the StockReport on the right, Solid State scores highly on forecast PE Ratio, and on Dividend Yield, with strong green bars in both cases indicating a high ranking in both its industry (the left hand bar) and the  whole market (right hand bar).
Note also that a new feature has been added this week so that if you roll your mouse over these bars in the StockReport, a box giving more details pops up - I like it! (that feature won't work on the picture on the right).
Their results today look good, with turnover up 22% to £31.5m, profit before tax & exceptionals up 17% to £1.87m, and EPS up 12% to 21.8p.
They are acquisitive, so some of that growth might have come from companies bought during the year. This is important, as I've been caught out before over-paying for growth that I assumed was organic, but turned out to be from acquisitions. The difference being of course that an acquisition just bolts on growth on a one-off basis, hence does not justify a higher PE rating once you have included the acquired company's profits in the E bit of the PER calculations.
They seem to have come in slightly ahead of broker consensus EPS (forecast was 21.1p, against 21.8p achieved), putting them on a PER of 10.3. That looks fairly good value to me, although with a bit of debt, and the order book flat against last year, it's difficult to see there being much upside from here in the short term. Maybe 10-20% upside, which doesn't excite me in terms of risk/reward.
Solid State have raised their dividend by 10% to 8p, which is in line with broker consensus forecast dividend.This breaks down as 2.75p interim dividend paid on 28 Jan 2013, and a final dividend of…

Unlock this article instantly by logging into your account
Don't have an account? Register for free and we'll get out your way
Disclaimer:
As per our Terms of Use, Stockopedia is a financial news & data site, discussion forum and content aggregator. Our site should be used for educational & informational purposes only. We do not provide investment advice, recommendations or views as to whether an investment or strategy is suited to the investment needs of a specific individual. You should make your own decisions and seek independent professional advice before doing so. Remember: Shares can go down as well as up. Past performance is not a guide to future performance & investors may not get back the amount invested.
---
---

Solid State PLC is engaged in manufacturing of electronic equipment and distribution of electronic components and materials. The Company is a manufacturer and specialist design-in distributor to the electronics industry. Its segments are Distribution division and Manufacturing division. The distribution division comprises Solid State Supplies Limited and Ginsbury Electronics Limited. The manufacturing division includes Steatite Limited and Q-Par Angus Limited. Its geographical segments include UK and Non UK. The Company is a supplier of computing technologies, electronic components, antennas, microwave systems, secure communications systems and battery power solutions. It markets its products through brands, including ndura RUGGED and RZ Pressure. It acts as both a distributor to original equipment manufacturers (OEMs) and manufacturer of specialist units to clients with complex requirements. It serves aerospace, environmental, government, oil and gas, and transportation markets. more »

LSE Price

Andor Technology Ltd, formerly Andor Technology plc, is a United Kingdom-based company engaged in the development and manufacture of scientific digital cameras for academic, industrial and government applications. The Company operates in three segments: research, microscopy systems and original equipment manufacturing (OEM). Research is engaged in sales of cameras and associated products to academia and government-funded research institutes. Andor's Microscopy Systems business provides high-end imaging solutions that are of primary interest to life sciences research institutes. Andor offers Electron Multiplying charge-coupled device (CCD) (EMCCD), scientific CMOS (sCMOS) and CCD imaging detectors. OEM includes sales of cameras and associated products to instrumentation manufacturers. In October 2013, Andor Technology Plc acquired Spectral Applied Research Inc. In October 2013, Andor Technology plc acquired Apogee Imaging Systems Inc. more »

Price

SDL plc specializes in language translation technology, services and content management. The Company operates through four segments: Language Services, which is engaged in the provision of a translation service for customer's multilingual content in multiple languages; Language Technology, which includes the sale of enterprise, desktop and statistical machine translation technologies together with associated consultancy and services; Global Content Technologies, which is content management and knowledge management technologies together with associated consultancy services, and Non-Core Businesses, which includes the sale of campaign management, social media monitoring and marketing analytic. The Company offers a range of services, including translation, post-editing, transcreation, interpretation, document localization, software localization, Website localization, multimedia localization and product testing. more »

LSE Price