Small Cap Value Report (4 Jul 2014) - OFF, STAF, SRT
Good morning. Time for me to stop messing around on Twitter, and write a report!
In a brief trading update this morning, the company says that trading in H1 to 30 Jun 2014 has been in line with expectations.
Please see my previous reports for details on the extremely weak Balance Sheet here, hence the shares are ultra high-risk in my view. So I won't be even considering investing here unless & until they fix the Bal Sheet.
---
The staffing company also issues a trading update for the six months to 30 Jun 2014 today.
The key sentence says;
 ...the Board today reconfirms that current trading remains positive and earnings for the six months ended 30 June 2014 are in line with market expectations. 
The company has made three acquisitions since May, which I've not looked at. Can't believe I sold these around 330p, after spotting the value & GARP at 226p per share in Sep 2012, what a stupid decision. Not running my winners is definitely me main flaw as an investor - I always seem to sell my best stock ideas far too early. This is probably down to a fixation on valuation, whereas one perhaps needs to be more flexible on good growth stocks, and let the valuation stretch a little higher than you're comfortable with?
Still, in a way, selling great stocks too early is a quality problem to have! At least I've got a good knack for finding the bargains in the first place, that's the most important bit. Selling too early is a problem that can be fixed.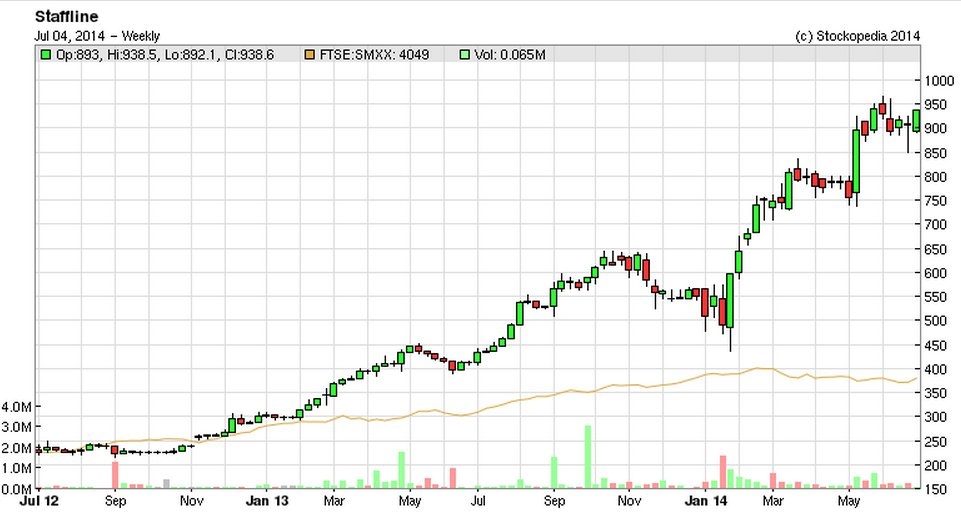 I can't bring myself to revisit the shares at almost three times the price I sold them at, which is ridiculous as the market neither knows, nor cares about our previous transactions!
They are not looking expensive on broker forecasts, even after such a huge re-rating over the last couple of years, as you can see from the usual Stockopedia graphics below, the valuation is still reasonable. It also has a very high StockRank of 94 (Stockopedia's proprietary ranking system).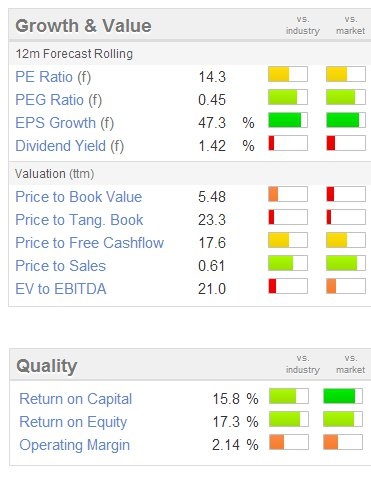 The low operating margin of 2.14% above (in the Quality section) is a bit of a red herring. Staffing companies include the temporary employee wages within turnover, so it's really best ignored. Gross profit is…

Unlock the rest of this Article in 15 seconds
Already have an account?
Login here