Small Cap Value Report (Fri 2 Mar 2018) - Snow, RBG, G4M, PCF, IHP, HVN
Good morning! Thanks for the suggestions so far.
Stocks on my radar are as follows:
This list is subject to change!
Cheers,
Graham
---
Snow - a quick word on the brutal weather conditions, which have caused travel chaos and business disruption across the UK & Ireland.
It has personally affected me, as I was supposed to be flying to London today instead of writing this report! But I got a text message from Ryanair Holdings (LON:RYA) late on Wednesday evening, informing me that my flight would not be going ahead.
It would be risky business to trade shares based on short-term weather patterns, but I would guess this is going to have an effect on many companies - insurers and retailers spring to mind.

Anyway - take care, wherever you are!
---
Share price: 163p (-4%)
No. of shares: 50 million
Market cap: £81.5 million
Many of you have already left insightful comments in the thread below, discussing this premium bar chain.
My views on it are as follows:

Like-for-like sales: I am ok with the company adjusting LFLs to include New Year's Eve, to get LFLs of +1.9% instead of +0.4%. I discussed this at the trading update last month.
New sites: site opening is on track. Four new sites opened, including three just before Christmas. Six planned for the full year, taking the estate to a total of 74.
Adjusted Operating Profit: this is where it gets interesting, as the company claims to have achieved an adjusted operating profit of £6 million, versus a reported operating loss of £3.7 million.

This is what the "exceptional" items look like. You'll notice that there were £2.3 million of exceptional items during the entire previous year.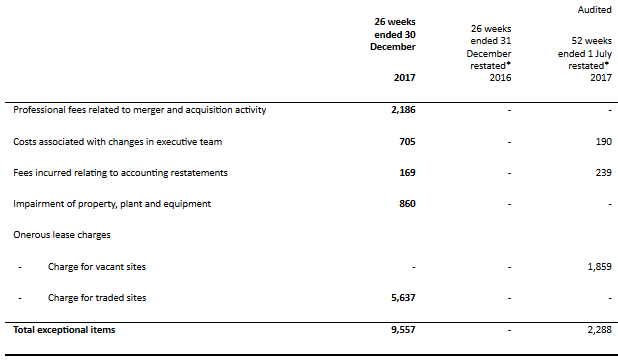 Professional fees: "legal and corporate advisory fees, and registrar and virtual data room…

Unlock the rest of this Article in 15 seconds
Already have an account?
Login here