Small Cap Value Report (Fri 28 Dec 2018) - IDEA, placeholder
Good morning, it's Paul here!
We're in that strange time of year, when Mon-Sun days of the week lose their meaning completely, and instead each day has its own unique name. This is very confusing. Also, it usually takes until about Easter for me to get the new year correct too. Doubly confusing, reporting on 2018 figures in 2019.
I've got this strange, vivid, childhood memory of writing "1976" in the margin of a schoolbook, and thinking it was terribly modern. That was just before the teacher put the fear of God into the class, by telling us emphatically that the world's entire reserves of oil would run out by the year 2000. So we had better prepare for the worst. Growing up in the 1970s was such fun!
As regards dates then, please just assume that in early 2019, I'll get lots of them wrong, and work on the basis of what I probably meant, rather than what's actually written here.
---
Nobody likes to prepare for the new year with a backlog of work to finish off. Therefore, I've kicked myself up the proverbial, and completed the SCVR from 21 Dec 2018, which is now here. Sorry for the delay.
Craneware (LON:CRW) and Focusrite (LON:TUNE) were the main features, and I also wrote up my recent lunch with Ideagen (LON:IDEA) . I'll copy it here actually, so that everyone sees it, as follows;
Share price: 126.5p
No. shares: 219.2m
Market cap: £277.3m
(disclosure: the company paid for our meal, over a working lunch)
Meeting with management
By way of background, Ideagen moved from Plus markets to AIM in 2012. It has been a successful buy & build software group - specialising in highly regulated sectors. The company is rightly proud of its successful track record in creating shareholder value - a >10-bagger on AIM, until the recent market sell-off, but still a great performance;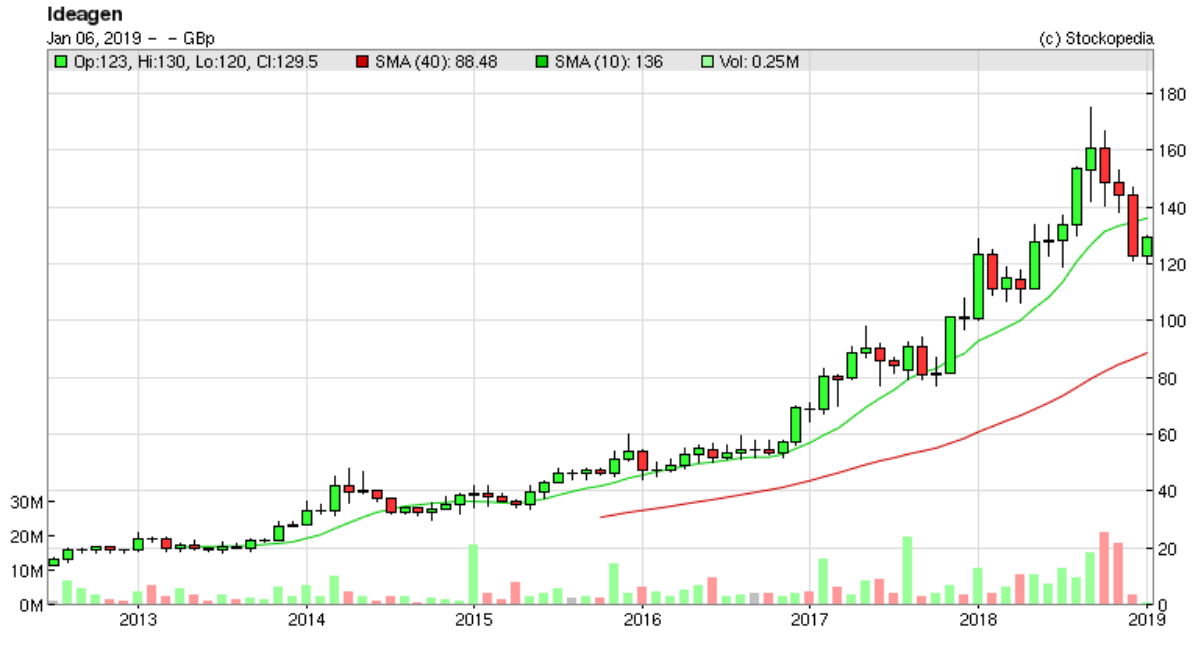 The former CEO, recently moved up to Exec Chairman (to focus on strategy & acquisitions), is David Hornsby ("DH"). David is highly regarded in the private investor community, for having created such excellent shareholder value, but also for being very…

Unlock this Article with a 14 day free trial
Already have an account?
Login here