Small Cap Value Report (Fri 31 August 2018) - RTN, WTB, FFI, ESG, Wonga/HAT
Good morning! 
While the main article is being written, feel free to comment and share your thoughts on whichever small-caps you think are most interesting today.

Incidentally, this is my last SCVR for a while. Britain's top share blogger makes his return next week, while I head south by 24° of latitude to enjoy some late summer sunshine. Cheers!

Graham
---
Our interesting stories today include some big-caps:
---
Share price: 287.6p (+4.5%)
No. of shares: 201 million
Market cap: £578 million
The market is pleased with these numbers despite use of the phrase "broadly in line" with respect to adjusted PBT expectations for the full-year.
Rather than focusing on a potentially minor PBT downgrade, investors are instead focusing on a sturdy like-for-like sales performance (+2.4%) over the past six weeks, since the World Cup ended.
As a reminder, RTN operates Frankie and Benny's, Chiquito and other restaurant brands, pubs and concessions.
The results presentation includes a chart illustrating the progress in like-for-like sales. It excludes the World Cup period: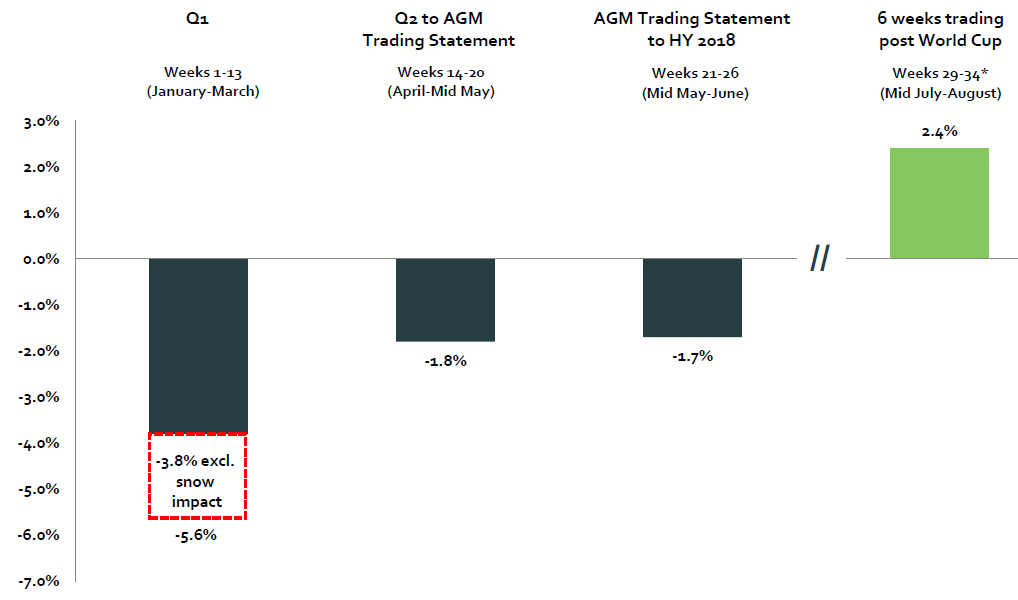 So we do have evidence that the company has been making improvements to the customer experience, compared to last year, e.g. by upgrading menus and increasing options.
One of the big disclaimers we must attach is that margins have been getting worse. Price cuts are a big factor in this.
The H1 performance itself is nothing to shout about: like-for-like sales down 3.7%, EBITDA margin down by 1.6 percentage points, and EBIT down 21%.
The company deserves credit for the clarity of its disclosures. This is one of the advantages of big-caps: they often give you really detailed information, so you don't have to guess as much compared to small-caps.
For example, cost pressures are broken…

Unlock the rest of this article with a 14 day trial
Already have an account?
Login here