Small Cap Value Report (Mon 2 July 2018) - TRAK, PLA, ZOO, KMK, AVAP, PLUS
Good morning! Today we have announcements from:
It's a lot of news - let's see how I get along covering it.
4.30pm: I made it as far as Plus500. The Quartix statement was in line with expectations while Filtronic was "broadly in line", i.e. a slight miss. So it's not worth reporting on them today.

---
Share price: 94p (-10.5%)
No. of shares: 35.9 million
Market cap: £34 million
This company has previously proven to be controversial, due to the rather high rating it enjoyed, compared to its limited cash generation.
Most of the optimism has by now been squeezed out of the share price.

Back in late 2015, it was trading almost at 400p: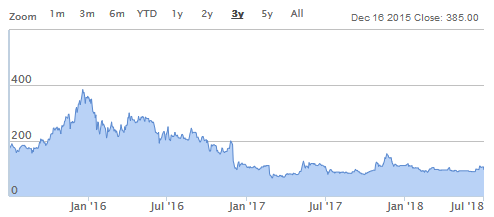 Recently, I used the Stocko comparison tool to show a side-by-side comparison of Trakm8 with Quartix, another telematics stock. Quartix has consistently been the more impressive of the two, from a quantitative point of view.

Another resource worth mentioning is today's article by "blondeamon", who owns shares in Trakm8 and is bullish on the stock.

I've read both positive and negative reactions to today's results already.

Let's have a look at what they actually say.
Financial highlights: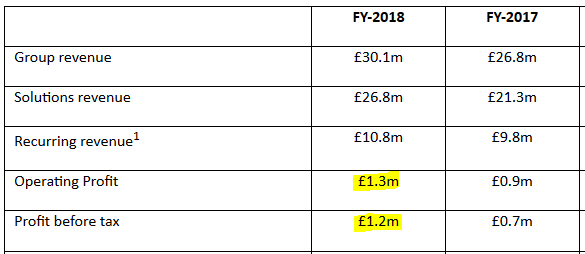 So it's a healthy upward move in many of the headline numbers.
Net debt has reduced by £0.5 million to £3.3 million, while cash generated from operations is up very significantly to £4.7 million.
Certain overhead expenses have been reduced while R&D spending is maintained and sales and marketing spend is increased. Manufacturing and distribution facilities are being expanded.

Outlook
First sentence of the outlook statement:
Due to customer inventory build-up in Q4-FY2018…

Unlock this article instantly by logging into your account
Don't have an account? Register for free and we'll get out your way
Disclaimer:
All my own views. I am not regulated by the FSA. No advice.
---
---

Trakm8 Holdings PLC is a Big Data company. The Company, through its subsidiaries, manufactures, distributes and sells telematics devices and services. The Company focusses on owning the intellectual property that it uses in its products and solutions. It supplies its customers in the fleet management and insurance sectors across the United Kingdom. In addition, the Company provides hardware devices that can be integrated into third party telematics or Internet of Things (loT) solutions. It offers Configuration Manager, Product Datasheets, Radio Frequency Identification, Telematics Devices, Vehicle Connectivity and Accessories, among others. Its portfolio of solutions includes Trakm8 ecoN, Trakm8 Tacho, Trakm8 Secure, Trakm8 Logistics and Trakm8 Insure. Its portfolio offers telematics solutions, including dashboard cameras that enable customers to record driving incidents and mitigate the risk from crash to cash accidents. It provides bespoke solutions and engineering support services. more »

LSE Price

Synnovia PLC, formerly Plastics Capital PLC, is a holding company. The Company is principally engaged in the manufacture of plastic products focused on products for various markets exporting to over 80 countries across the world. Its segments include Industrial, which consists of hydraulic hose consumables, packaging consumables and plastic rotating parts, and Films, which includes high strength film packaging. Its operations are based on the six operating businesses: BNL (UK) Limited, which makes plastics rotating parts; Palagan Limited, which makes high strength film packaging; C&T Matrix Limited, which makes the packaging consumable of creasing matrix; Bell Plastics Limited, which makes hydraulic hose consumables; Beijing Higher Shengli Printing Science and Technology Co Ltd, which also makes creasing matrix, and Flexipol Packaging Limited, which makes high strength film packaging and bags. It has over five factories in the United Kingdom, approximately two in China. more »

LSE Price

ZOO Digital Group plc is a holding company. The Company's principal activities include provision of a range of services to allow television and movie content to be subtitled in any language and prepared for sale with online retailers, and research and development of productivity software in those areas. The Company operates through two segments: Software solutions, which includes development, consultancy and software sales, and Media production, which includes localization and design. The Company offers services, including subtitling, captioning, dubbing and digital distribution. The Company offers services through its cloud computing platforms, including ZOOsubs, which offers subtitling and captioning services; ZOOcore, which is a workflow management platform; ZOOstudio, which is a self-service distribution platform for ordering, tracking and delivering digital content packages, and ZOOdubs, which is a dubbing process management platform. more »

LSE Price