Small Cap Value Report (Mon 2 July 2018) - TRAK, PLA, ZOO, KMK, AVAP, PLUS
Good morning! Today we have announcements from:
It's a lot of news - let's see how I get along covering it.
4.30pm: I made it as far as Plus500. The Quartix statement was in line with expectations while Filtronic was "broadly in line", i.e. a slight miss. So it's not worth reporting on them today.

---
Share price: 94p (-10.5%)
No. of shares: 35.9 million
Market cap: £34 million
This company has previously proven to be controversial, due to the rather high rating it enjoyed, compared to its limited cash generation.
Most of the optimism has by now been squeezed out of the share price.

Back in late 2015, it was trading almost at 400p: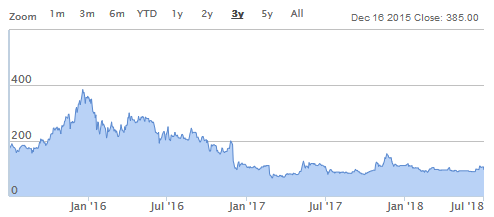 Recently, I used the Stocko comparison tool to show a side-by-side comparison of Trakm8 with Quartix, another telematics stock. Quartix has consistently been the more impressive of the two, from a quantitative point of view.

Another resource worth mentioning is today's article by "blondeamon", who owns shares in Trakm8 and is bullish on the stock.

I've read both positive and negative reactions to today's results already.

Let's have a look at what they actually say.
Financial highlights: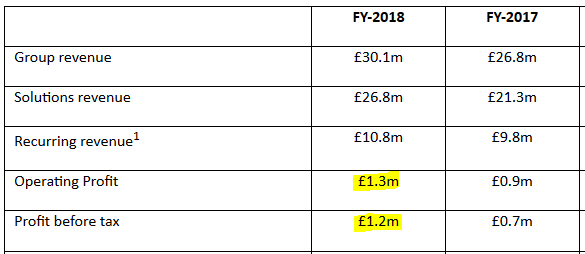 So it's a healthy upward move in many of the headline numbers.
Net debt has reduced by £0.5 million to £3.3 million, while cash generated from operations is up very significantly to £4.7 million.
Certain overhead expenses have been reduced while R&D spending is maintained and sales and marketing spend is increased. Manufacturing and distribution facilities are being expanded.

Outlook
First sentence of the outlook statement:
Due to customer inventory build-up in Q4-FY2018…

Unlock the rest of this Article in 15 seconds
Already have an account?
Login here