Small Cap Value Report (Thu 9 Nov 2017) - SWL, QRT, GATC, DVO, TRCS
Hi, it's Paul here.
This is initially a placeholder article, ready for your comments from 7am onwards.
To get you started today, please note that I updated yesterday's report in the evening, with some new sections. So it now includes additional sections on;
Stadium - profit warning
Snoozebox - it's gone bust
Tracsis - results for y/e 31 Jul 2017
See you in the morning!
---
Good morning, it's Paul here.
No larger cap preamble today, as it takes up too much time, which is limited today.
Share price: 390p (down 1.3% today)
No. shares: 16.9m
Market cap: £65.9m
(at the time of writing, I hold a long position in this share)
AGM Statement (trading update) - this company has a June year end, so this update covers the first 4 months of its 06/2018 year. Description;
... a market leader in the development, formulation, and supply of personal care and beauty products, including its own portfolio of brands
The key sentence is reassuring;
"The Board is pleased to report that trading in the first four months of the year is in line with expectations.
Outlook for the full year is also reassuring;
While we remain conscious of the continuing macro uncertainty both in the UK and internationally, overall we expect to maintain our positive progress and are well positioned to deliver against our expectations for the full year"
The following comments might have spooked some investors (the H2 weighting), but it sounds fine to me;
Our manufacturing business is also performing steadily against strong prior year comparators. As previously indicated we are seeing volumes normalise against the significant new products launched in the first half of last year. Pleasingly, there is a fresh wave of new product launches and contract wins that will contribute to our full year performance and bode well for future momentum. This is likely to give a second half bias to the year in this segment of the business.
New product launches is a good reason for an H2 bias, and might even trigger out-performance, who knows? Christmas ranges have seen "another year of growth".
Valuation - on the face of it, the PER looks about right;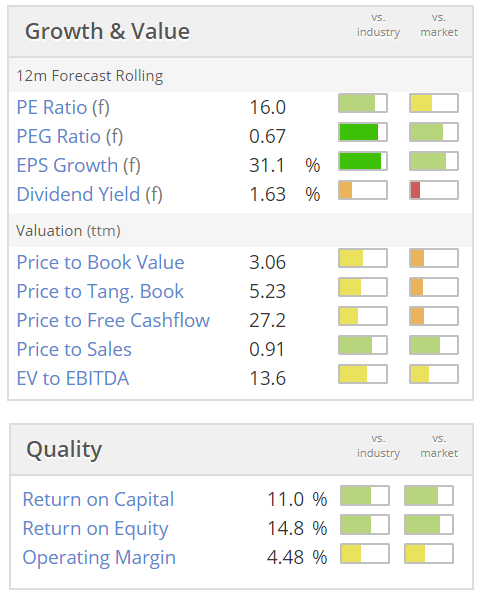 …

Unlock the rest of this Article in 15 seconds
Already have an account?
Login here