Small Cap Value Report (Thur 11 Oct 2018) - Cheap Shares, BWNG, NXR, SND, OTMP, CAKE, JPR
Morning! 
Not sure if "good morning" is appropriate on a day like this, as most of us prefer it when stocks are moving upwards rather than getting crushed, as they currently are.
The FTSE is flirting with the 7000 level. This is proper correction territory versus the 7900 high seen in June.
What's most interesting to me is the speed of the rout. The past six sessions, including today's, have seen five dramatic falls, each of them the best part of 100 points (92, 100, 85, 92, and then 130 so far today).
The AIM All-Share Index has been even more dramatic. It's down something like 13% so far this month with some really severe falls along the way.
The NASDAQ 100 finished yesterday's session down 4.4% and looks set to open very weak again today.
I've consistently maintained that the NASDAQ has been home to the worst overvaluations of the long-term bull market we've been living in. So far, it has only returned to the levels from June this year. It has a lot further to fall, in my view.
For context, here is the chart going back to 2015: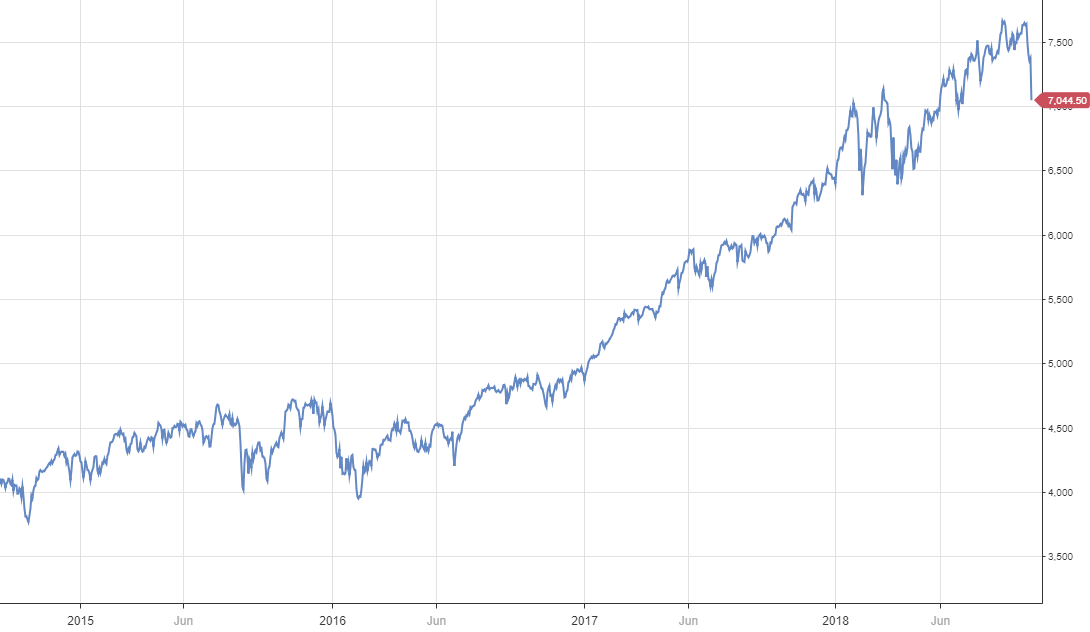 This index has performed spectacularly since 2009, which is (not coincidentally) around that period of time when interest rates hit rock bottom. At the low point, it nearly hit 1000. It's now at 7000.
Simple rules of finance suggest that when Interest rates return to normal levels, asset valuations should too. Valuations are based on discounted cash flows, after all. I think that normalisation is healthy, but it's undoubtedly going to be painful in the short-term for many.
On a personal note, I made the difficult decision last night to close my leveraged positions: both my Tesla short (which was in profit) and my short FTSE put position (which was in a loss position). In the end, I made a small net profit from these positions.
However, I needed a bit more personal liquidity, so I wanted my collateral back. I'd actually love to open both of these positions (short Tesla and short FTSE puts) again, when my personal circumstances allow. I am now almost completely unleveraged.
These are exciting times. We could get some very attractive buying opportunities in the months ahead - that's particularly exciting for someone like myself, who rarely ever sells anything.
Some shares…

Unlock this Article with a 14 day free trial
Already have an account?
Login here