Small Cap Value Report (Tue 13 Feb 2018) - Car Dealerships Special
Hi, it's Paul here.
At the suggestion of Matylda, I'll be doing a car dealerships special today. This is because Pendragon (LON:PDG) has reported its 2017 results, but there's nothing much else of interest on the RNS today. So I'll write about PDG, and compare it with 6 other listed car dealerships, being;
Vertu Motors (LON:VTU)
Cambria Automobiles (LON:CAMB)
Lookers (LON:LOOK)
Inchcape (LON:INCH)
Marshall Motor Holdings (LON:MMH)
Motorpoint (LON:MOTR)
I started quite late today, so this article will gradually take shape throughout this afternoon.
---
Share price: 24p (up 14.6% today)
No. shares: 1,424.1m
Market cap: £341.8m
(at the time of writing, I hold a long position in this share)
Full year results - for the 12 months to 31 Dec 2017
We are the UK's leading vehicle online retailer with 184 franchise points and 27 used retail points.

We represent a range of volume and premium products that we sell and service which include:  Aston Martin, BMW, Citroen, Dacia, DAF, Ferrari, Ford, Harley-Davidson, Hyundai, Jaguar, Land Rover, Kia, Mercedes-Benz, MINI, Nissan, Peugeot, Porsche, Renault, SEAT, Smart and Vauxhall.  

Brand names include: Stratstone, Evans Halshaw and Quicks.
Note the emphasis on online sales. This is rather interesting, as Pendragon is not a vanilla car dealership chain. It also has a software business, which is material to group profitability - see table below;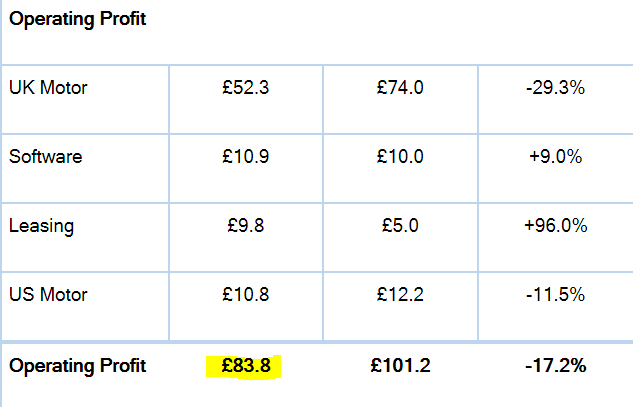 The first column is calendar 2017. The second column is the 2016 comparative. As you can see, group operating profit fell from £101.2m to £83.8m. This was expected, since UK new car sales fell sharply in 2017. The suggested reasons for this include: Brexit-related uncertainty, higher prices due to sterling devaluation, lack of consumer confidence, and uncertainty over diesel vehicles caused by a shift in Government policy.
Other issues which might be hurting sentiment towards the sector include the likelihood of electric cars growing in popularity - and requiring less attention in garages. Also, ultimately…

Unlock the rest of this Article in 15 seconds
Already have an account?
Login here