Small Cap Value Report (Wed 23 Aug 2017) - GMD, ALY, RBN
Good morning, it's Paul here!
Yesterday's report was very late, my apologies. In case you didn't spot it, it's here. I covered the debacle with Provident Financial (LON:PFG) in some detail, and have this morning further updated that article with new information which has come to me from broker notes. Also covered was the fiasco that is Sphere Medical Holding (LON:SPHR) , plus a reassuring update from Proactis Holdings (LON:PHD) . Sorry I didn't get round to looking at Empresaria (LON:EMR) but there didn't seem to be anything particularly interesting to write about with that one.
On to today's results & trading updates.
Share price: 32.0p (up 30% today, at 09:11)
No. shares: 170.9m
Market cap: £54.7m
(at the time of writing, I hold a long position in this share)
Year end trading & business update - this company operates retail and online stores for computer game consoles, games, and accessories. It operates in the UK and Spain.
By way of background, Graham wrote an excellent report here on 30 Jun 2017. In that article, he flagged that GMD could be a value opportunity, since its UK store estate had an average lease length of only 1.2 years. 
Two weeks later, the company announced that Mike Ashley's Sports Direct had acquired 25.75% of Game Digital. The company said it looked forward to working collaboratively with Sports Direct.
Improved H2 performance - at the end of Jun 2017, the company stated that it expected to report an improvement in trading in H2, of 5-6% growth in gross transaction value.  Today's announcement reports +6.8% GTV, which is reassuring. Forex conversion helped the Spanish business, when converted into sterling.
Here is the table of sales performance published today. NB. The "Retail Market" figures are industry benchmarks, and not the performance of Game Digital. I read that incorrectly first thing, so it's important to scrutinise RNSs carefully!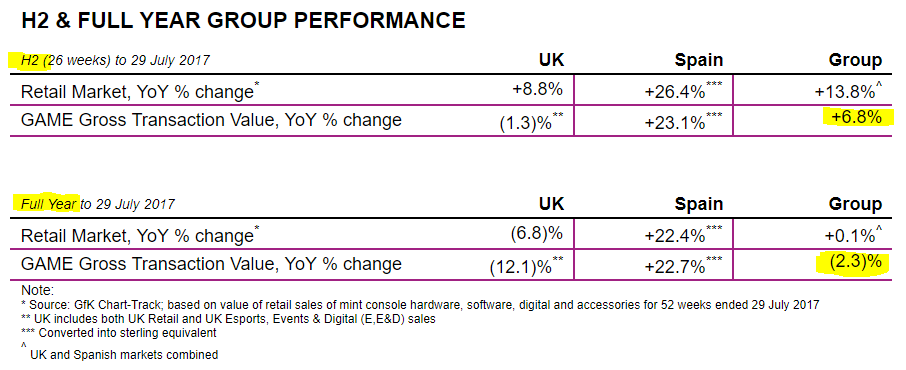 Anyway, the key points are that the H2 performance did indeed improve, and a bit more than expected.
Cash position -…

Finish reading with a 14 day trial
Already have an account?
Login here