Small Cap Value Report (Wed 9 Oct 2019) - RCN, TCN, VTU, FAN, CDM
Good morning,
A few bits to cover today.
---
Share price: 85.9p (-0.1%)
No. of shares: 149 million
Market cap: £128 million
This is a simple one: trading in line with expectations.
Redcentric is a managed IT services provider that offers the IT/Cloud services you'd expect from a mid-sized group.
Net debt is light, at £16.5 million - no major surprise, then, to see that RCN is paying out dividends and also buying back £2 million of its own shares.

Net debt has declined over the past year despite dividend payments and "an acceleration of network and infrastructure capital expenditure in the period."
While reported net income has been nothing to write home about in recent years, if this company hits its forecasts from now on then it will offer decent value at current levels.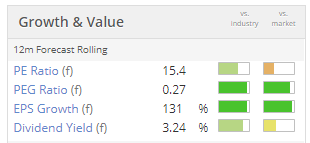 ---
Share price: 11.2p (-38%)
No. of shares: 34 million
Market cap: £4 million
I'm not going to bother covering Alpha Financial Markets Consulting (LON:AFM), which was in the original list.
Let's move on and see if this announcement from Tricorn is worth looking at.
Paul covered the company in April. His summary opinion was:

It's difficult to get excited about this - a small engineering group, with a bit too much debt, is not going to attract a high rating. 

Deary me.
Today's announcement is a nasty one. Let me put the problems in bullet form:
USA demand "broadly in line with expectations"
USA margins are down, due to tariffs on Chinese imports. Tricorn phrases this elegantly, saying there is a "lag" between the imposition of these tariffs and its negotiation of higher prices with its own customers.
UK demand "slowed significantly", with H1 revenues down 12%.
The upshot is…

Unlock this Article with a 14 day free trial
Already have an account?
Login here