Small Cap Value Report (Weds 12 Dec 2018) - SDRY, FTC, DPP, FUL
Good morning, it's Paul here.
What fresh horrors has the market served up for us today? It looks like at least 3 profit warnings, judging from the top % fallers list, so I'll start with them.
Share price: 380p (down 33.7% today, at 09:10)
No. shares: 82.0m
Market cap: £311.6m
Interim results for the 26 weeks ended 27 Oct 2018.
Good grief, I didn't expect this fashion brand to come back within my small cap remit again - its market cap was over £1.6bn at the start of this year, and is now just over £300m. I know this share is popular with private investors, so my commiserations to any readers who are holding this one.
The share price is all over the place, it's up 22p to 402p just in the time I wrote the above.
I reported on the profit warning in Oct 2018 here, fearing that it had another profit warning to come.
Note that Superdry has a profit seasonality leaning towards H2. So the H1 numbers need to be seen in that context.
The highlights today look grim, with profit down by almost half;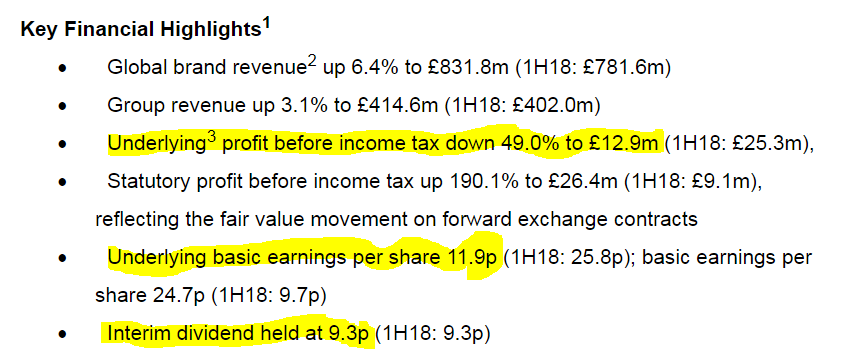 Although it's interesting to see that the dividend has been held.
Current trading & outlook
Unseasonably warm weather has continued through November and into December (Superdry's two biggest trading months in the year) across all of our key markets.  Given Superdry's reliance on cold weather related product continues and a lack of innovation in some of its core categories, sales have remained under pressure despite a strong performance in the Black Friday week.  This has resulted in an adverse profit impact of around £11m in November and the Company expects a potentially similar profit impact in December if trading conditions do not improve.
There is still considerable uncertainty in terms of the weather outlook, the changing shape of consumer behaviour in the peak trading period and the impact of wider economic and political uncertainty.  Reflecting those impacts and the uncertainty in the remainder of the financial year the Company expects underlying profit before tax to be in the range of £55m to £70m.
It's very helpful when companies give specific profit guidance like this. My initial reaction is…

Unlock this Article with a 14 day free trial
Already have an account?
Login here