How to use Stockopedia on a mobile or tablet device
As a web-based application, Stockopedia offers powerful functionality on a desktop or laptop computer - through any internet browser. But we know that it's important for our users to be able to access the service wherever they are.
For that reason, the platform has been designed to enable you to access everything you need on your phone and tablet. With quick access to Today's Market Data, Stocks, Screens, Portfolios and Discussion you can achieve almost everything you can on the desktop.
Getting started
Stockopedia has been optimised for mobile and tablet browsing using an internet browser just as you would on a desktop computer. But to make life even easier, we've designed it so that it looks and feels like an 'app', with a Stockopedia launch button that you can save to your Home Screen.
Here are the steps you need to take to get started with Stockopedia on mobile.
1. Go to app.stockopedia.com on your mobile or tablet and follow the steps to log in with your Stockopedia username and password. Once you're signed in, you'll be taken to the main Today page - and you're ready to use the platform as normal.
2. For quick access to Stockopedia from your device, you can Save Stockopedia to your Home Screen. This will give you quick access to the platform (rather than using an internet browser) and also frees up more screen space for viewing our data, features and articles. The process of saving Stockopedia to your home screen differs slightly depending on what device and operating system you are using - but your device's internet browser will have an option to add a website to your home screen or add it as a bookmark.
On an iPhone, when using the Safari browser, navigate to the Stockopedia today page and press the share button at the bottom of the browser. A menu will appear with an 'Add to Home Screen' option on the list. On the next and final menu, it will confirm the location, and selecting 'add' located in the top right-hand corner will pin stockopedia to your iPhones home page.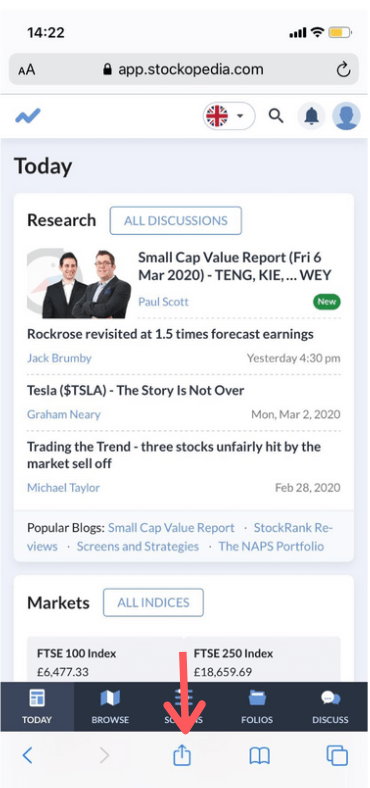 For Android, tap on the three dots at the top right of the screen. From the options in the menu that comes up, simply hit "Add to Home Screen".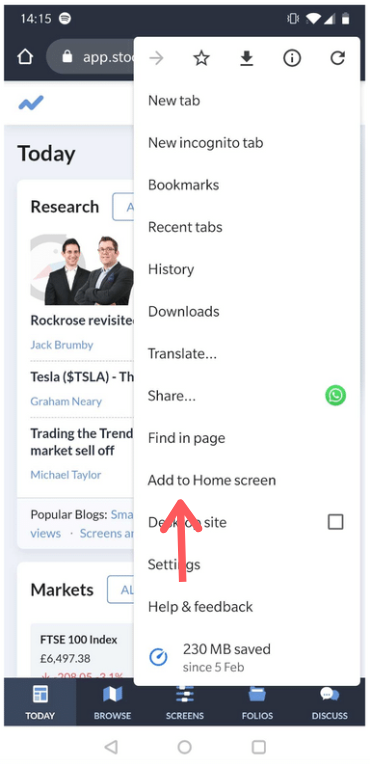 Regardless of iPhone or Android, following the above steps will have now saved Stockopedia to your desktop in the form of an app icon.

Navigating Stockopedia on mobile
There are two areas of the screen that are important to know about if you want to navigate on a phone or tablet. Along the top of the screen, you can find some of the more important settings functions. From left to right you'll find the:

Homepage button (the Stockopedia swoosh)

This will turn into a Back button when navigating around the site

Focus Mode drop-down box (to navigate between geographical regions)
Search bar (the magnifying glass)
Alerts notifications button
Your Profile settings (where you can also log out of the site)
Along the bottom of the screen is the main navigational menu. This is where you can access all the most important areas of Stockopedia:

The Today button is always available to take you back to the main Today homepage (the first page you see when you log in).
Tapping on one of the remaining four icons brings up a separate sub-menu for each one. These include:
Browse brings up popular StockRank screens, Guru Screens and market indices
Screens opens up your own saved, customised screens
Folios shows all of your saved portfolios
Discuss takes you to the Discussion page, as well as showing some popular blogs and topics