Contacting our support team
We aim to be extremely responsive to user support tickets by email and in-app, usually replying within the hour and often much faster than that. This service is available during UK market hours in the day and on an ad-hoc basis in the evenings and at weekends. Outside UK daytime hours support times may take hours rather than minutes.

Please note, we have no dedicated support staff - the people that build & research the data & applications on site answer the support queries. While we endeavour to answer all queries quickly, sometimes we're too busy building the product - so please be patient !
How to raise a support ticket
You can raise a support ticket by clicking on the Green Support Messenger at the bottom right of any page. We'll reply right back to you in the application and you'll receive a popup conversation if you are online. If you are offline you will receive an email. You can pick the conversation up at any time both via email or in app.
It's worth reading through the Product Guide and watching our range of introductory videos, found in 'Getting Started'. We also have an extensive set of articles designed to help you through most common issues, ranging from 'not being able to log-in' or 'how to change your password' to more complex data-related queries.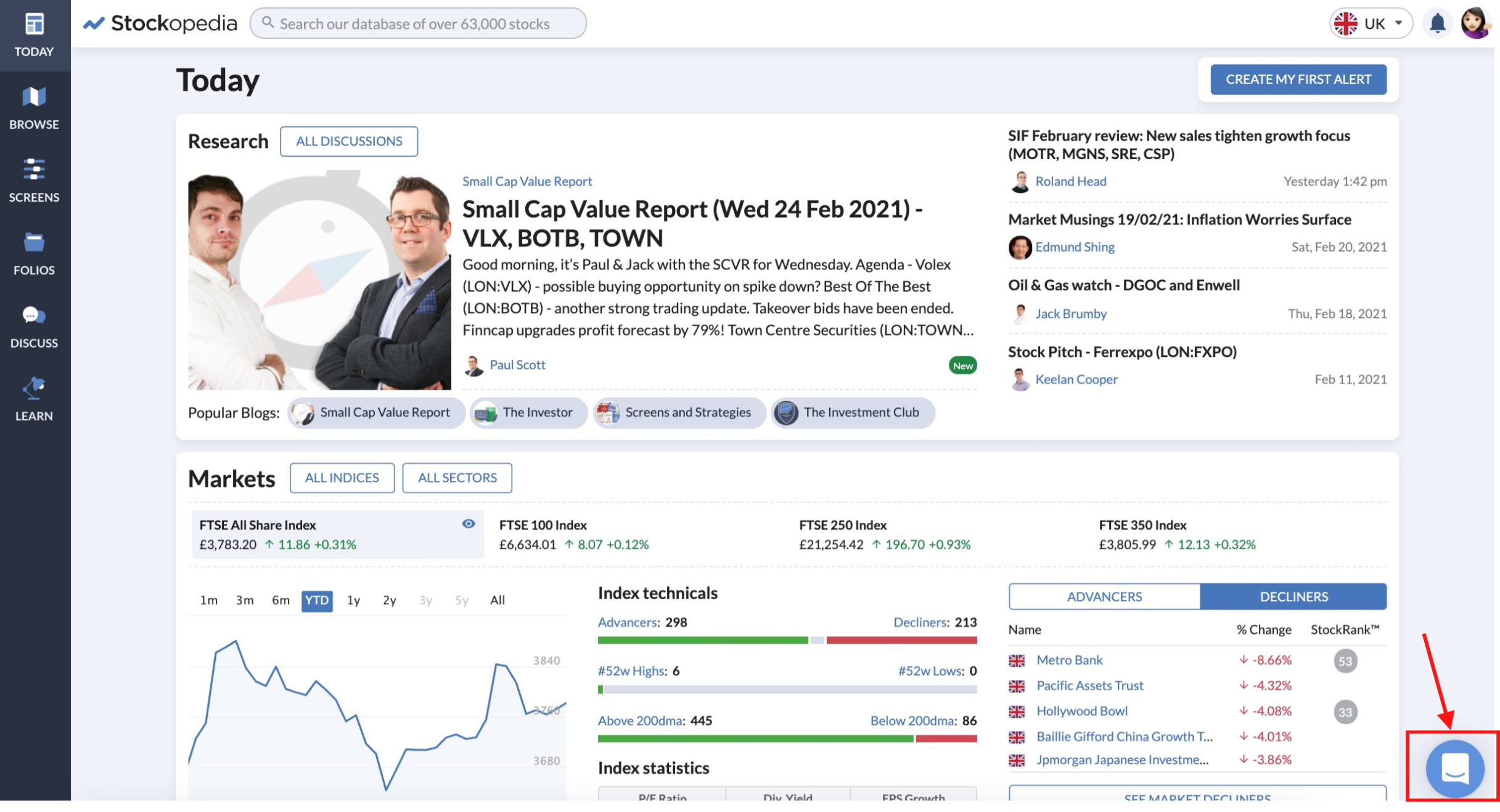 Submitting Feature Suggestions
If you do have any feature suggestions please send a ticket as above. We may already have the feature that you require, if not then we will add it to our to-do list!

Phone Support
This is a fairly sophisticated Web-based product and our team is spread across different locations in several continents, so it's just not cost-effective for us to provide a dedicated telephone support team. We'd much rather keep the prices we charge you for the service low, rather than inflate our prices by offering a phone support line that 98% of users won't need.
While we don't offer dedicated phone support, if you do want to include your phone number in a ticket, we will aim to give you a call back, if the issue can not be resolved easily by email.
Book a demo
Do feel free to contact us via the Green Support Messenger if you'd like to see a live product demo. The best way to get a demo is to either join one of our webinars or come to a live seminar or conference. Please check the next sections for more info. We also have a number of introductory demo videos available on Youtube, which may be helpful.
Helping us Solve a Technical Issue
From time to time, we may experience a technical problem with the site that you need to get in touch with us to resolve. Naturally, the first step in fixing a technical issue is to work out what's going on and so we may ask for some extra information to help us do this.
In particular it is helpful to know the following:
What operating system are you using (Windows, iOS etc) and what version of that operating system?
What browser are you using (Chrome, Firefox etc) and what version of that browser?
When did you first experience the issue?
Are you experiencing the issue on one device or multiple devices?
Are there any browser error messages coming up (see below)?
Browser Error Messages
The error messages produced by your browser can be extremely helpful in helping us debug technical problems. However, you will need to open up the browser console in order to see them. If you are comfortable doing this, then exactly how you do it depends on the browser you are using but here are some resources that may help you out:
Chrome
First of all you will need to open DevTools, as described in this article on google:
Once you have DevTools open, you will need to go to the console, which is described in this Google help article:
Once you have the console open, you can copy and paste its contents into a message to us, or take a screenshot of the console and send it to us in a chart message.
Firefox
The procedure is very similar to the Chrome procedure, the Firefox team have a guide on how to open the console here:
Opening the Console in Firefox
If you follow those steps the developer tools should open straight up onto the console, and you will be able to copy and paste or screenshot the contents and send them to us.
Safari
First you will need to enable the 'Develop Menu' in Safari, there's a guide on how to do that here:
Enabling the Develop Menu in Safari
Once you have the 'Develop' option in the menu bar at the top of the page, you can click on it and then choose the option called 'Show Error Console'.
This will open up the console straight to the relevant place and you can then send anything you see in there to us.
Edge and Internet Explorer
First you need to open up the Developer Tools by either pressing F12 or by using the more (…) menu. There's some documentation on this on Microsoft's website here:
Opening the Developer Tools in Edge and Internet Explorer
Then you can head over to the Console tool, either by pressing CTRL + 2 or using the 'Console' button, as described in this help article on Microsoft's website:
Opening the Console in Edge and Internet Explorer
Once you're there, you can send the contents of the console to us.