Amending your transactions
Once you've been entering your transactional data for a while you may want to review the list and make adjustments. If you are viewing a Folio your transaction data can be accessed at any time by clicking the Transactions tab.

This page contains a chronological list of every transaction (purchase, sale, dividend, deposit or withdrawal) currently logged in the Folio. Each transaction line is dated, and where relevant you will see details of the number of shares involved, the price, forex rates, commissions, taxes, the resultant cashflow and, next to that, the cumulative cash flow column. You'll also see any notes that have been set on each row.

To the right of each row you'll see the cog icon which allows you to edit or delete the transaction.
Editing Transactions
Editing existing transactions is very simple. On the main transactions page, click the cog icon and click 'Edit transaction'.
This will re-open the transactions pop-up box, where you'll be able to make any changes. Click Save to exit.
Deleting Transactions
To delete a transaction for a position, go to the 'Transaction tab, click on the cog icon next to the security name and click delete.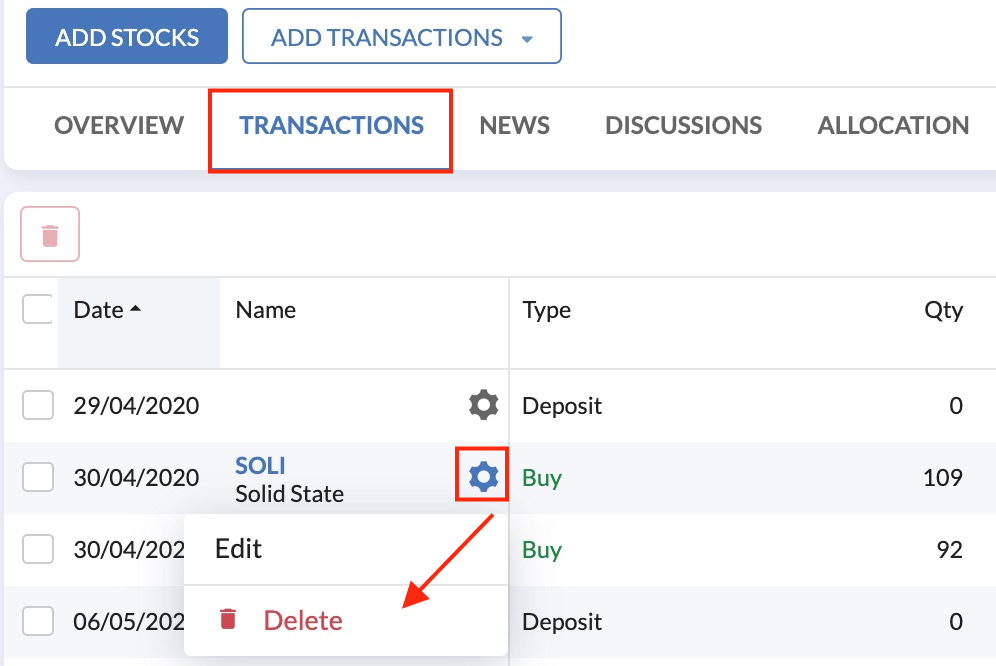 Don't worry, you will receive a 'confirmation' popup before we delete the transaction!