Handling splits & other corporate actions
When a stock split or consolidation happens, portfolio positions will need to be adjusted accordingly as otherwise your portfolio valuation will be incorrect. In the same way, a bonus issue (sometimes called a scrip issue) is identical in outcome to a share split - the investor receives additional shares, but the share price is reduced accordingly so that the value is identical in your portfolio.
Once a split has occurred, it's best to double check the regulatory announcement from the company to find the exact split details so you can then reflect these in your portfolio.
Worked example:
Domino's split its shares in June 2016. The company released an announcement saying:
The Board believes that it is appropriate to propose the subdivision of each one Existing Ordinary Share into three New Ordinary Shares of 25/48ths of a penny (approximately 0.520833p) each ('New Ordinary Shares') pursuant to this resolution ('Share Split'). The Share Split will result in shareholders holding three New Ordinary Shares for each Existing Ordinary Share they held prior to the Share Split. It is proposed that the last day of dealings in the Existing Ordinary Shares will be Friday 24 June 2016 and the effective time for dealings to commence in New Ordinary Shares will be 8.00am on Monday 27 June 2016.
This highlights that every Domino's share in your portfolio would be need to replaced by 3 new shares on the 27th June. After this date, if your portfolio holding is not adjusted then the position valuation would be lower than it should be.

Adjusting for splits and consolidations
If one of the stocks in your portfolio has experienced a corporate action then you can use our Split/Consolidation Tool to update your historic transactions accordingly.
To find this, click on the cog icon next to the affected stock in you portfolio and then click on 'Adjust for split/consolidation'.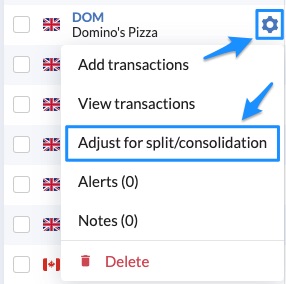 A modal will appear, giving you the option to enter the split or consolidation details and the date of adjustment. If you were adjusting for a historic split then you would want to update the 'Adjustment Occurred on' date to ensure the correct transactions are updated.
In our previous example, we would fill this out as below: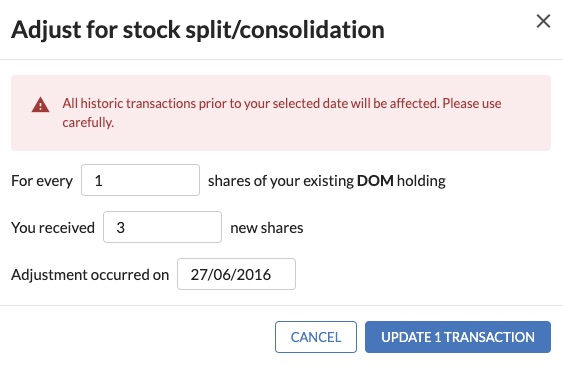 Click on 'Update Transaction(s)' for this to be reflected in your portfolio.