Commenting on articles
Stockopedia community members are welcome to add replies and comments beneath articles and posts. All the tools that are needed to add comments and manage they way they appear can be found underneath each article or thread.
How to post a comment
There are two ways to add a comment to an article:
To comment on the article directly, simply type into the comment box at the bottom of the page.

To reply to an existing comment on the article, click the Reply button in the specific comment and a response box will appear.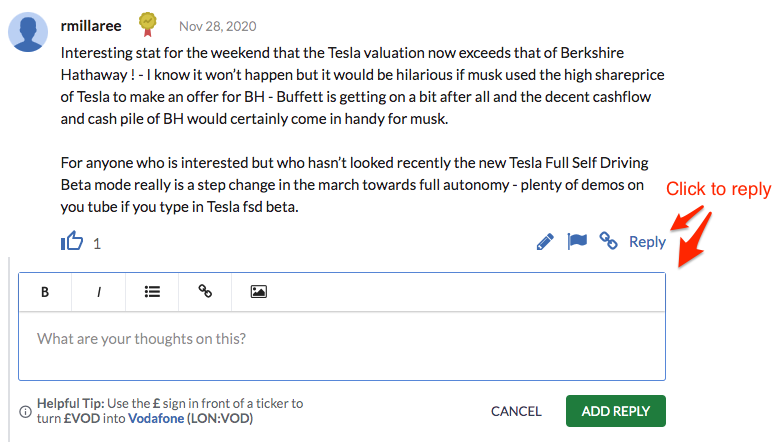 When you comment on an article directly, the author will receive an email notification. When you Reply to an existing comment, the user will receive an email notification.

Remember, if you refer to a company in your comment you can automatically link it to its StockReport by using cashtags (a '£' sign followed by the stock ticker). For instance, in the case of Asos plc, you would type £ASC.
Reading comments
If you like a comment on an article or thread, you can make your feelings known by clicking the thumbs-up icon that can be found at the bottom of each comment.

To share a comment, you can click the Link or Share buttons at the bottom of the comment.

Clicking Link will launch a pop-up with a link to the comment that you can highlight and copy.
The Share button will launch the Share pop-up, which offer the option to distribute the comment on social media channels.
In the rare instance that a comment is likely to upset or offend, it can be reported to Stockopedia administrators by clicking the Flag button. In addition, the author or thread creator assumes 'ownership' of the commentary discussion and can moderate comments by clicking the Moderate button.
Comment view options
By default, Comments appear in full at the bottom of each article in chronological order, with the latest comments last (Sort by Oldest). Where there have been multiple comments, pagination is used - using what is called 'infinite scrolling' - to make it easy to navigate what can be tens - or even hundreds - of comments.


Underneath the Comment Box, at the top of the Comments section, there are two dropdown boxes. The 'Sort by' box allows you to sort articles according to 'Most Popular', 'Latest' and 'Oldest'.
The 'Replies' box lets you view comments either chronologically ('Unthreaded') or as nested ('Threaded') conversations, with comments and replies running together.