Finding recent StockRank movers
For many subscribers, it's important to know when new stocks are soaring or slumping through the StockRanks, StockRank Styles or RiskRatings.
Movements through the Ratings tend to happen whenever there are big changes in fundamentals, sentiment or price - for example on new annual or interim results or on big news. The Ratings Upgrades and Downgrades page provide the perfect place stay ahead of the curve in spotting new opportunities.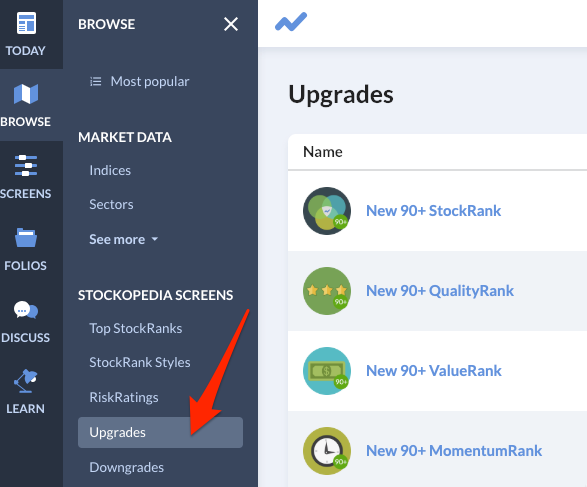 You can find the Upgrades and Downgrades screens by clicking Browse and selecting those options form the local navigation menu.

Each page consists of a set of popular "mover" screens. By clicking any of the screen names you'll be taken to a page showing the screen rules and performance history and a table of stocks passing those rules.
Like all tables across Stockopedia, you can click "Duplicate" to save the screen to "My Screens", which will mean that you can adjust the rules in whichever ways you wish.
It can be extremely useful spotting the biggest movers over the last week as many other investors may be slow to react to recent fundamental or sentiment changes. Many find this a great way to stay ahead of the curve.