Director dealings data
We provide data on equity transactions by individuals and institutions classified as insiders in the United Kingdom. While we have plans to extend coverage, we are currently not publishing insider data in other regions.
Based on the London Stock Exchange listing requirements as a guide, we define Insiders as:
all directors,
substantial holders who buy or sell more than 3% of a company's share issue, and
fund managers who hold over 10%, who are required to report stock transaction activity and direct and indirect holdings.
Keeping on top of these dealings is an important due diligence step for many investors. It can be reassuring to know that management has 'skin in the game'. Large buys or sells from directors can send a powerful signal to the stock market, but the news can take a while to filter out.
You can read more on the value of Director's Dealings as a signal in our Smart Money Playbook.
How can I find the directors dealings data
You can access a company's directors deals page from its StockReport. We include this information on a sub-tab under the Accounts dropdown menu.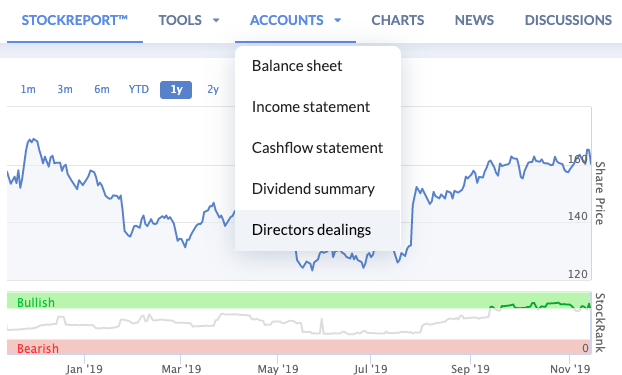 Types of trades
For any trade, you can see the date of transaction, the name of the insider in question, the type of transaction, the volume, price and value of the trade, and the percentage ownership of the insider.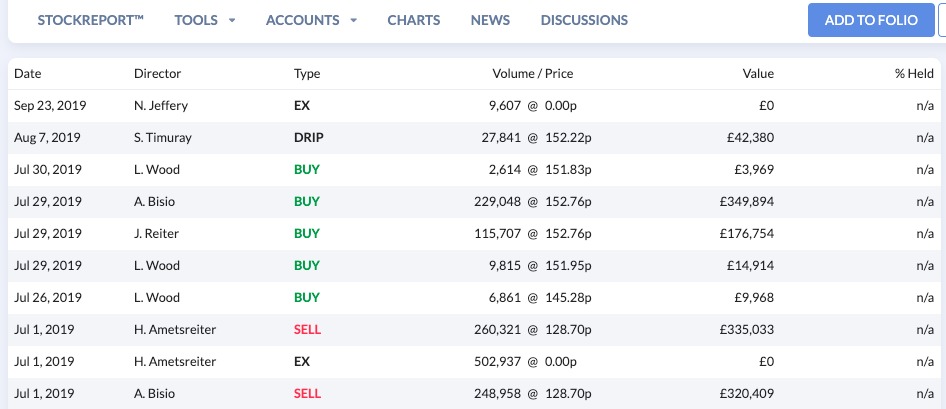 You'll find a variety of different deal types on this page. Here's a quick overview of what they mean:
BUY - Market purchase of shares
CVRT - Conversion of loan, preferred, bonus issue stock etc.
DRIP - Dividend Re-investment (SCRIP)
DVRC - Divorce settlement
EX - Exercise of shares options or warrants
FEES - Director fees paid in shares
GIFT - A gift of shares
IHRT - Inheritance tax of shares
ISA - Shares transacted within an ISA wrapper
LOAN - Shares offset against a loan
LTIP - Shares issued under a Long term incentive plan
SELL - Shares sale
SIPP - Shares bought or sold within a SIPP
TAKE - Take-up of rights shares
TRAN - Transfer of shares to a related entity
How often is Insider data updated?
Under UK Financial Conduct Authority (FCA) reporting requirements (DTR 3.1.2 through to DTR 3.1.8), persons discharging managerial responsibilities and their connected persons, must notify the issuer in writing of the occurrence of all transactions conducted on their own account in the shares of the issuer, or derivatives or any other financial instruments relating to those shares within four business days of the day on which the transaction occurred.
Thomson Reuters captures UK Regulatory News Service announcements for director/PDMR dealings on the day of disclosure.