Customise the columns in your tables
As we explain in the Data Views guide, whenever you are viewing a set of stocks as a table (like a stock screen or portfolio), the View Bar provides different table views. However, if the default table views don't include the data you want to see, or don't structure it in the way you would like, you can easily change them.
If you click any table tab you'll see a Customise button in the top right-hand side of the table.

If you click this icon, you'll be able to customise the columns displayed in that table from a modal popup box that looks like this:

Managing your columns
You can edit table columns as follows:
The right-hand side lists the ratios and datapoints that are currently used as columns in the table;
The column on the far-left lists all of the ratio categories that are available (eg. 'Value' ratios);
Clicking on one of these category names presents you with list of individual ratios and datapoints. For example, clicking 'Value' will present you with P/E, P/S, and so forth;
These datapoints are added as table columns by clicking the ratio name, followed by 'Add Column'.
In the Miscellaneous folder you will find a —Separator— column that can be useful for adding a visual separation between sets of related columns.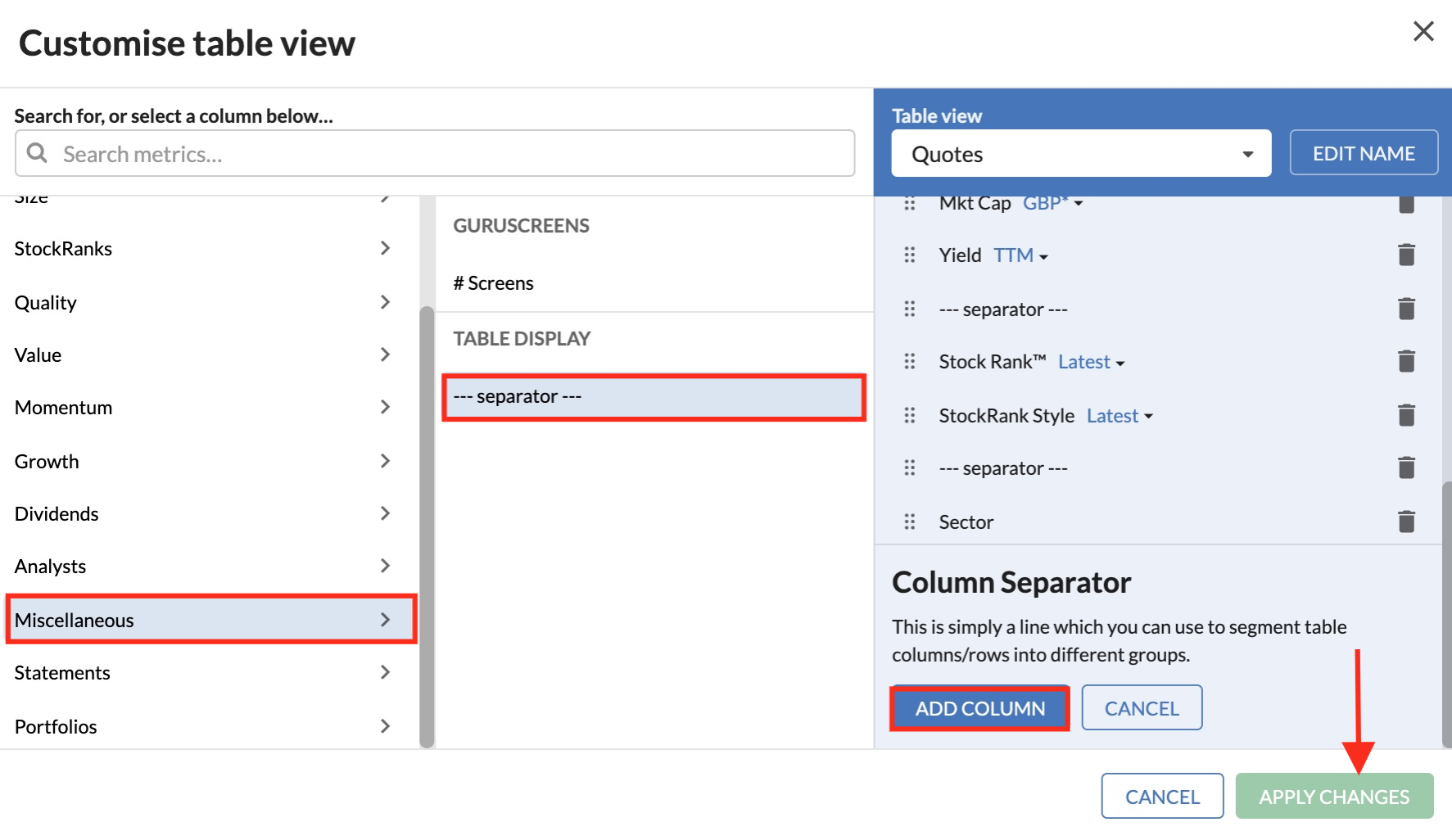 You can reorder the columns in your table by opening the Table Editor and dragging the relevant metric up or down in the list on the right hand side of the popup.
To remove any of the columns from your table view simply click the cross on that data point on the right hand side of the popup.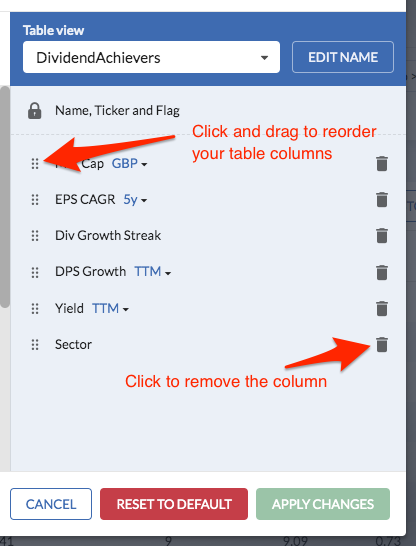 Remember! If you remove anything by accident you can always click on Reset to Default at the bottom of the pop-up, next to the Save table button. This will return everything to how you found it. So play around!


When you are done, click Save Table. This will close the modal and show you your new table view.
Customising the Folio Holdings view
One of the main tabs in portfolio tables is Holdings. In tables, it will show current price and volume information. In portfolios, you'll also see details about your positions, holdings and performance.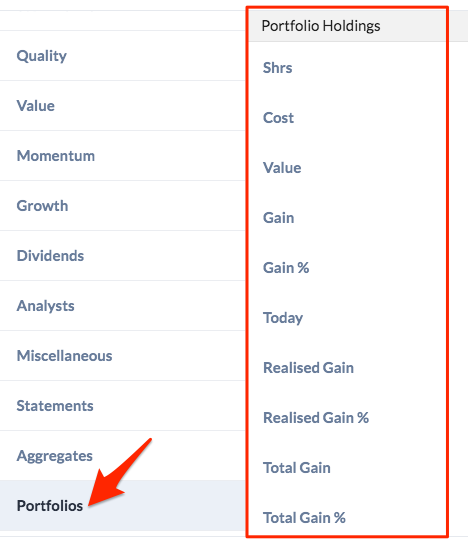 In a portfolio, the Table Editor allows you to add more details to the Holdings view. Just click the Portfolio Holdings category on the left-side of the Table Editor pop-up. There you will be able to add data points like Cost per share, Realised gain and Total gain, among others.

Renaming your table view
You can rename the table by re-opening the Table Editor and clicking the pencil icon at the top right of the modal. You can change the name by using the field provided.