Set alerts on fundamental & technical rules
Setting an Alert ensures that you'll be automatically notified via email - and on the site itself - of changes in share prices or company fundamentals. Alerts can be set according to intraday price movements or any of the screenable ratios in Stockopedia's glossary. Here we're going to explain how to set and change Alerts and how to manage them.
Navigating Alerts
Alerts can be set from any one of three areas in Stockopedia:
From the Today page
From a StockReport
From a Folio table
You can find your Alerts page by clicking the alerts button (bell icon) towards the top-right of the page. This will take you to the Alerts page, where you can add, view, edit or delete alerts.

If you wish to set an alert from a StockReport, just click the Alerts button, which you can find towards the top-left hand side of the page. This will launch a pop-up with which you can Create a new Alert.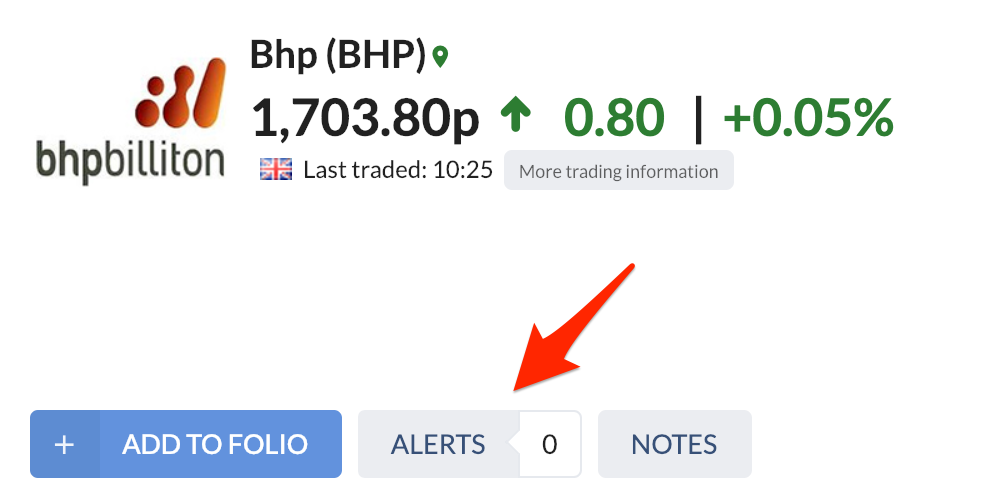 You can also set Alerts directly from a folio table. At the end of the table line, simply click the cog button and select Add Alert from the drop-down menu. This will launch a pop-up with which you can Create a new Alert.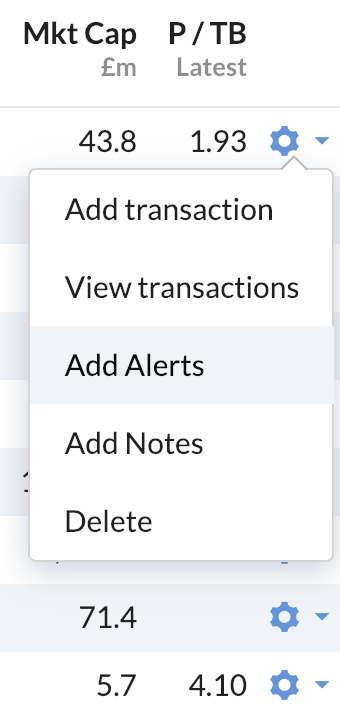 Create a new Alert
Setting a new Alert is a simple process. Click 'Add new alert' on the alerts page; then select a security using the search box. If you are setting an alert from a StockReport or Folio list, the alerts page will be pre-filled with the chosen security.
You will then have the option to set:
Price Alerts (eg. Last Price less than 69.1p)
Stop Loss Alerts (eg. Price rises 10% above the lost price since 25/12/2018)
Fundamental Alerts (eg. StockRank greater than 90)
Technical Alerts (eg. RSI greater than 80)
For example, you can set Price Alerts by following these steps:
Click 'Add Alerts' to open up the alerts screen for a stock
Select 'New' next to 'Price Alerts
Choose your threshold

Then click 'Save'. This will save the alert into the Active Alerts segment of your main Alerts page. Note that the status of the Alert will show as waiting
Remember! When you set a price Alert, remember to check the currency units for the quote on the StockReport. For example, if a stock is quoted in Euro dollars, rather than British pence, you should set an alert at, say, 6.10 (€), not 610 (cents), whereas a British pence quoted stock would be set at 610 (pence).
Triggered Alerts
When Alerts are triggered you will receive a text-based email explaining which Alert has been triggered. Quote based price alerts are triggered throughout the trading day, while fundamental alerts are triggered each morning once the daily fundamental data batch has been calculated.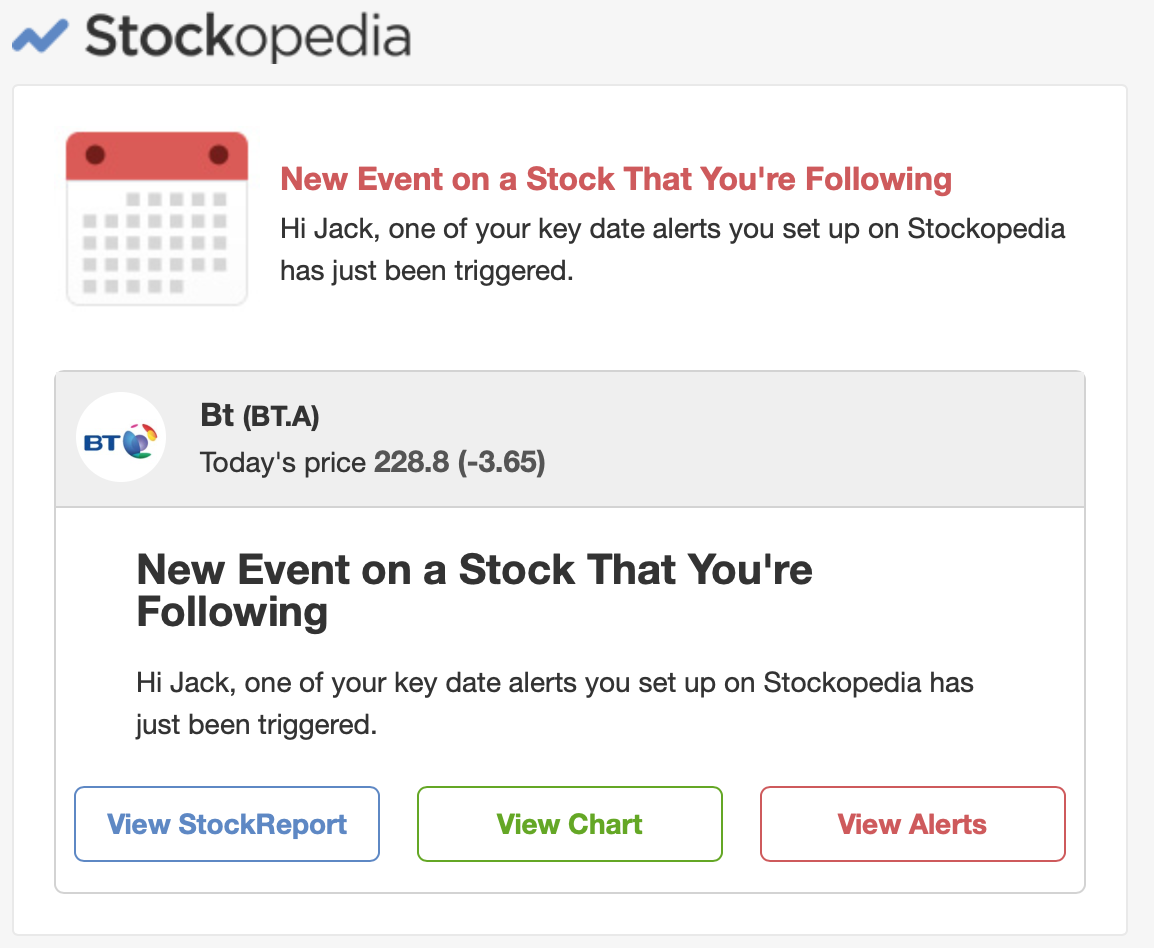 On the Alerts page the triggered Alert will move to the section titled Archived Alerts and the status will show as triggered.

Editing, deleting and reactivating Alerts
Both Active and Archived Alerts can be edited on the main Alerts page by clicking either the Pencil button or red cross button, which you can find to the right-hand side of each Alert. Editing a previously triggered Alert will re-activate it and move it back into the Active alerts box.