A fresh new look and mobile access is here...
Today, I have some good news for the Stockopedia community - mobile access is here. If you've been frustrated that you can't access your favourite research platform easily when on the go, I don't think you'll be disappointed.
We've completely redesigned the site to enable you to access everything you need on your phone and tablet. With quick access to Today's Market Data, Stocks, Screens, Portfolios and Discussion you are now able to achieve almost everything you can on the desktop.
What's more, we're today rolling out an improved desktop experience that acts as the foundation for a host of upcoming improvements over the rest of the year and beyond.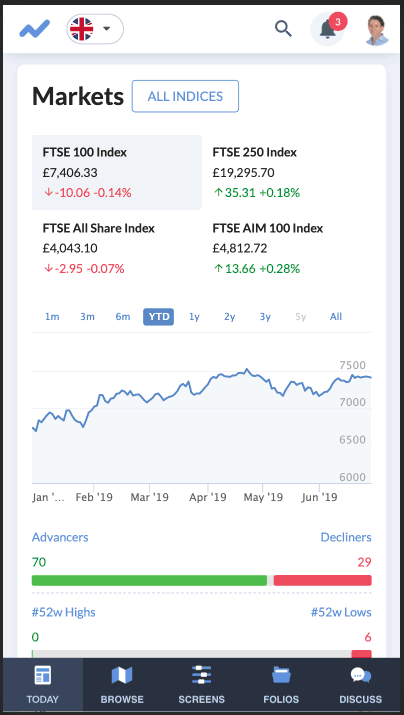 What you should expect...
It's important I manage expectations for the new site, as it is not a finished project and we will continue to roll out new features every fortnight until it far surpasses the old site.
If you've been waiting patiently for mobile access, StockRank charts, more flexible alerts or portfolio analytics on big portfolios then come and take a look.
But if you just can't live without the DCF Calculator or Golden Cross Chart Signals on the current site, then your patience will be rewarded if you wait a while before making the transition. Nonetheless - come and take an early preview.
We'll be adding new features, and improvements at least every fortnight, and I'll personally be publishing plenty of video tutorials and trainings to help with the transition. My goal is to win everybody over to the new site by the end of the year.
What if you don't want things to change?
As a consumer of many digital services, I know how disorienting it can be when a new design is rolled out. Here are a few key points to ease the pain:
The good news is that you don't need to switch over if you don't want to, at least for the time being. We'll be keeping the old site alive for at least six months.
What's more, we've made it easy to switch back and forth to and from the new site without losing any of your data. So if you find it all a bit too new, you can pop over now and then, do some trainings and pop back as you gradually get used to it.
But please note, you'll only be able to access the mobile version if you make the switch.
I encourage everyone to come and take a look, and offer feedback on how we can fill any gaps or improve the service further. We've a fantastic team, who have worked outstandingly hard to create a wonderful new experience for the community. It's only going to get better from here.
How to access...
If you've signed up in the last six weeks you may already be using the new site, but if not, there's an easy journey to take.
In the top right corner of the website, click on the "You" profile menu to access the dropdown menu.
Click "Access the New Site"
You'll be taken to a landing page where you can opt in.
Once you opt in, you'll be taken through to explore the new website.
If you do want to go back to the old site at any time, you do this process in reverse.
To add the site to your phone or tablet... simply search for Stockopedia.com via your phone or tablet browser. Once you access the site, you'll be prompted to "Add to your home screen". In this way you can access the new site as if it's a native app.
To the future...
I do hope the community backs our vision here - as this is really a new beginning. I've shepherded this project from its genesis as a simple stock market forum to a multi-award winning, global service for private investors. In the process we've gone from a team of three, with me coding from home, to a team of 27 professionals across the UK and India in product, engineering, operations and content.
This team has built the new service from the ground up, and it's this team that will be rolling out more and more features from the fabulous product backlog that the community has asked and patiently waited for. My immediate priorities are to finish off any missing features from the current site, then roll out some radically improved portfolio and data systems.
If you are looking for simplicity, timeliness or power - stick with us... it's all coming. We'll be broadening our proprietary metrics, asset class coverage, and depth of data on stocks, and creating even better solutions for all kinds of investors. Meanwhile, I'm dedicated to improving the range and breadth of our editorial coverage too - so there's lots more to come there.
Thanks for all the support - there are exciting times ahead and I hope you'll stay with us for the whole journey !