Refer a Friend Programme: Share Stockopedia and save money on your subscription
We regularly hear from our subscribers that Stockopedia's appeal lies in both the power of our investment research tools and the supportive network of like-minded investors that we have here. This community spirit is a major reason for the popularity of the service, and we appreciate that so many of you share your personal experiences and tell others about us.

Subscribers often ask us how best to directly introduce others to the platform (and if there are any advantages of doing so). Today we're delighted to introduce our new Refer a Friend programme, which allows you to gift an exclusive discount to your friends and earn significant lifetime rewards for every friend you refer.
These rewards can quickly build up to give you a completely free subscription to Stockopedia.
Here's how the new Refer a Friend programme works...
How it works
30 days after your first billing date, you'll be able to access a unique referral link that you can share with friends, family, or anyone you think could benefit from Stockopedia in the same ways that you do.
When your friends subscribe to Stockopedia via your link, they will have the usual 2 weeks of completely free access. However, when they stay beyond the end of their trial:
They'll benefit from a 10% discount on their subscription for as long as they remain a subscriber.
You'll save 10% on your subscription fee for as long as they remain a subscriber.
For you, the benefits are cumulative - if you refer 10 friends via your unique link and they stay forever, you'll never have to pay to use Stockopedia again. When you refer a friend, we save on marketing and advertising. We're passing all of that saving directly to you and your friend as a way to say thanks.
1. Get your unique referral link
You can begin using the Refer a Friend programme 30 days after your first billing date, at which point we'll generate your unique referral link. To access and share your link:
Log in to your Stockopedia account.
Click on your avatar in the top right-hand corner of the site and select "Refer a Friend" .
Copy your unique link with one click.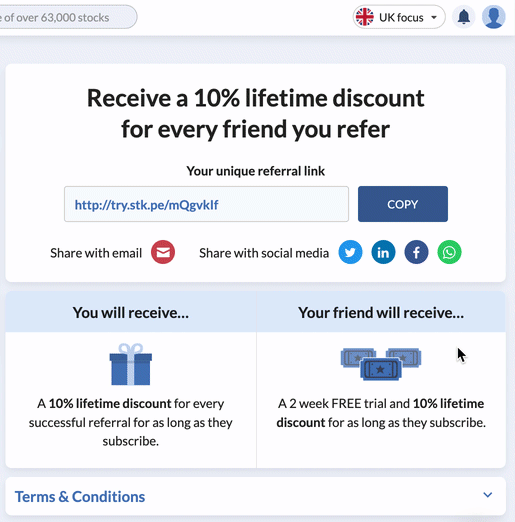 2. Share your link with friends
To benefit from our Refer a Friend programme, your friends need to sign up using your referral link. Here are the best ways to share your link:
Send it directly - You can copy the link so it can be pasted in any messaging format you'd like.
Email it - with one click, we'll generate an email template which you can customise for sending to a friend.
Share it on social media - social media is a brilliant way to spread the word. Clicking on the social media icons will generate a post template that you can quickly customise and share.
3. Save on your subscription
Remember - every person that subscribes to Stockopedia using your referral link gives you an additional 10% off your next renewal. If you refer 10 or more friends, you will have a free subscription for as long as they all stay subscribed.
It's very easy to keeping track of your referrals and your current discount. You have access to a referrals dashboard, where you'll see:
How many friends you've successfully referred.
How many friends are in their Stockopedia trial.
What that all means for your discount.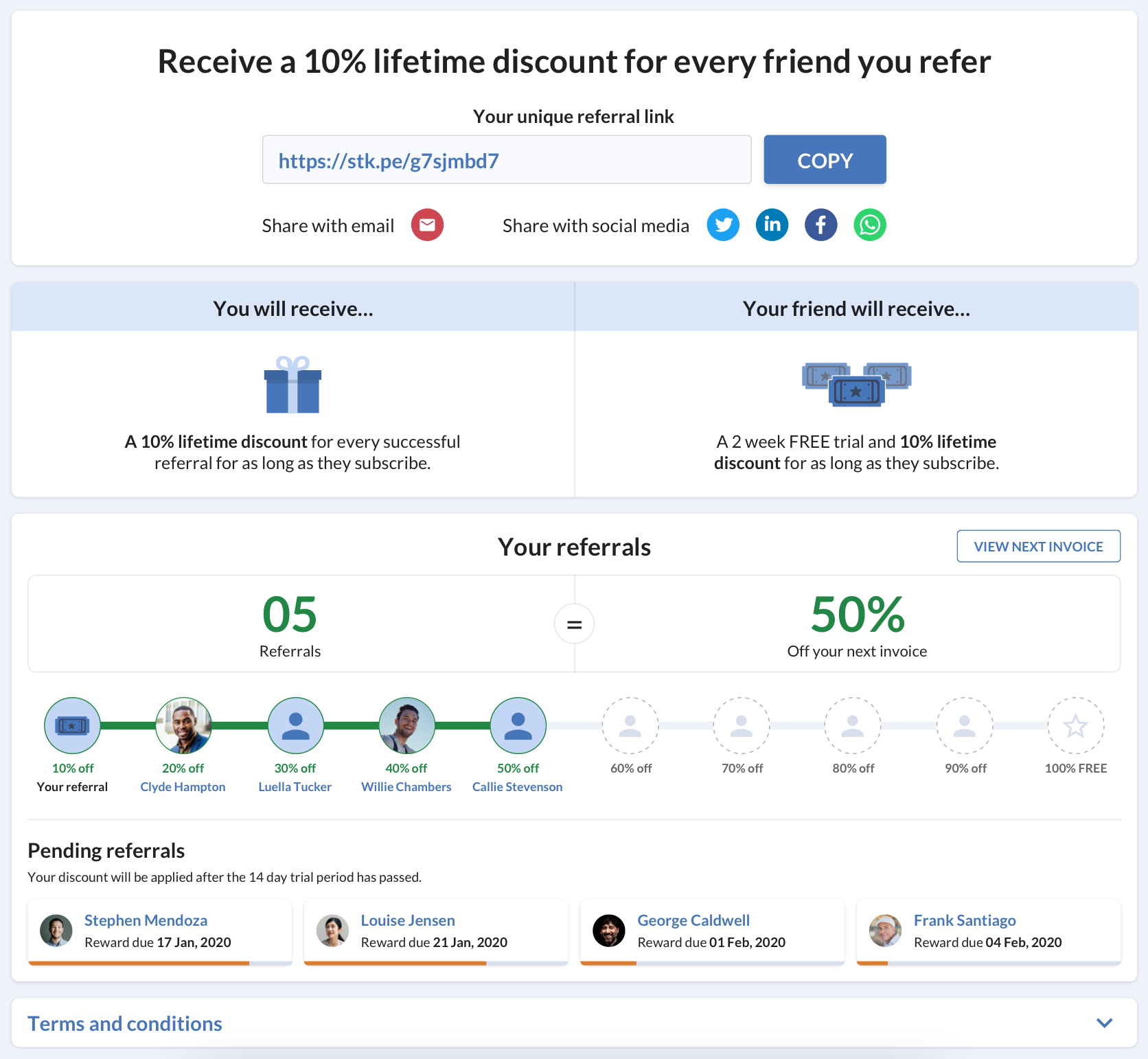 Thank you from all of us at Stockopedia
With product development initiatives underway across the platform, we're entirely focused on building and improving the platform to give private investors the tools and resources needed to succeed in the stock market. We've been able to grow quickly in recent years, but we couldn't have done it without the help of the Stockopedia community that does so much to share their positive experiences with others. By bringing others into the fold through the new referral programme, together we will be able to develop Stockopedia in a way that continues to deliver new and exciting innovations for the private investor community.
Frequently asked questions
Here is a round-up of some of the finer details you may want to know:
Can I get a discount for any previous referrals I have made?
Unfortunately, we can't offer retroactive referral discounts. We're starting from scratch with the new referral scheme and have tried to make it as fair and generous as possible to everyone. You can read the full terms and conditions on the main Refer a Friend page.
When can I start referring friends and family to Stockopedia?
You can begin using the Refer a Friend programme 30 days after your first Stockopedia subscription billing date.
Will my friends also be able to refer others?
Yes! 30 days after their first billing date, they'll be given a unique referral link too.
Are there any restrictions on how I can share my referral link?
Your referral link is designed to be shared freely on an individual basis with like-minded investors, or to any relevant forums or communities that you know will benefit from the service that you enjoy so much. We do ask that you:
Do not share your link on any discount or voucher website.
Do not share your link in exchange for payment from a third party.
Do not pay to promote your referral link.
For more details on where referral links can and cannot be posted, please read our terms and conditions.
How long will it take me to get my referral reward?
Referral rewards are shown on the 'Refer a Friend' page and are applied automatically at your next billing date. Note that if any of your referred friends cancel their Stockopedia subscriptions prior to this, your associated referral rewards will also be cancelled. Please be sure to read the terms and conditions (on the main Refer a Friend page) before you get started to make sure you understand the program.
If I cancel my subscription, what happens to my referral discounts?
If you cancel your subscription, you'll lose all of your associated discounts. You will not be able to reactivate your subscription with these discounts in future.
What if I refer more than 10 people?
If you are a content creator, educator or organisation and believe that a large number of your followers or members would benefit from Stockopedia, please get in touch with us to learn more about our paid affiliate programme.