Released: Improved localisation makes data and research more relevant wherever you are investing
Stockopedia has subscribers in 61 countries around the world, but until now some parts of the platform have defaulted to UK data and currency. Other areas have not been flexible enough to cater for those users with multi-region subscription plans. Overall, there has been a growing need to offer better localisation - so you can see the data you want regardless of where you are, or the geographic markets you're investing in.
In our latest set of improvements, we've solved a number of long-running frustrations to offer a much more tailored experience. Here is what's new:
Upgraded regional settings - giving you relevant data and a tailored experience
The latest changes mean that more data is now tailored to your "Home Country" and "Currency" preferences. Previously, a number of financial metrics were displayed in British pound sterling (GBP) by default, but they are now shown in your local currency. In practice, this means:
You'll see more relevant insights in your Screen and Folio tables - with ratios such as Market Cap, Enterprise Value, and Sales now displayed in your preferred currency.
When using the Compare tool, you'll also be able to see and compare these ratios in your local currency. Unlike previously, suggested stocks for comparison are also now local to your preferred market.
These settings are configurable when you first sign up or add a new region to your subscription. You can adjust them in the 'Account' area of your Personal Settings. To ensure that you are getting the most relevant experience, it is worth checking that your settings are up to date here.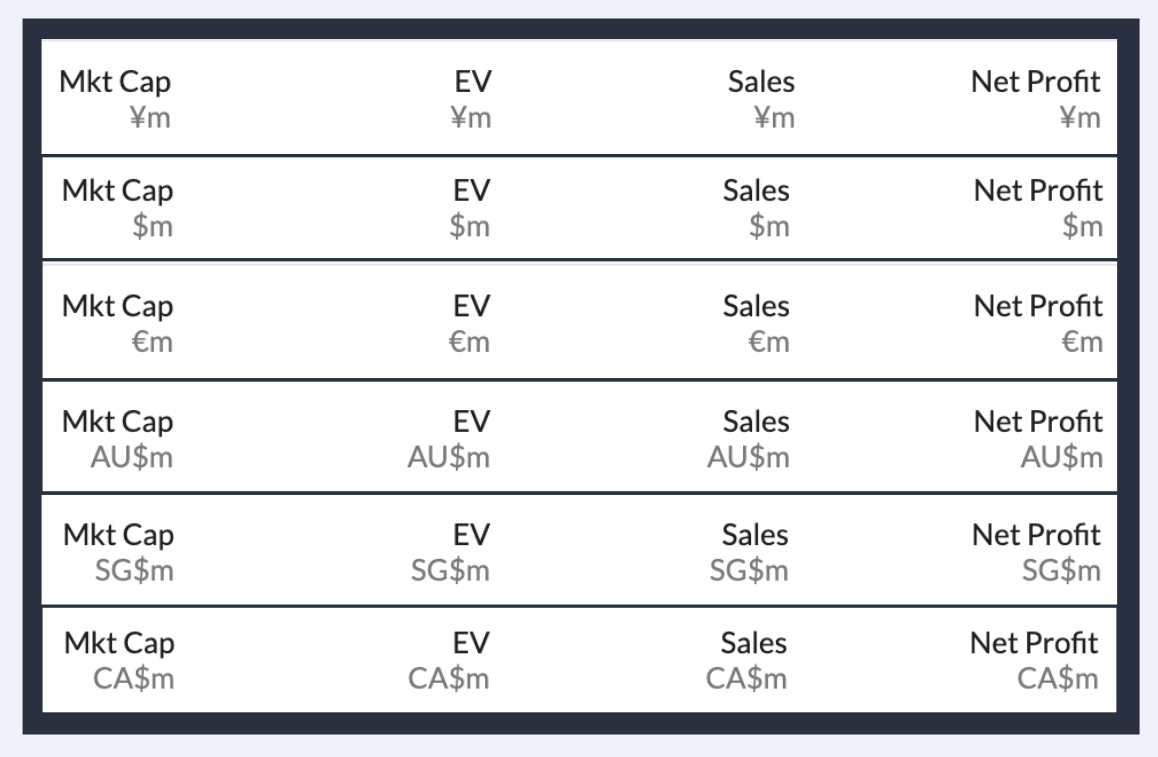 Precise quotes for Australian stocks make it easier to see major changes
We've got a growing base of enthusiastic users in Australia, and we've rightly been called on to make some important changes to adapt to their market.
In particular, stocks in Australia are priced in major currency (dollars rather than cents), unlike here in the UK where we use pence. Stockopedia publishes price quotes to two decimal points, which was making it difficult to see accurate quotes for Australian 'penny stocks'.
All aspects of Australian quotes - including bid and ask prices, daily high, low, and close prices - now display to three decimal places. This makes it easier to see daily price movements, especially for smaller cap stocks which are of high interest to individual investors.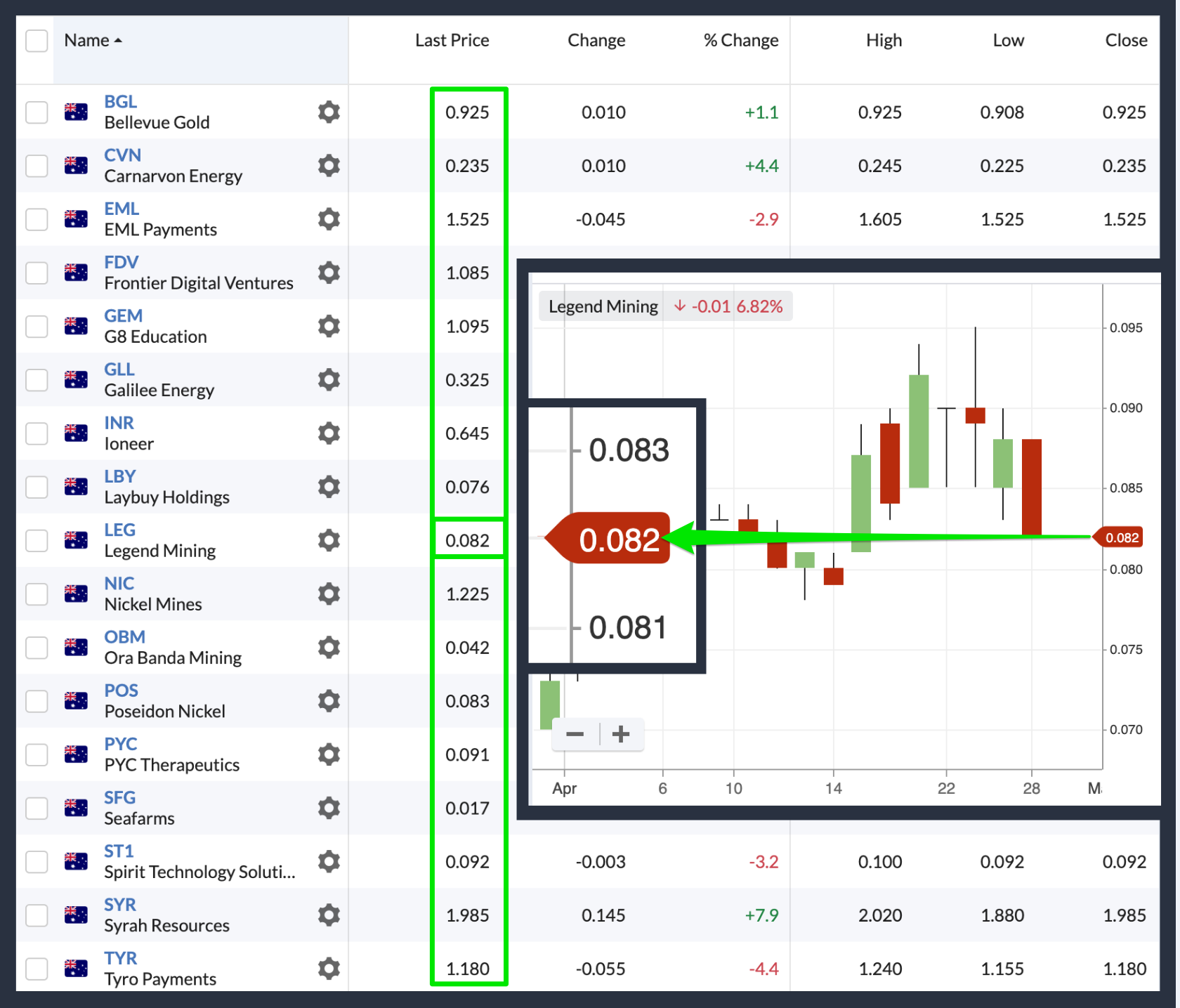 Multi-region users - data now adapts to your preferences
Users with multiple geographic subscription plans have always been able to switch between markets using the 'Focus Mode' flag at the top of the site - but it didn't control everything.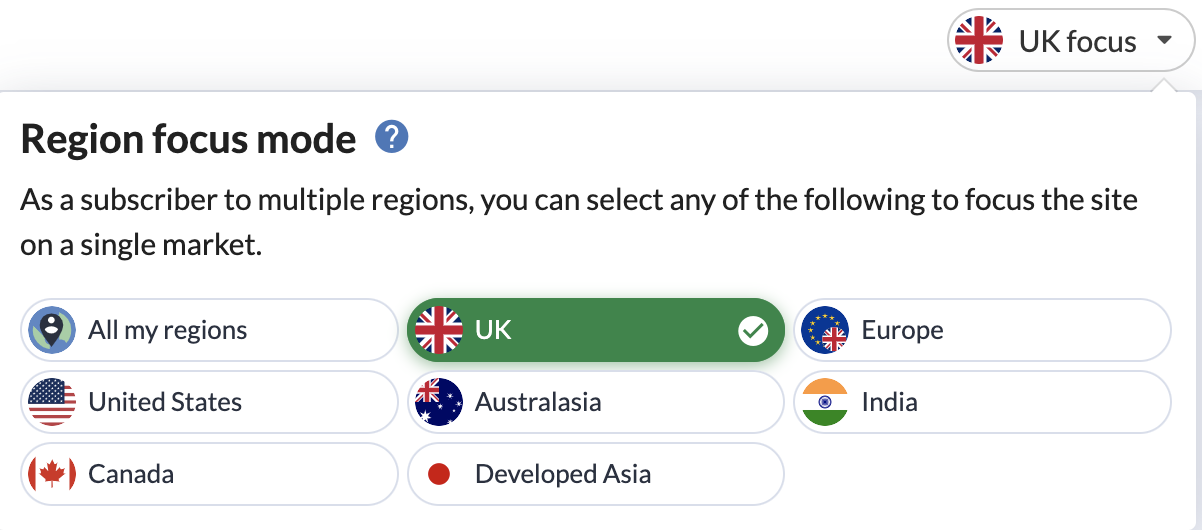 Previously, the performance tracking and qualification numbers shown in the Popular Screens section on the Browse menu all defaulted to UK data. These are now adjusted with Focus Mode, which means you get to see localised performance reports for whatever region you choose.
By simply changing your Focus Mode, you'll be able to quickly see how different strategies have performed across different markets and how many potential opportunities there are that meet those screening criteria.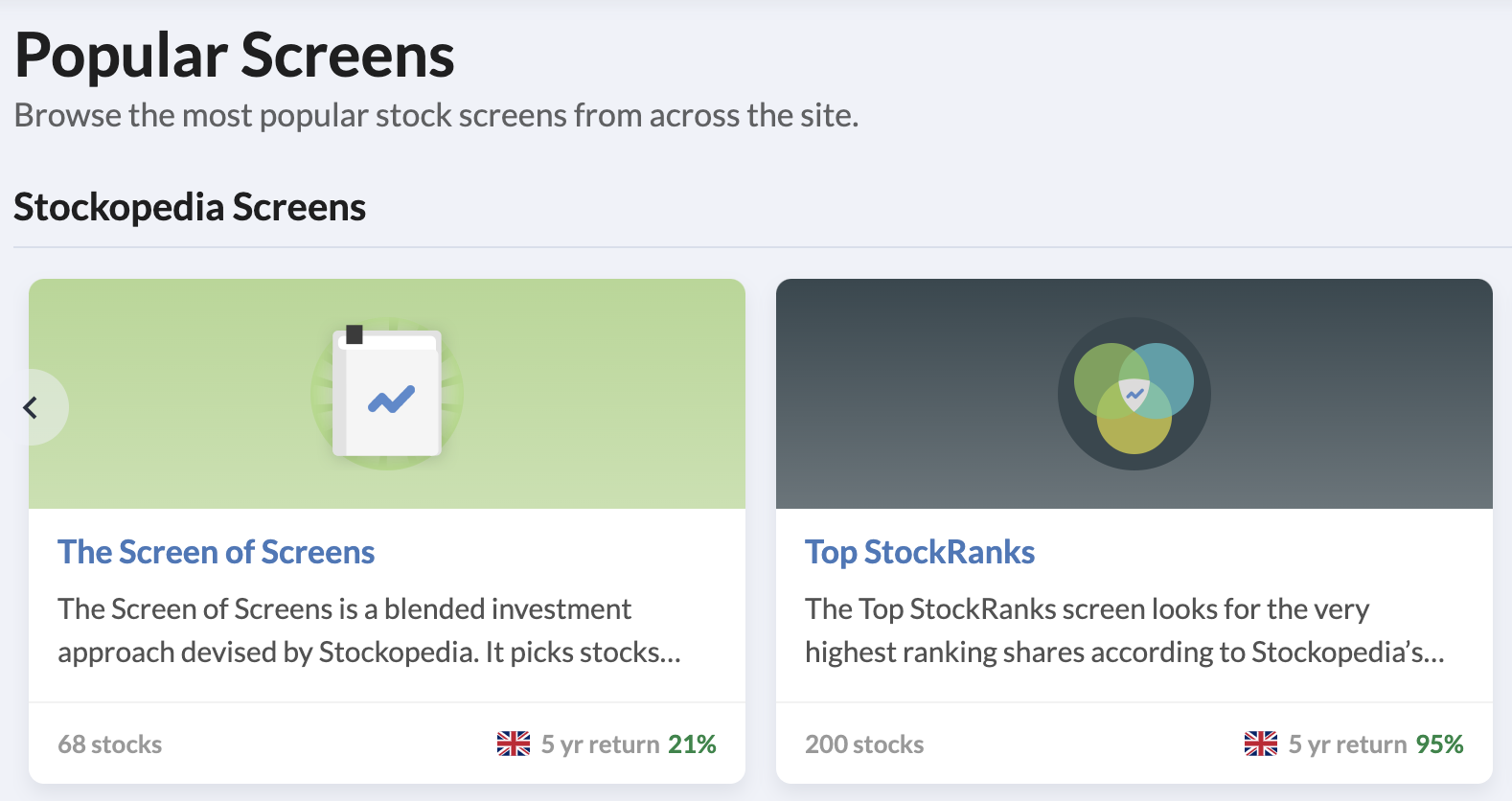 With the site set to UK Focus Mode (above)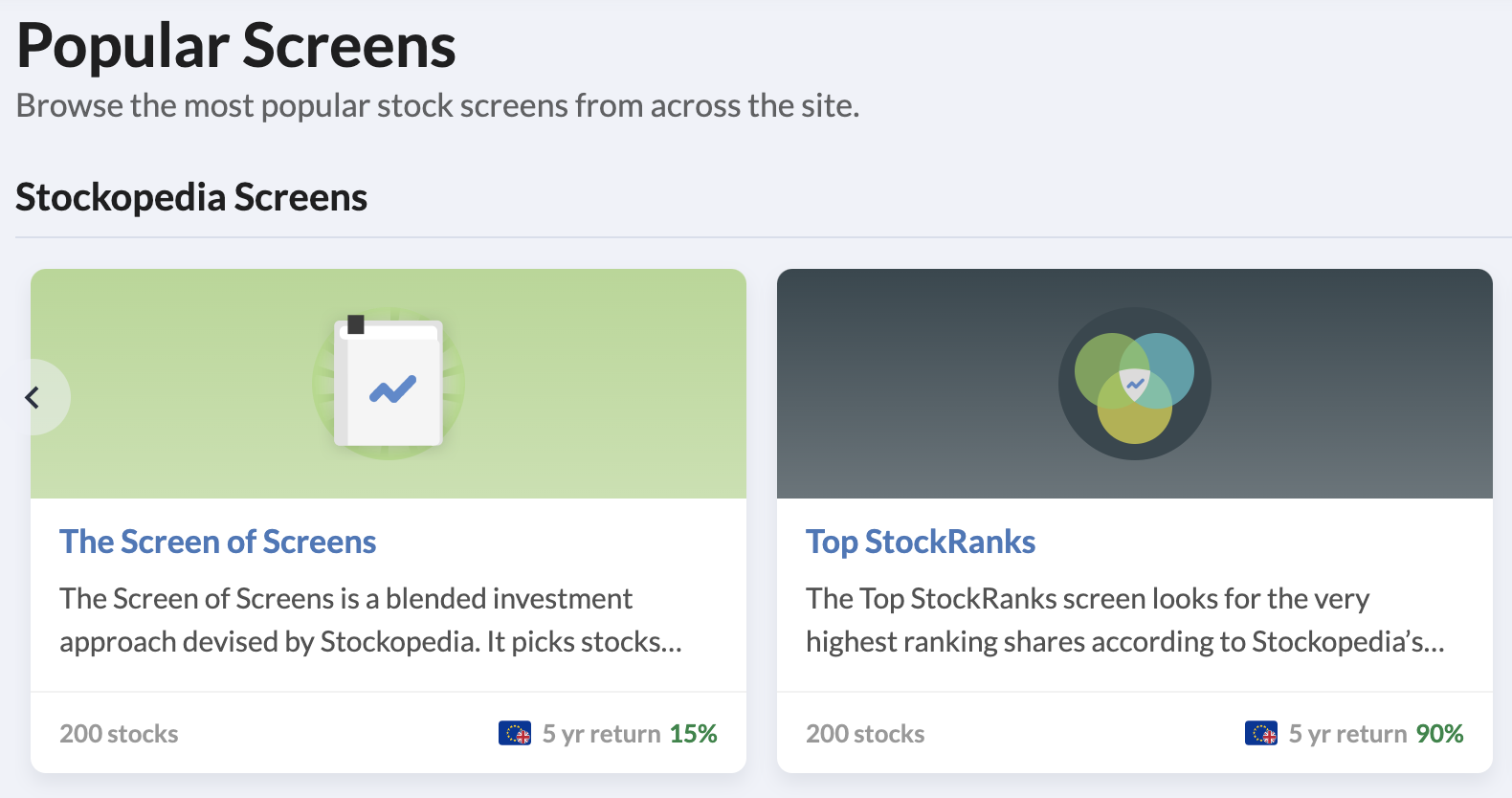 With the site set to Australia Focus Mode (above)

An instant view of StockRank performance in your preferred region
Stockopedia's StockRanks score firms based on their exposure to three essential factors that, over time, have been influential drivers of stock market returns: Quality, Value and Momentum. Keeping track of portfolios with different exposures to these factors is obviously important. But until now, our charting didn't adapt to your preferred region.
As part of the latest changes, the main StockRank performance chart - which you can find in the StockRanks area of the Learn section - defaults to your local market based on your Focus Mode preference. That means it's easier to see and explore StockRanks performance data that is relevant to you.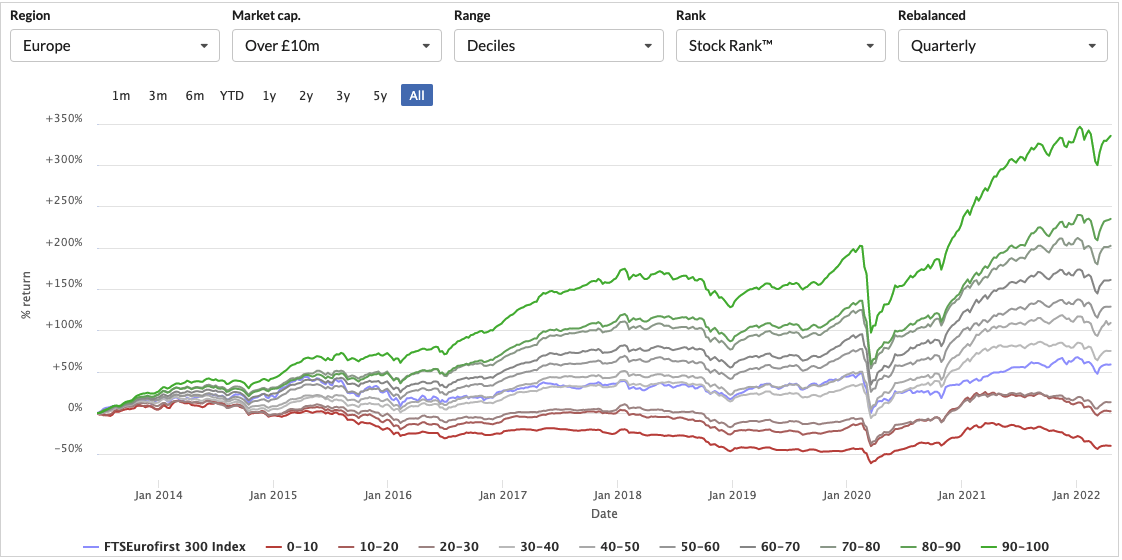 Other localisation improvements
As well as localisation improvements to financial metrics and performance charts, we've also tidied up some other areas, including:
- Checklists now default to your Focus Mode
Checklists are a brilliant way of instantly turning a preset or custom Screen into a handy pass/fail checklist. It's ideal when you want to discover the strengths and weaknesses in a particular stock and how it measures up against your rules.
Previously, this view defaulted to Vodafone (LON:VOD) - a well known telecom stock quoted in the UK. But from now on, the default stock suggestion will change based on your Focus Mode setting. This is a small but significant adjustment that will make this popular tool feel more relevant and intuitive to use.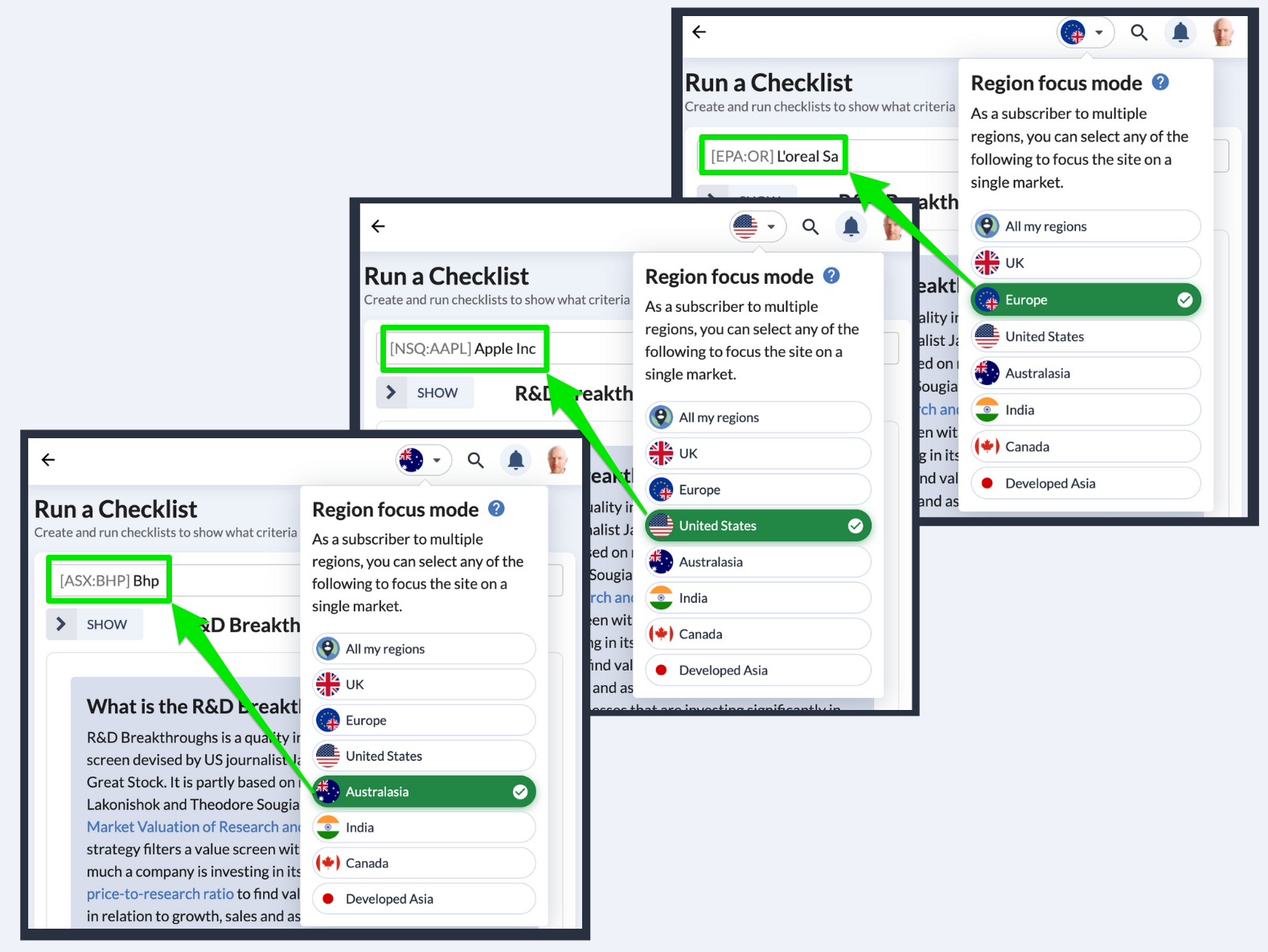 - No unnecessary warnings when uploading out-of-region stocks
Importing portfolios is quick and easy with Stockopedia. Previously the import tool would present a warning when uploading a holding that was outside of your geographic subscription plan. Those warnings have now been removed but you'll still be able to see quotes and valuations for out-of-region positions.