Released: Improved portfolio tools for viewing holdings, recording transactions and creating watchlists
Regular portfolio housekeeping is essential when it comes to staying in control of your investments - and it's our aim to make that as simple as possible. With the latest advancements on the platform we've introduced a range of improvements that will make portfolio management quicker and easier, saving you time and effort.
See the number of shares held when adding to portfolios and logging trades
When you have multiple portfolios and watchlists, it is easy to lose track of which shares you hold in which portfolio. As a result, you can end up switching back and forth between portfolios in an effort to find individual securities and track down the number of shares you hold in them. To help ease this, we have updated the 'Add to Folio' button-menu, which is located in various places around the platform. Now, when you select a stock, the menu shows both the portfolio that it's held in, plus the holding value in each portfolio. This takes away the guesswork and lets you quickly discover which folio a selected stock is in, and the number of shares you hold.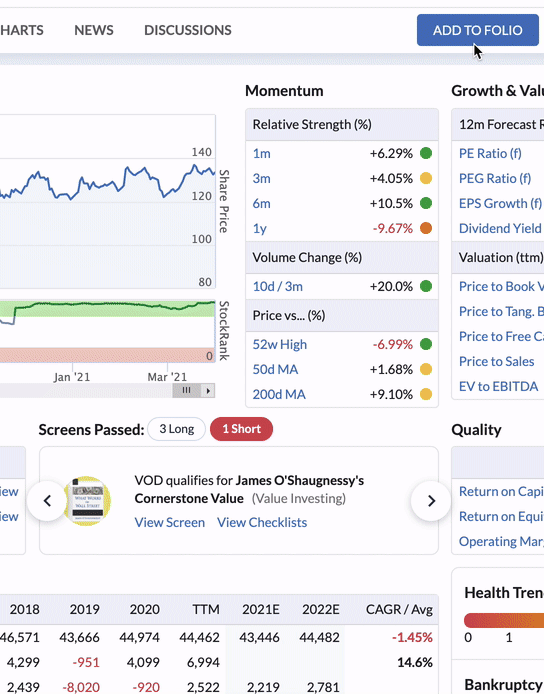 As part of this change, we've also made further improvements to the transaction form in folios. When adding transactions like 'sells' to a portfolio, it used to be the case that while you might have sold an entire position, you may not recall the precise number of shares involved. This meant you would have to refer back to your list of holdings. From now on, the holding value of each position at a given date is shown on the transaction form, which you can click to apply. Again, this saves time and the inconvenience of switching back and forth between pages to find the information you need.
Stock Splits and Dividends - new tools to make them easier to handle
Improvements to the transaction form in folios has also been extended to the dividend form. A known issue with dividend record-keeping is that brokers don't always pay dividends on the payment date. This can cause a few days of delay in dividends being reflected in a portfolio. To help you manage this issue, we've changed the dividend form so that it now provides a suggested dividend on the payment date and up to three days afterwards - adding more flexibility to recording dividend payments. In addition, we've also added the option of including taxes and commissions on the dividend form. These incremental improvements add extra detail and mean that you can be more precise in your dividend record-keeping.
Simply add a position or transaction to your portfolio to benefit from these. If you haven't yet created a portfolio, please do see our guide for further details on getting started.
Another useful change around managing positions is one that tackles stock splits and consolidations. Portfolio valuations can be thrown into disarray when a company decides to split or consolidate its stock, causing apparently large spikes down or up respectively. This can be particularly tricky if you have imported many transactions over time and the split has occurred in the past. You can now easily reflect these using the new 'Split/Consolidation tool' which cleans up your portfolio valuation over time to remove the spikes in the history and ensures your positions gains are correctly reflected.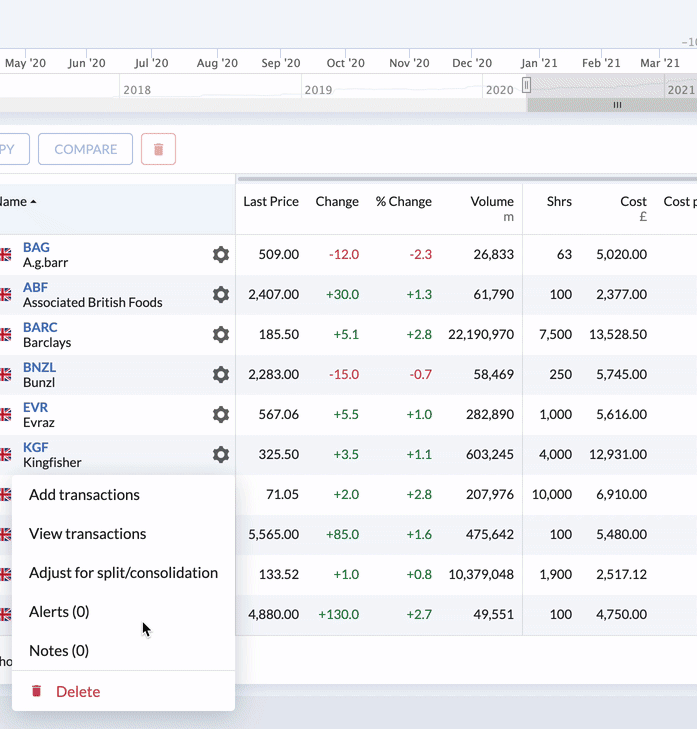 Build watchlists faster with the new bulk-add tool
In addition to the new folio management tools, we've also improved the way that stocks can be added to portfolios and watchlists. This gives you the ability to bulk-add from a list of tickers - which makes it quicker and easier to create a watchlist and begin your research.
Constructing watchlists for comparison and analysis is a popular way of hunting and tracking new ideas. Previously, this meant adding stock names one at a time, which was frustrating because it slowed down the time it took to view a company's metrics in a portfolio and see if it warranted further analysis.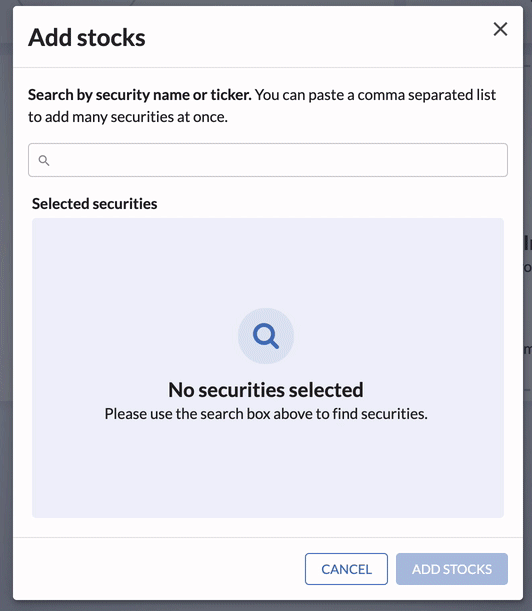 To solve this, we've upgraded the Add Stock tool to speed up the process of adding holdings to a folio list. Now, you can search for stocks using the Add Stock tool and quickly create new lists by pressing 'comma' or 'enter' after the ticker to select the security. Or you can paste-in a comma separated list and quickly add the positions in one go.