Released: The markets biggest movers and more flexibility in sorting Folios
When it comes to daily investment routines, having an instant summary of the day's biggest 'advancers' and 'decliners' can be a gauge of sentiment and a useful source of possible trading ideas.
With the latest platform improvements at Stockopedia, we've enhanced the Markets data area of the Today page to include an Advancers and Decliners table. This has been a popular request from users and delivers more detail about some of the day's biggest percentage price moves.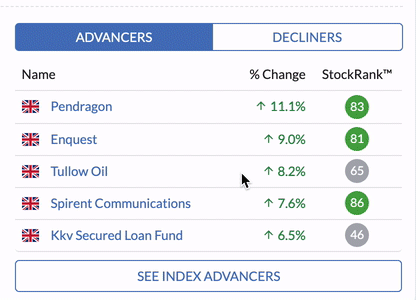 Currently, you can click between the main indices (based on your subscription plan) to see multi-timescale price charts, fundamental and technical highlights. We've now added the biggest daily risers and fallers for each index - plus we've included the UK's popular Alternative Investment Index (AIM) as a new addition. The new table covers the top five stocks based on percentage price change, together with their StockRanks.
In addition, you can click through from the new movers table to the StockReports of the top five names, plus access full index lists that are sorted by the day's biggest risers and fallers. These changes make it easier to get an instant fix on what is happening in the market and find new ideas.
Always see your preferred Folio view - with sticky sorting
Late last year we introduced a range of new improvements to the way tables are presented across the platform, as well as a large increase in the amount of data they can hold. In response to feedback from users, we've now added more functionality - especially in Folio tables - giving you more flexibility over the way they can be sorted.
Until now, viewing your Folio on Stockopedia meant seeing your holdings sorted by company name in alphabetical order. Like all tables, Folios could be sorted by clicking the column headers - but they would always revert to alphabetical order when you referred back to them.
To solve this and help you save time and manage what can be very lengthy and detailed Folio tables, we've introduced sticky sorting.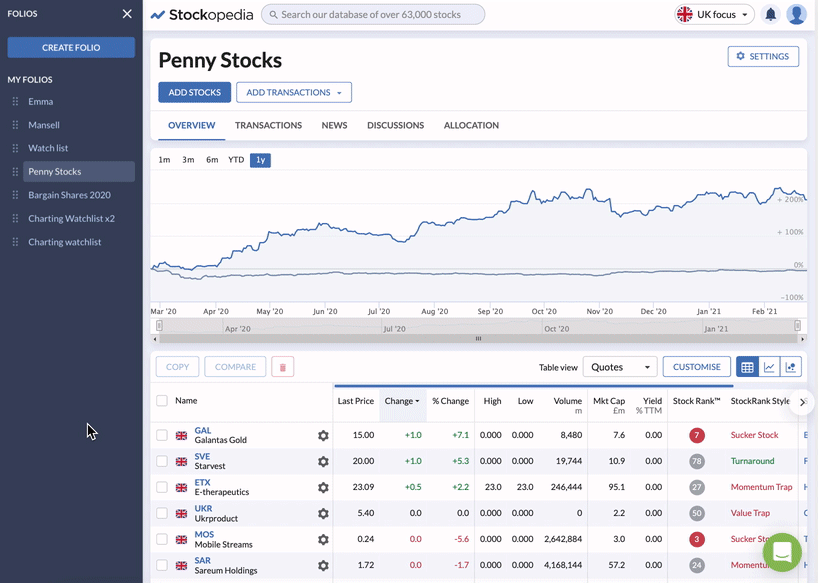 Now, you can sort a Folio table using any column of your choosing and the preference will be remembered the next time you view it - and that goes for each of the eight different table views (ranging from Quotes and Ranks through to Momentum and Holdings). For each of those views, your preferred sort order will not only be remembered, but it will also be replicated across all of your Folios.
Sticky sorting also works on the Transactions table in Folios, meaning that you can now sort your transactions based on date ascending or date descending - which was another popular request.
Finally, with the new update you can now click 'Name' at the top of the first column of any Folio table and see four options to sort the list using the company name or stock ticker. This also uses the new sticky sorting functionality and is a quick and easy way to navigate and re-arrange lists in Folio tables and Market Data tables. There is more to come on this front, and we will be making further enhancements to the way tables can be sorted and organised across the platform in the future.
Elsewhere, we've been working on making the Stockopedia Product Roadmap a much more useful place for users to find out about new developments that are on the way. Our pipeline of improvements is constantly being refined, but we're re-doubling our efforts to ensure that the Product Roadmap gives you a good idea about upcoming releases.