The S&P 500 index of America's leading shares has risen by 25 percent in 2019, marking another impressive year for an index that's been on a blistering 10-year bull run. US shares and markets have mesmerised investors over the past decade - and they still dominate financial headlines around the world.
But while markets across the Atlantic have performed well, it would be easy to overlook the fact that superior returns have been on offer elsewhere this year. Indeed, when it comes to international diversification for UK investors, world-beating gains have been achievable much closer to home.
In 2019, a select group of European stock markets have delivered some stand out performances. This is all the more impressive when you consider that equity returns have been disappointing in so many other regions - especially the UK.
For instance, Britain's blue chip index, the FTSE 100, has managed a more modest 10 percent gain in 2019. Likewise, the small-cap, growth-oriented Alternative Investment Market, which is popular with individual investors, is up only 6.0 percent.
By comparison, the FTSEurofirst index of Europe's 300 leading shares has delivered a near 20 percent gain in 2019. Dig a bit deeper and you'll find that seven European markets have performed particularly well.
But which ones are they and how could investing in these markets have enhanced your returns?
Seven European markets that outperformed in 2019
Compared to US and European markets, Britain's FTSE 100 index has drifted in 2019. With the haze of electoral uncertainty hanging over the country, and the unpredictable impact of Brexit and future trade negotiations, British investors focused on their home market have missed out on some stunning gains elsewhere in the world this year.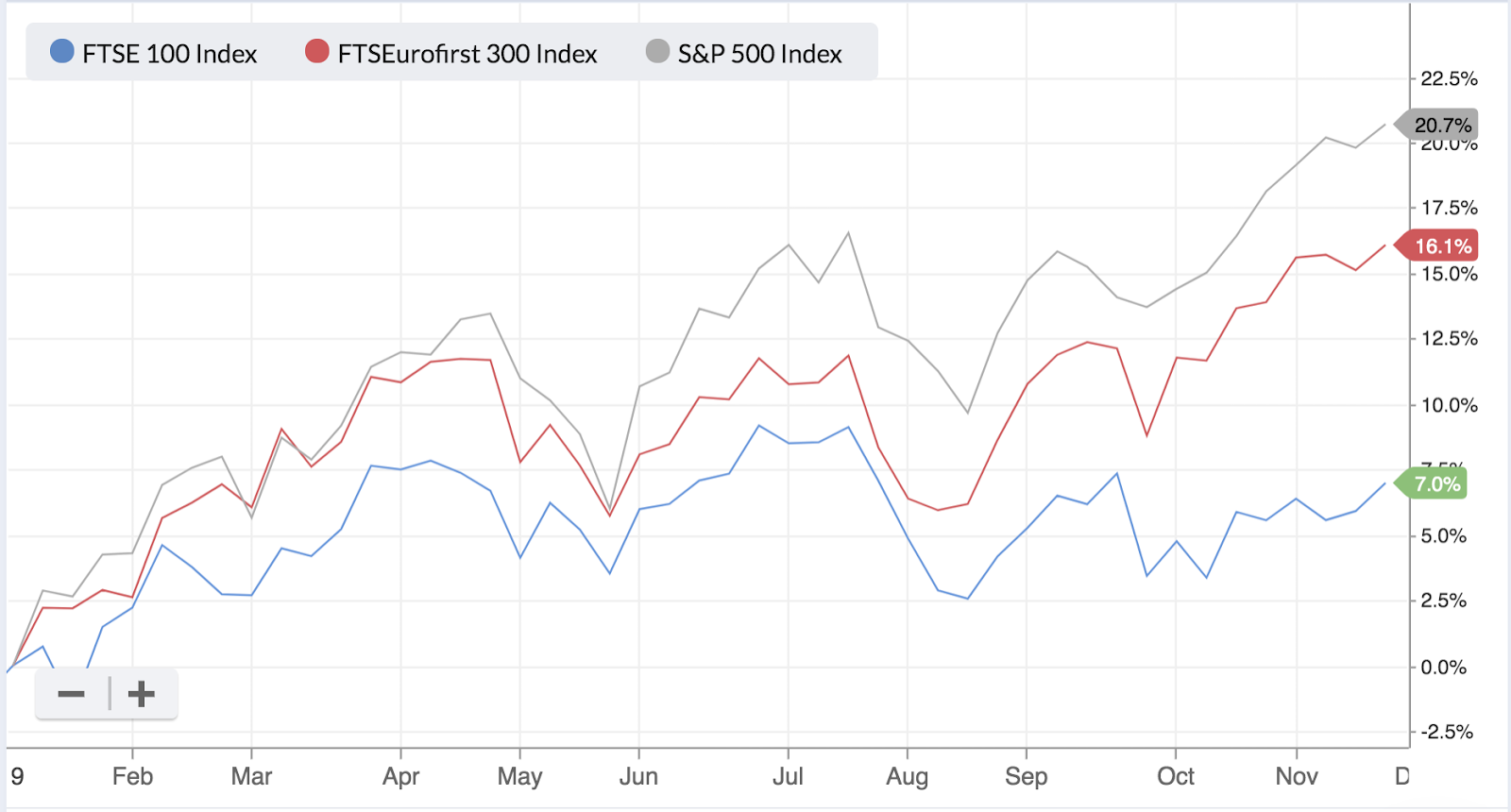 By contrast, a range of European markets have done much better. Interestingly, from low bases, both the Greek and Bosnia and Herzegovina markets have seen the largest percentage rises year to date. Following closely behind are the leading exchanges from some of Europe's biggest and, in the case of Romania, fastest-growing economies.
| | |
| --- | --- |
| Market | YTD Performance % |
| Greece ASE | 46.5 |
| Bosnia and Herzegovina SASX-10 | 39.1 |
| Romania BET | 31.0 |
| Italy MIB | 28.0 |
| Germany DAX | 25.5 |
| France CAC40 | 25.2 |
| Ireland ISEQ | 25.8 |
| US S&P 500 | 25.0 |
| UK FTSE100 | 10.0 |
It's fair to say that in the case of markets like Greece and Bosnia and Herzegovina, there are challenges for international investors. The Greek market collapsed in the years after the financial crisis, as the country's economy lurched into crisis. Yet signs of political stability and economic improvement have given it a big lift in 2019. The same goes for Bosnia and Herzegovina's Sarajevo Stock Exchange. This is a thinly traded market that also suffered badly after the financial crisis, but it too has seen much improved momentum in 2019.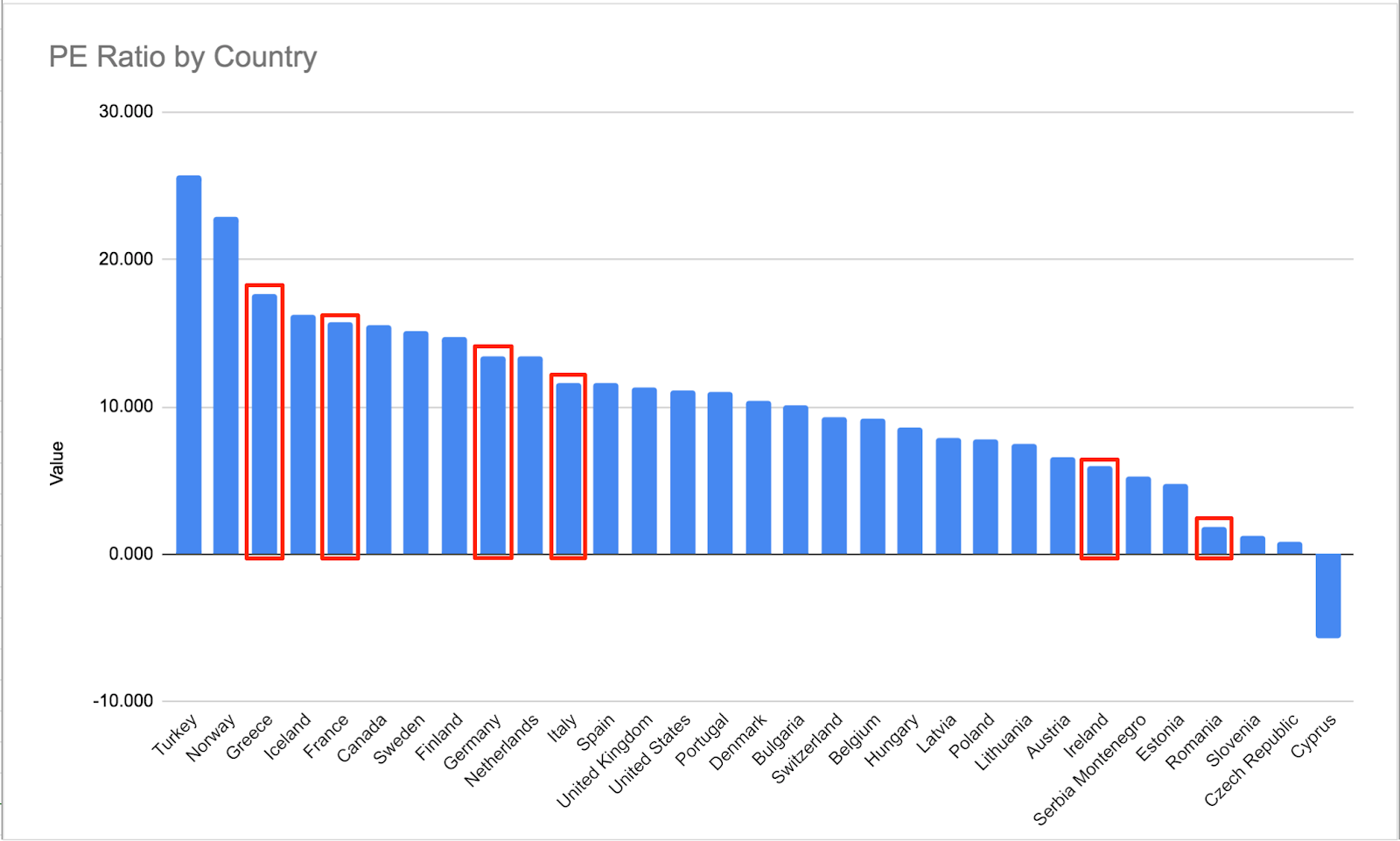 From a valuation perspective, the rise in the value of the Greek market now puts it up there as one of the most expensive European markets, with a PE ratio of 17.6x. Only Turkey and Norway are more expensive, with PEs of 25.7x and 22.9x respectively. At the other end of the spectrum, Romania remains on a ultra-low PE of 1.8x, followed by Ireland on 6.0x.
The UK and the US are mid-range in the valuation stakes, both with PEs of 11x, making them slightly cheaper than Europe's large economies of Germany, France and Italy.
How you could have found Europe's best stocks in 2019
While the index gains have been impressive, how could you have found winning stocks in these markets this year? One answer is to look to Stockopedia's factor-inspired framework of stock analysis - the StockRanks.
The StockRanks rate and rank shares based on their exposure to the three key characteristics of Quality, Value and Momentum. Portfolios of shares with strong overall exposure to these factors have on average tended to outperform over time. And when you filter the StockRanks to the top decile 90+ scoring stocks at the start of 2019, it's remarkable just how effective high QVM has been across Europe.
The StockRank "hit-rates" show the year-to-date percentage of winners to losers of 90+ StockRank shares in each country since the start of the year.
Across the 16 territories, the bottom-quarter of hit-rate performance includes the UK, together with Ireland, Spain and Denmark. Indeed Denmark has been the only territory to see a negative hit-rate, with more high StockRank losers than winners year to date.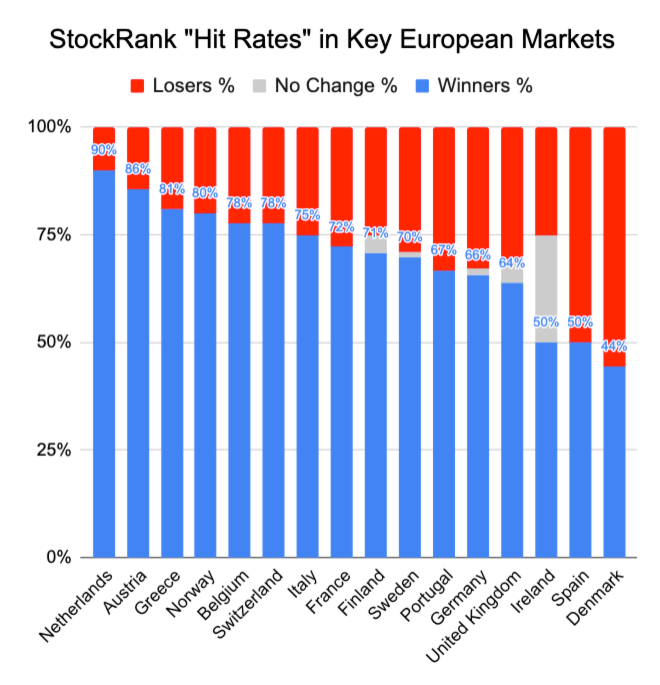 But elsewhere, the probability of outperformance with high StockRank stocks dramatically improves. The median average hit-rate was 71.5 percent, with the top four markets - Norway, Greece, Austria and the Netherlands - all seeing 90+ StockRank hit-rates of more than 80 percent. Indeed the hit-rate in the Netherlands was 90 percent - meaning that 90 percent of companies with a top decile StockRank at the start of the year went on to deliver a positive absolute return.
Why international diversification is so important
The strong performance of European markets this year - and the high levels of positive performance among high StockRank shares in those markets - is encouraging for investors thinking of increasing their foreign exposure.
It's widely recognised that most investors fill their portfolios with stocks quoted in their home country. This 'home bias', or 'familiarity bias', comes from the human instinct to "go with what you know" and own stocks that feel predictable and easy to understand. But it's worth remembering that at just 5.5 percent, the UK stock market represents only a small fraction of the overall global equity market. By comparison, the US market, the largest contributor to the total, represents just over 53 percent of world stocks (more here).
In good times, this home market bias may pose few obvious problems. But in periods of heightened uncertainty, it may raise the risk of over-exposure to market volatility at home while missing out on major gains in foreign markets. Therefore, broader international diversification offers the potential to benefit from improved performance, lower volatility, broader sector exposure and the diversifying effects of being exposed to different foreign currencies.
A common - and very reasonable - counter-argument is that many of Britain's largest companies operate internationally, meaning that foreign market exposure is baked-in for their shareholders.
Indeed, FTSE 100 companies make around 62 percent of their revenues abroad (for FTSE 250 companies the figure is a substantial 35 percent of revenues) (more here).
One catch is that the UK market is itself quite concentrated in terms of sectors. In both the FTSE All-Share and FTSE 100, the financials, oil & gas and consumer goods sectors make up more than half of each index (more here). So this can make it slightly trickier in achieving adequate diversification between sectors and foreign exposure.
Overall, most commentators agree that home bias is inherently risky. It makes much more sense to explore further afield, even if that's just over the Channel into Continental Europe. While we believe that the UK has a bright future ahead of it, independent from the EU, the fact is that there are still significant risks of big pressures coming to bear on UK shares.
Over the past year, some European stock markets have proved to be much more resilient in the face of uncertainty and have rewarded investors well. Given the equity market momentum is something that persists, it could well be that this outperformance will continue.

Which stocks might power the future performance?
From here, the next question is which stocks now have the same 'factor' characteristics as some of this year's winners did at the start of 2019? Well here are some of the top ranked stocks from across the seven European markets right now. Predictably, there are some very mixed results - ranging from the French auto giant Peugeot Sa through to a Bosnian micro-cap gas distribution business called Sarajevo Gas Ad Istocno (the Sarajevo exchange is small and dominated by very small stocks).


To get started in the search for high probability stocks in foreign markets, you can use the Stockopedia screener: https://www.stockopedia.com/screens/
In Screens, click to start a New Screen and then Add Rule...

From the menu, click Profile and then Country and then Add Rule...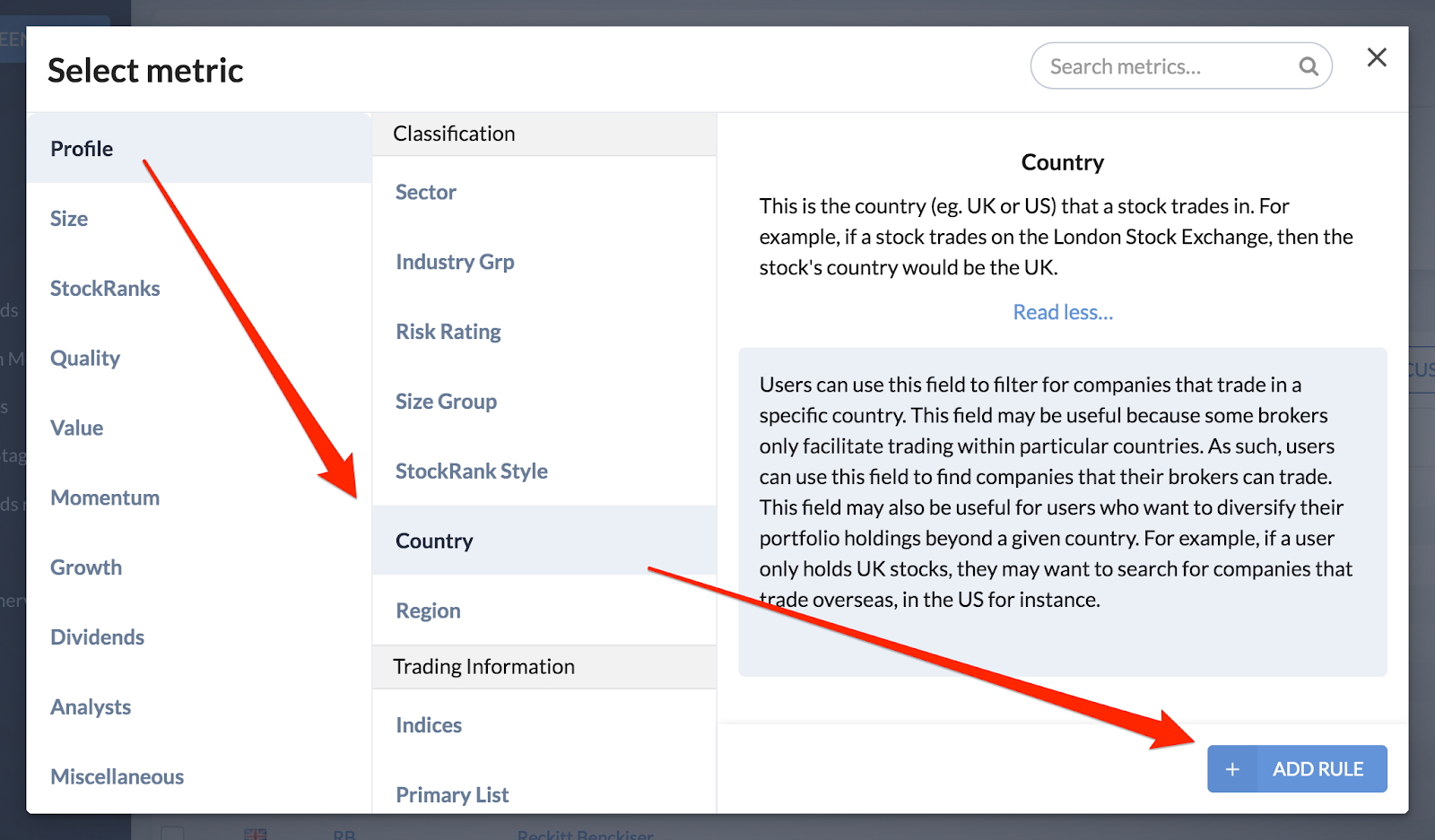 This will add the Country rule to your new screen. From here you can use the drop-down menu to select from the all countries available in your subscription. You can expand your geographic coverage at any time using the Subscription & Billing settings under your Profile information (which you can find by clicking your Profile image at the top of the website).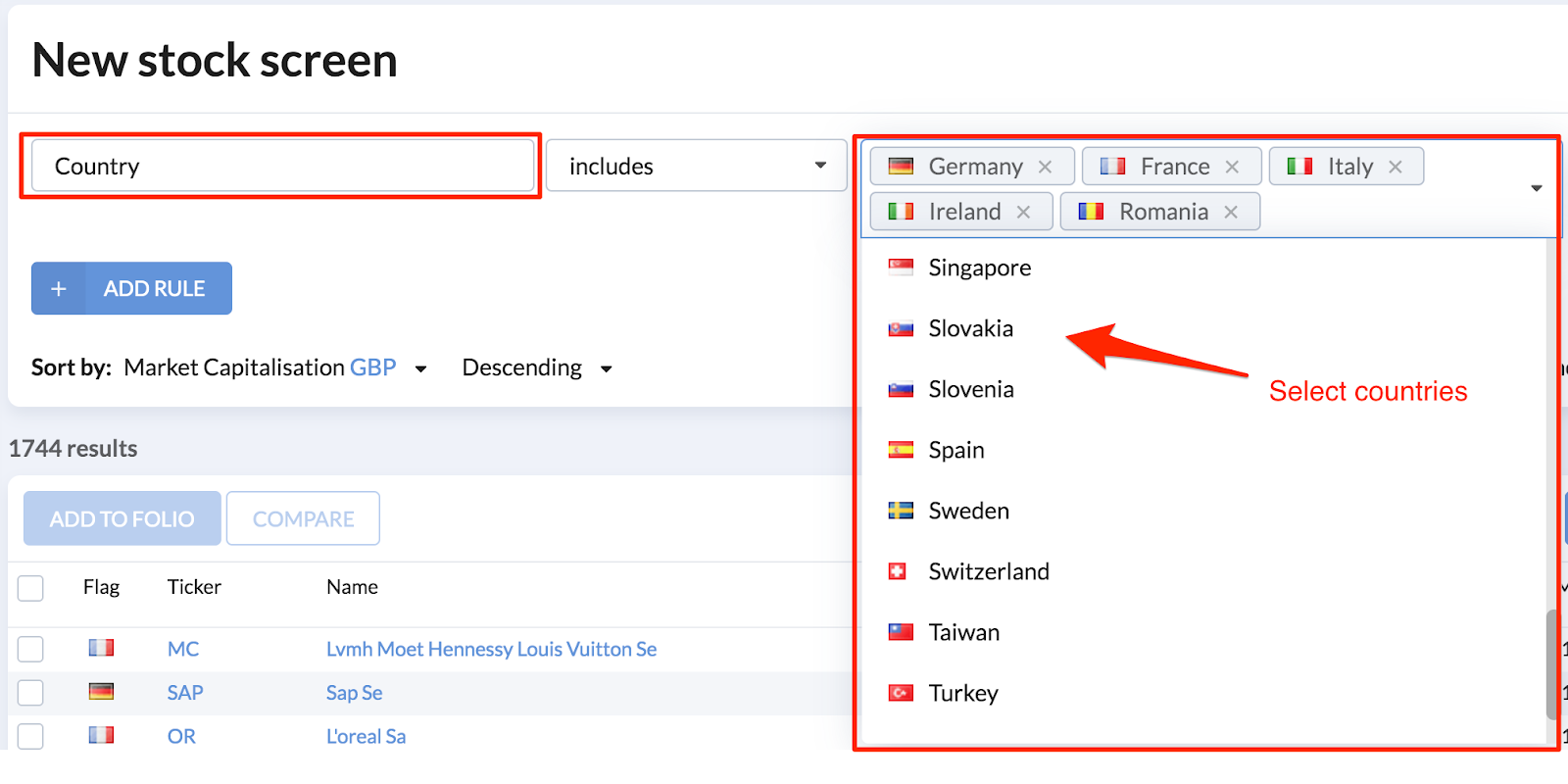 For our purposes, we focused on companies with a StockRank above 90. The results will appear automatically (but don't forget to give your screen a name so that it saves to your screen list.