One time I accompanied a senior analyst to meet the chairman of a company that was rolling out new units at pace. I was just out of university and what little knowledge I had of business came straight from the textbook. This was maybe my first chance to listen to actual professionals talk about the reality of running companies.

For the most part, I sat to one side, wide-eyed, watching the conversation like an owl and scribbling all manner of notes into my little book. Beneath the busyness, I was just happy to be in London, out of the office, and with someone else paying for my lunch.
The details of this meeting have faded with time but one exchange, which I'll paraphrase, seems to stick. Towards the end of the lunch, the chairman turned to me and said: 'You've been quiet. You must have a question for me.'

I had several hundred, but I settled on one.

'With all these new sites, all these pre-opening costs and adjustments, which numbers do I look at to understand what's really going on?'

To this, the chairman replied, 'Cash is king' - so I took his advice and checked the cash flow statement.
For investors wanting to hone in on the underlying picture, being able to navigate a cash flow statement is a must. Adding even just a few cursory cash flow quality checks into your investment routine - such as making sure that cash flow from operations routinely covers capital expenditure and dividend and interest payments - can help reduce risk substantially.
You can find my quick take on a cash flow checklist at the bottom of this article.
Different industries, different cash flows
The cash flow statement should be evaluated within the context of the company's industry and its corporate lifecycle.
Certain industries are capital intensive, like hotels, while others chuck off so much cash they don't know what to do with it. All else equal, a cash generative company or sector will command a higher valuation multiple than one that requires vast amounts of capital expenditure - so this is an important business characteristic to be aware of.
Take two companies with roughly the same market capitalisation in different sectors, with vastly different cash flow characteristics: Restaurant Group (Hotels & Entertainment Services) and EMIS (Healthcare Equipment & Supplies). You can see their standardised cash flow statements by clicking on the 'Cashflow' link at the top right of the 'Financial Summary' sections of their StockReports.
We see that Restaurant Group has to spend a lot of money to keep its casual dining estate in good condition.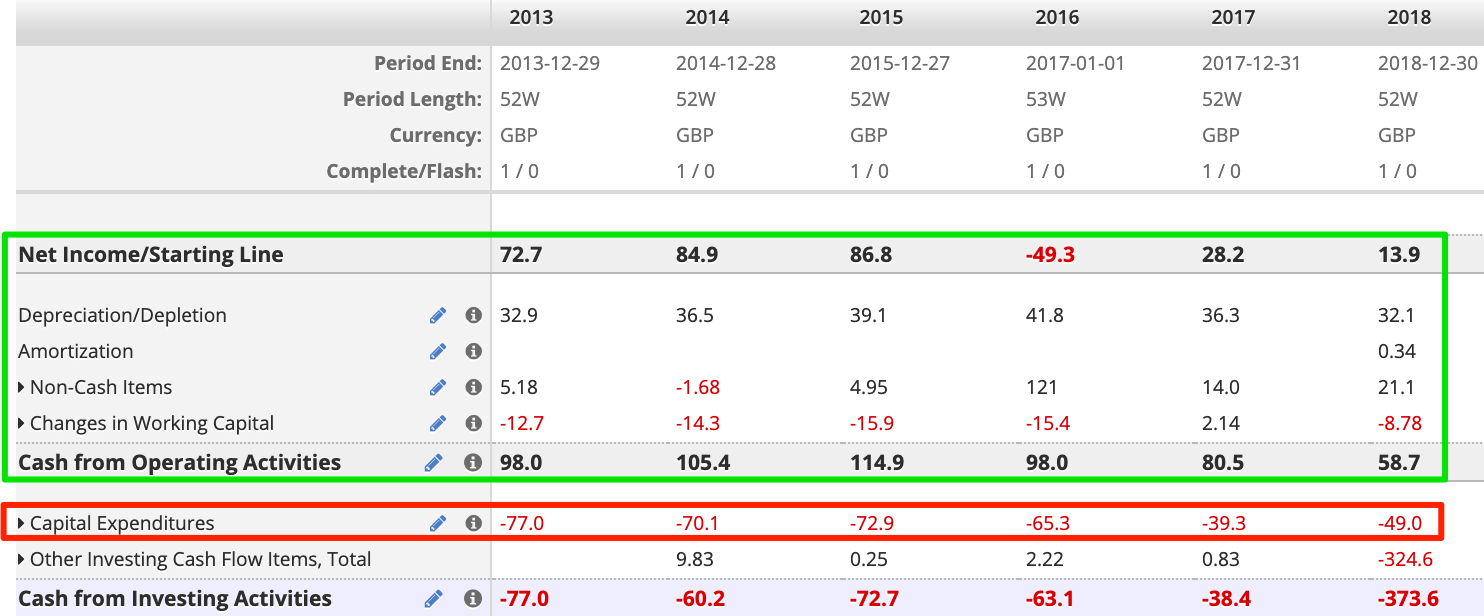 In fact, more often than not, the majority of cash flow from operations will have to be reinvested into the group's estate. This reduces Restaurant Group's scope to use that cash for promising investment opportunities or to return to shareholders. Considering it still pays out £35m a year in cash dividend payments, the group might be better off cutting its dividend so it could redirect this money back into its turnaround strategy.
EMIS' six-year cash flow statement looks much different:

We can see that these two companies are valued very differently by the market. Admittedly, there are other factors at play here, but the Quality Ranks, Return on Capital percentages, and valuation multiples are no coincidence: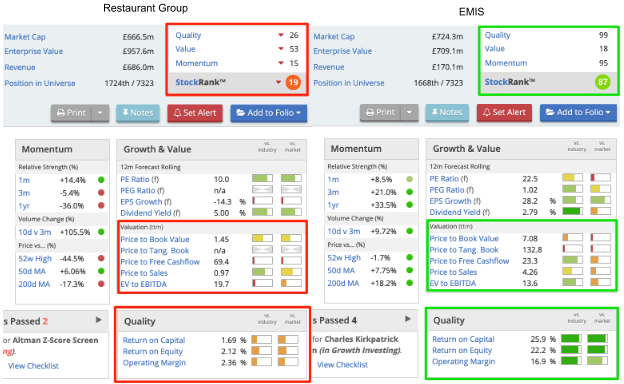 How a company's cash flow changes over time
In terms of the corporate lifecycle, start-up companies typically lose cash in their early years and need to raise funds periodically. Understanding cash burn is important here.
Simply calculating how much money a firm is losing in cash flow from operations, and comparing that to the amount of cash it has on its balance sheet, can give you a reasonable impression of whether or not a fundraising is on the cards. Knowing this can give you an edge and help inform your investment decisions.
An example of the former might be something like Gfinity, whose negative Cash from Operating Activities has so far been funded by periodic injections of new equity funding in Cash from Financing Activities: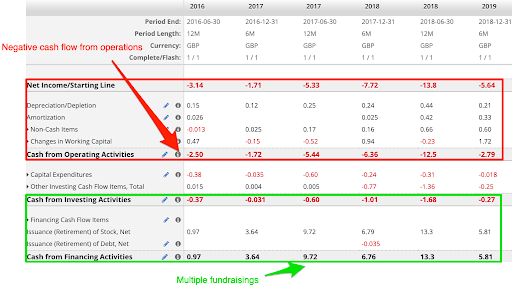 So, Gfinity has had to raise millions of pounds every six months for the past two years or so. This dilutes existing shareholders who do not take part. We can compare this track record to the amount of cash currently on the group's balance sheet and conclude that Gfinity may need to raise cash again before its forecast breakeven point in 2021 if further investment is required:

Gfinity might be able to see itself through to breakeven after this latest placing, but it is far from guaranteed. This is in contrast to a more mature, cash-generative company like IG Group, which has reached a point where it routinely generates enough surplus cash to cover capital expenditure costs, pay out a dividend, and buy back shares.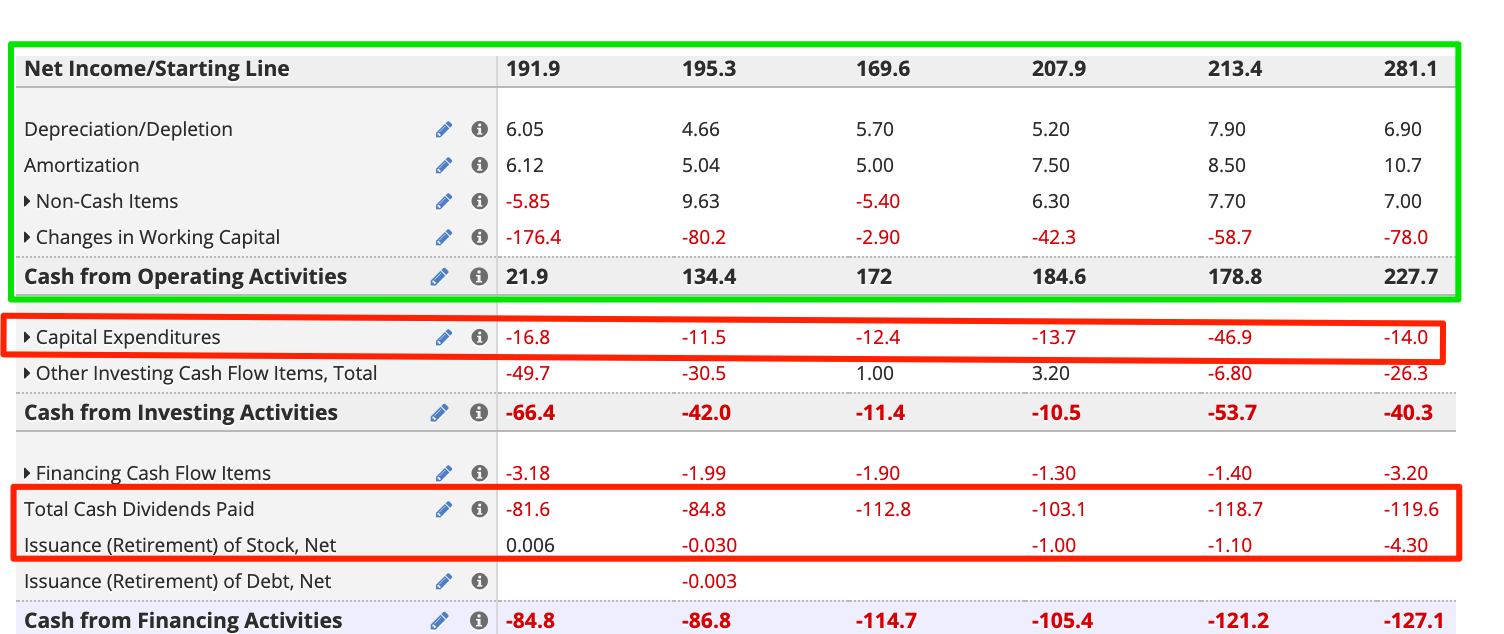 Start-ups generally depend on positive cash flows from financing activities to fund operating losses as they pursue profitability. Mature companies tend to have reached this point of sustainable profit and generate enough cash from operations to fund negative financing cash flows (dividends and buybacks).
Manipulating the cash flow statement: where there's a will there's a way...
Operating cash flow is less easily manipulated than operating or net income. For this reason, significant and persistent differences between operating cash flow and earnings can indicate low-quality earnings and even earnings manipulation. That said, there is a degree of subjective judgement involved in these statements.
By timing transactions in a certain way, a company can boost its cash flow from operations.

An example of this is might be a company that sells receivables to a third party and/or delays paying its payables. Such management choices to decrease current assets or increase current liabilities (choices that will increase operating cash flow) can be detected by looking at activity ratios, changes in balance sheet accounts, and disclosures in notes to the financial statements.

The classification of cash flows is another area open to the subjective judgement of management. It's possible to shift positive cash flow items from investing or financing activities to operating activities to inflate operating cash flows.

Under International Financial Reporting Standards (IFRS), for example, interest paid on debt can be classified as either operating or financing cash flow. Interest and dividends received can be classified as operating or investing - so an IFRS-reporting company that changes dividends received from investing to operating cash flow would be able to boost the latter.
Classifying securities as either trading or non-trading also allows a degree of control over whether these cash flows are classified as investing or operating.
A quick cash flow quality checklist
For established companies, high quality cash flow typically has the following characteristics:
Positive cash flow from operations
Cash flow from operations derived from sustainable sources
Enough cash flow from operations to cover capital expenditures, dividends, and debt repayments
Cash flow from operations relatively stable over time
People looking for a quick 'due diligence' cash flow checklist could incorporate something like this into their analysis. A bonus check, which is a more general look at earnings quality and cash generation, might be to look at whether cash flow from operations regularly equals or exceeds net income.