In 1985 Marty McFly flew Doc Brown's Flux Capacitor-enabled DeLorean to the future. There he donned a pair of Nike high-top trainers in order to fit in with the kids of 2015.
On Monday night, I put on a pair of knee-high gold boots and travelled back to 1979 to watch ABBA in their heyday. There, I watched a 30-something year old Agnetha, Björn, Benny and Anni-Frid perform their greatest hits alongside thousands of other fans - many of whom will have last attended an Abba concert 40 years ago.
The technology which has enabled the ABBA Voyage concert in London's Olympic Park is incredibly impressive - beyond the realms of science fiction. The tech envisaged by the creative directors on Back to the Future included a holographic shark which emerged from a poster for Jaws 13. The ABBA-tars which graced the stage at the purpose built auditorium are far more realistic. If I didn't know that pop group are in fact well into their 70s, I wouldn't have believed that the stars in front of me were not really there.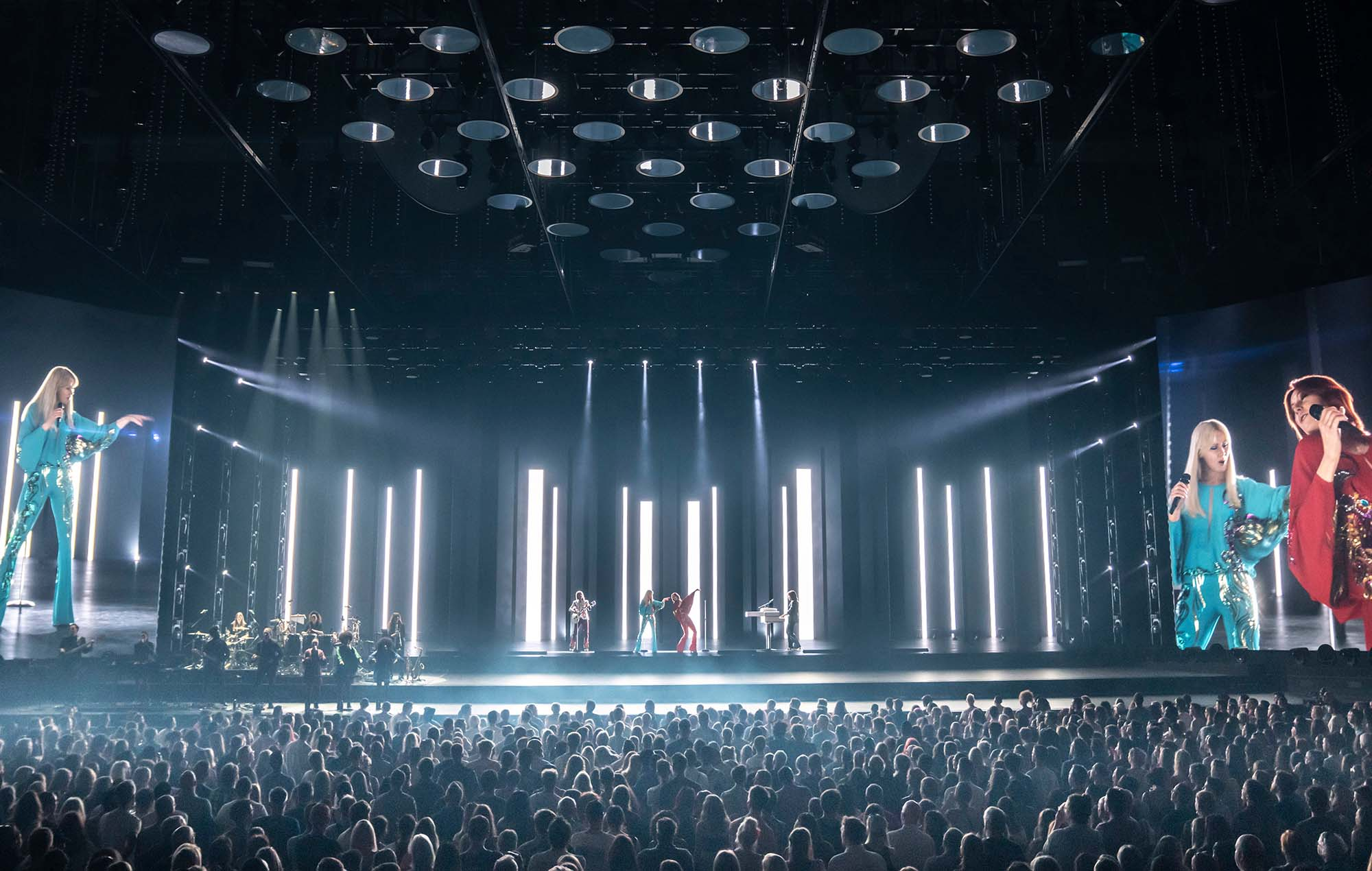 To create this spectacle, ABBA recorded the vocals and dance moves in a theatre over the course of several months in early 2022. These performances were captured using specialised motion technology and used to build avatars. Experts at Industrial Light & Magic - one of the companies behind the performance - describe the process as extracting the "maths from the movement" and then feeding the "ones and zeroes" into a system which can build avatars to look like anything.
It's the same sort of technology which was used to turn Andy Serkis into Gollum in Lord of the Rings in 2001 and is today used by Snapchat aficionados all over the world, to give their faces whiskers or make them look really old.
What makes ABBA Voyage unique is that it does not feel like we are watching the performance on a screen. The performers look solid, the piano looks like it is there and when Benny Anderson walks towards the front of the stage to tell the crowd that this is really him, we all believed him. In 2022 we don't need Flux Capacitors to travel in time, advanced motion capture technology, a few hundred thousand LEDs and plenty of semiconductors will do the trick.
The future of entertainment?
Nick Bolton, chief executive at Oxford Metrics (LON: OMG) - one of the companies which helped bring ABBA Voyage to life - has talked a lot about the arrival of "the Augmented Age - an era where humans partner with machines to achieve what neither can alone." He's not alone in this view. Walt Disney (US: DIS) - which owns Industrial Light & Magic - has appointed a 'head of the metaverse' to oversee the company's forays into the newest frontier of entertainment.
Perhaps the loudest voice in favour of augmented reality is Mark Zuckerberg, who renamed his company Meta (US: FB.) to reflect its whole hearted attack into a new way of creating and consuming content. Meta operates 12 labs around the world which are dedicated to virtual and augmented reality innovation. The company says that "while VR and AR may seem like distinct experiences today, over time they'll converge and allow us to combine real and virtual worlds freely."
And, before watching ABBA Voyage, I was incredibly sceptical about this new way of consuming content. I was concerned it would feel impersonal and distant and lead us down a path where humans are completely dissociated from reality. But ABBA Voyage is anything but that. At the start of the concert, we were all told to put our phones away to keep the magic of the performance a surprise for those who are yet to see it - and we all complied. The result was that most of the concert goers - a mix of generations - were far more present than they are at most live events today, when they are recording everything on their phones. And because ABBA-tars don't get tired, they can keep performing over and over again, meaning the arena is smaller than most concert venues and more people can see the stage - meaning they can watch the 'stars' rather than the big screens broadcasting their movements. Technology has made the future of entertainment incredibly exciting.
What powers the future?
Enabling this next step in entertainment is not just a job for the software companies, hardware is needed as well. And in the last few years, this has been something of a problem. Few companies in the technology industry have escaped the supply chain issues caused by a shortage of semiconductors. Factory lockdowns during the Covid-19 pandemic, travel disruptions and now the war in Ukraine are just a handful of the issues which have disrupted semiconductor manufacturers including Intel (US: INTC), Samsung (KS: 005930) and Nvidia (US: NVDA). Most companies in the sector have seen their earnings momentum and share prices battered.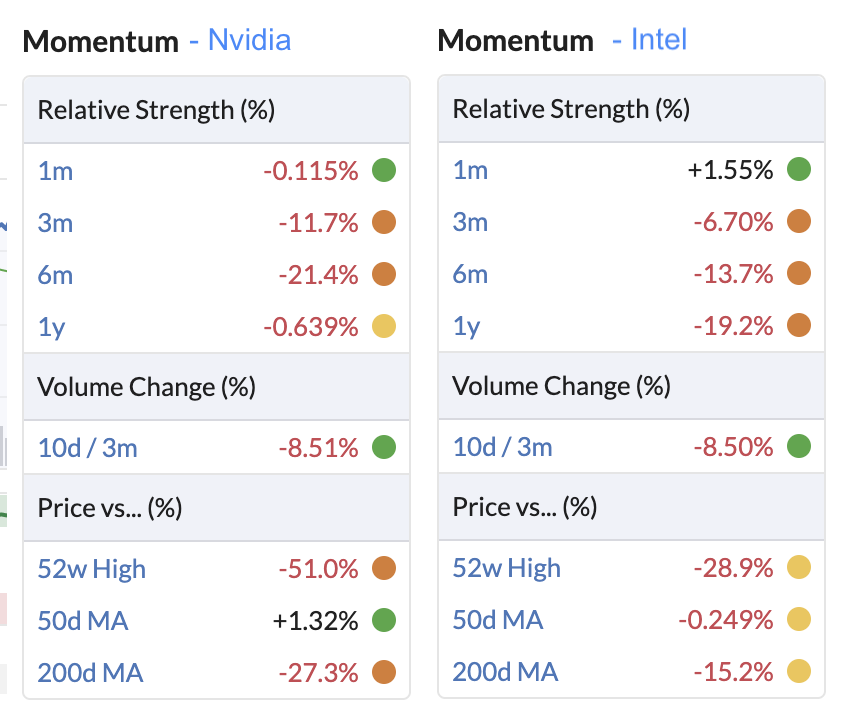 But surely the outlook is positive for these companies as supply is only going to increase. The entertainment industry is not alone in leaning on tech more than it ever has before. Automobiles are also increasingly tech-heavy and are reliant on semiconductors for manufacture.
And so is the share price cannibalisation of the semiconductor sector justified? Intel shares are trading at $40 - a price to earnings (P/E) multiple of just 11x and only just up from 52-week lows. Nvidia shares have fallen more than 50% from the 52-week highs achieved in November last year. Samsung shares have fallen 33% in the last year and are now trading on just 9 times forecast earnings.
To answer that question, let's take a look at the fundamentals of two of the leading companies in the sector.
Nvidia: Slower growth is nonetheless impressive

Heady revenue growth figures tend to capture the most enticing of headlines, but true quality can only be found in companies which can consistently generate strong profits from those revenues. In the last five years, Nvidia has delivered compound annual revenue growth of 31.3%, while operating and net margins in that time have averaged 31.2% and 30.9% respectively. Nvidia's earnings per share growth has averaged 42.8% in the last five years.
Revenue and profit growth is set to slow down slightly, but the forecasts are still impressive. In the financial year to January 2023, Nvidia is expected to report $33.3bn of sales and $13.6bn of net profits, growing to $38.4bn and $16.1bn in the following year.
More important than profits is Nvidia's ability to generate reliable cash. Despite the challenge faced by the semiconductor companies in 2022, Nvidia reported a free cash flow to sales ratio of 26.8% and generated $8.97bn of operating cash flows from $9.95bn of operating profits.
Intel: Futile exercise?

Intel's outlook is a bit more troubling. While the company still shows the signs of inherent quality on an historic basis, key metrics are heading in the wrong direction. In the year to December 2021, the company reported a return on capital employed (ROCE) of 13.8% - that compares to a five-year average of 17.9%. Return on invested capital (ROIC) - which showcases the amount of profits generated from the investments made by all stakeholders in the company - was 16.9% in 2021 compared to and a cash return on invested capital (CROIC) of 8.29%, indicating the company has not been particularly successful at converting profits into cash.
One of the problems the company faces is its legacy operations. It has spent a long time focusing on the production of computer chips for its biggest customers, but in 2020 lost a significant contract supplying Apple with components of the MacBook (the latter has taken the production of these chips in house). Meanwhile the company has decided to outsource the production of more modern semiconductors to Taiwan Semiconductor Manufacturing Co. (TSMC). This comes with its own problems owing to China's clampdown of Taiwanese exports. Intel is attempting to navigate these challenges by bringing the manufacture of TSMC's chips into the US and is reportedly planning to invest $20bn on a state-of-the-art facility in Ohio. But TSMC's founder Morris Chang has described the plans as "an exercise in futility", stating that the labour market in the US is not conducive to success in the semiconductor industry and the company's cost base will end up rising. With operating margins thinning from 32% in 2018 to 24% last year, Intel can little afford more rising costs.