Burford is one of the largest (if not the largest) firms in litigation funding - a relatively new multibillion industry whose historically strong returns have begun to attract significant investments from pension funds, endowment trusts and the like. 

The company is popular with investors. Those looking to get a feel for the company as an investment over the past few years would do well to read through the comments over at Burford Capital - An Exception to the Stock Rank Rules?.
Coming to the stock anew, and with all the buzz of yesterday's shorting attack, it appears that BUR is either forging a brand new, massive, lucrative financial asset class or it is conning the market. Or, possibly, a bit of both. 
A superficial glance shows some questionable cash flow statements - full of large operating outflows and frequent capital raises. I admit that I don't know much about the economics of the nascent litigation funding industry, but I've yet to meet someone who does.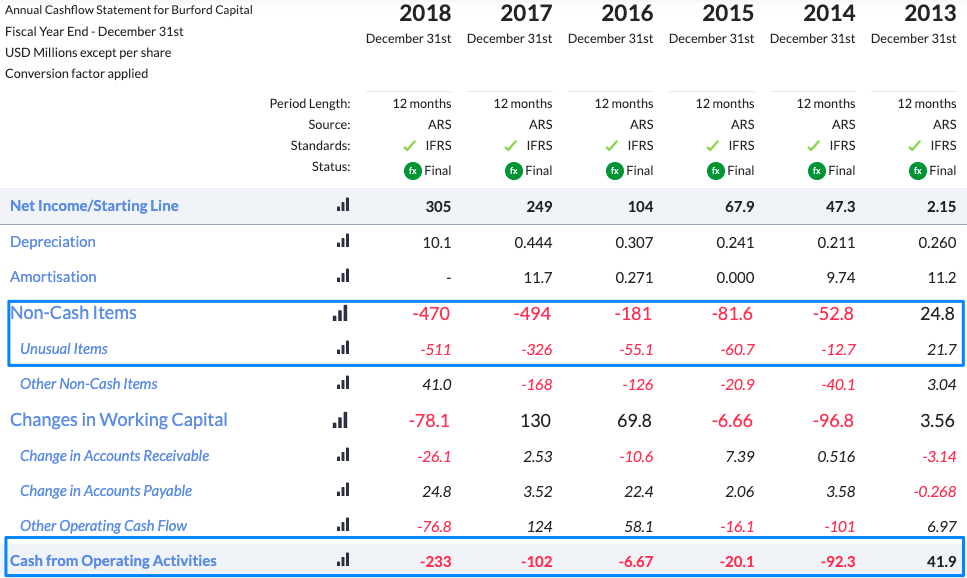 The whole thing was blown wide open yesterday by the Muddy Waters short dossier.

The StockRanks are suspicious of Burford, but many subscribers are loyal long-term shareholders. Some smart people believe it is 'the next BlackRock' (Artem Fokin of Caro-Kann Capital, for example). Other smart people believe BUR management has been 'egregiously misrepresenting' economic reality (enter Muddy Waters). 
So, Burford Capital: from 120p to 2,000p in five years, and then from 2000p to 600p in twelve months. And then there's today: down 7.3% to 559p at 11am, up an astonishing 40% by 2pm. That's quite the ride… It reminds me, oddly, of one of the greatest opening lines ever written - from Dickens' A Tale of Two Cities. I quote it below (because why not)?
"It was the best of times, it was the worst of times, it was the age of wisdom, it was the age of foolishness, it was the epoch of belief, it was the epoch of incredulity, it was the season of Light, it was the season of Darkness, it was the spring of hope, it was the winter of despair, we had everything before us, we had nothing before us, we were all going direct to Heaven, we were all going direct the other way..."
Only a master writer could start a story so audaciously, with such confidence and verve. The sentence is all-encompassing… It stretches out across the entire medley of human experience, into every nook and cranny, hits every shadow and shaft of light. 
After recent events, Burford shareholders, too, must have experienced a similarly exhilarating ride through the highs and lows of human emotion.
A brief recap on Burford events
A quick trawl through the RNS releases shows a clear pattern of selling from Invesco and Woodford over the past 2-3 years. This might be totally innocent profit-taking following some pretty stratospheric share price appreciation, but it is interesting nevertheless:
18 October 2017 - Invesco sells, taking its stake from 23.97% to 22.72%
18 January 2018 - Invesco sells, taking its stake from 22.72% to 21.99%
14 February 2018 - Invesco sells, taking its stake from 21.99% to 20.99%
06 March 2018 - Invesco sells, taking its stake from 20.99% to 19.79%
23 April 2018 - Invesco sells, bringing its stake down from 19.79% to 17.78%
25 July 2018 - Woodford Investment Management sells, bringing stake down from 10.13% to 9.43%
07 August 2018 - Invesco sells, bringing its stake down from 17.78% to 16.95%
05 October 2018 - Invesco sells, bringing its stake down from 16.95% to 15.34%
04 January 2019 - Invesco sells, taking stake from 15.34% to 14.99%
24 June 2019 - US court denies Peterson hearing
30 July 2019 - BUR H1 2019 results released. Stock trades sideways despite a 36% increase in profit after tax and sell-side research praising 'another excellent set of figures'
07 August 2019 - Statement re Share Price Movement - BUR notes the 'rumour of a potential "short attack" or "bear raid",' and goes on the offensive, adding:    
'There is a clear line between appropriate commentary and market manipulation, and Burford is investigating, with the assistance of market experts and experienced outside litigation counsel, the market activities here and will take appropriate legal action should we discover actionable misconduct.  We are strongly suspicious that yesterday's significant fall in the share price was based on such actionable misconduct.
'Short sellers of this ilk are not long-term investors.  Rather, their goal is to panic investors into selling their holdings and thereby to drive down the share price.  If investors oblige them, then the attack succeeds, long-term investors are harmed and the short sellers pocket a quick payday.'
07 August 2019 - Muddy Waters releases its Burford short dossier, claiming that 'thanks to a light disclosure regime, the esoteric nature of its business, and unethical behavior by its largest shareholder, Invesco, it [Burford] turned Enron-esque mark-to-model accounting into the biggest stock promotion on the AIMBUR has been egregiously misrepresenting its ROIC and IRRs, as well as the state of its overall business.'
07 August 2019 - BUR acknowledges the Muddy Waters dossier: Statement re US Research Firm Document 
07 August 2019 - Report Critique Meritless, Principals to Buy Stock - 'Burford will issue a detailed response to the report as soon as practicable and, following that detailed response, will also convene an investor conference call, as to which participation details will be provided in due course.' adding that 'Christopher Bogart and Jonathan Molot, Burford's Chief Executive Officer and Chief Investment Officer… each intend to purchase Burford shares for their personal accounts.'
08 August 2019 - Burford's Response to Short Attack
Burford has come out guns blazing, clearly. Nevertheless, the facts don't lie: since the start of this week, BUR's share price has fallen by nearly 60% and is down another 5% today.
How negative surprises destroy momentum
A couple of years ago we did some great research into profit warnings and subsequent share price trends. Although the Muddy Waters dossier does not constitute a profit warning, it is similar insofar as a sudden shift in market perceptions has led to a substantial 1-2 day share price hit.

This research looked at 245 Profit Warnings gathered between January 2013 and August 2016 and found that this was the average share price reaction in the wake of a PW: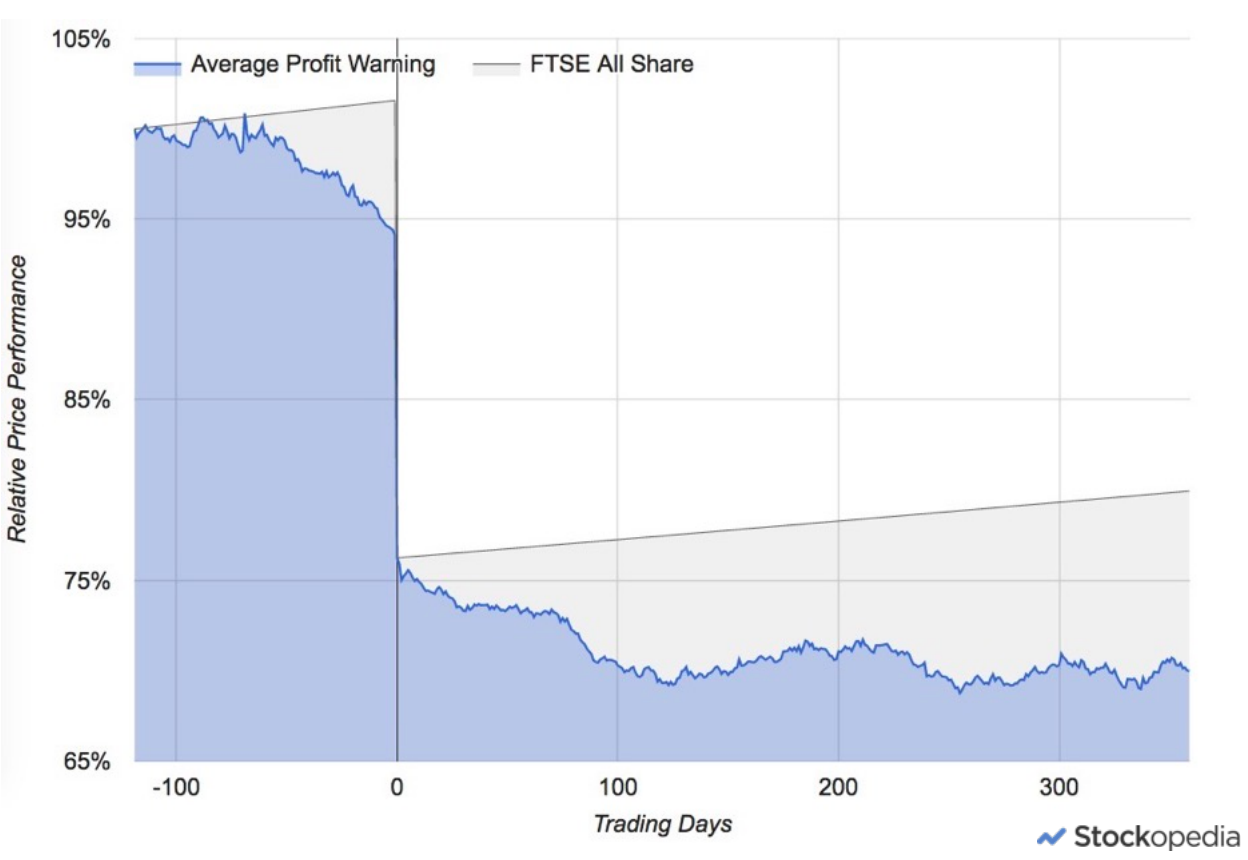 The chart shows that, on average, a PW is followed by at least a year of middling to negative momentum. Even if Burford management can respond robustly, the cat's out of the bag. The question has been asked and the doubts have been raised. Perceptions have changed and buyers and sellers on the margin will respond accordingly.

Here's a more detailed view of share price performance in the 18 months after a profit warning: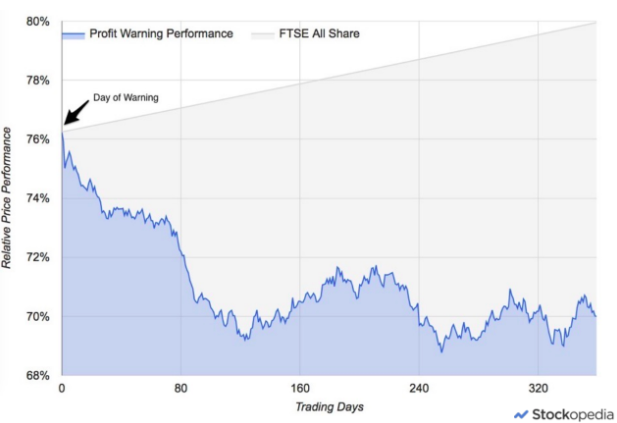 Certainly, Burford's momentum metrics don't make for happy reading: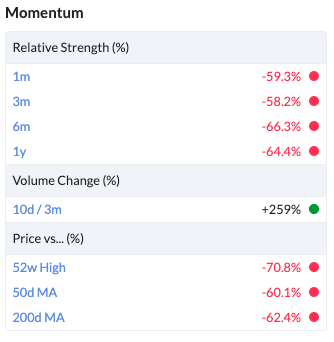 Has Burford been an exception to the StockRanks?
BUR is another example of a growth stock with a StockRank that doesn't always play along with said company's enthusiastic investor base. There's been an ongoing belief that the StockRanks have always been 'wrong' for Burford Capital. One of the nice things on the new site is the StockRank history.
Here's the BUR share price chart, with the StockRank underlaid. You can see that the StockRanks have called Burford well at pretty much every turn - from undervalued growth prospect to middling value and then faltering progress: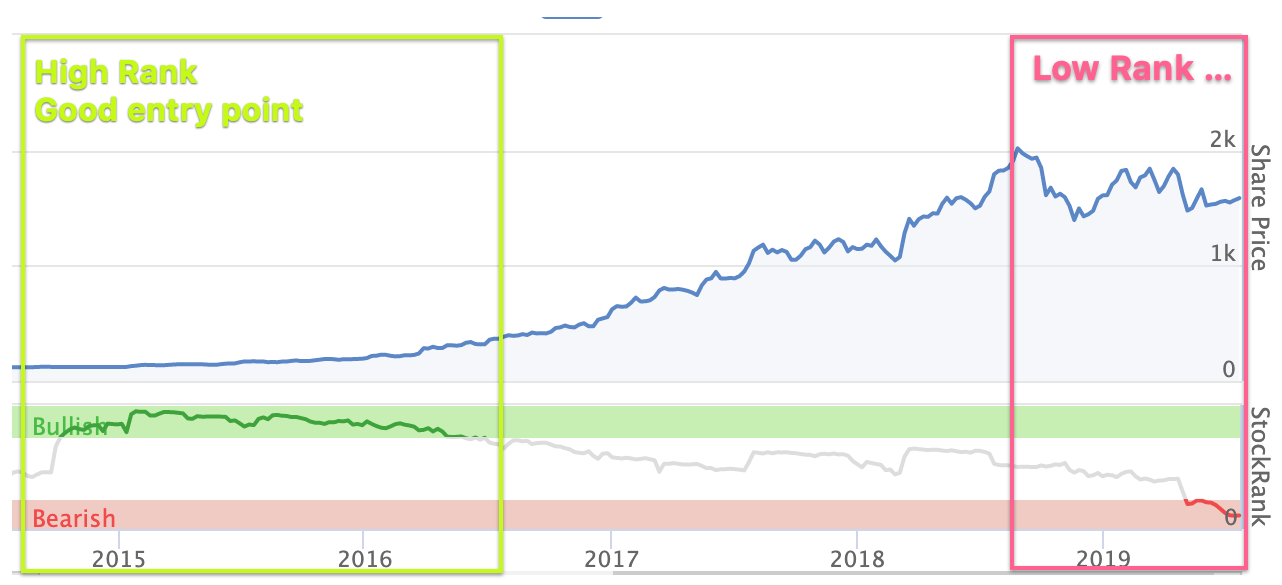 The StockRank was 80+ between 2014 and mid 2016, reaching as high as 95 in January 2015. So BUR was well flagged by the StockRanks. The SR then dropped gradually over the next few years, and currently stands at 25 after yesterday's short dossier.

Where this goes next is up to the market to decide and, considering today's remarkable intraday trading (it has fallen 14% in the last 30 minutes but remains up 19% since the start of the day), it appears as though the market is not yet ready to make up its mind... If marginal holders have been suitably shaken, though, selling pressure might take a while to unwind.
The StockRanks are, of course, just statistical measures. They are not always right - but they are more often right than wrong. 
A word on valuation
As things stand now, in a post-Muddy world, BUR is a bet on your beliefs - either this is a hot air story stock that deceives the market, or it really is the next big thing. 

Either way, the share price will not remain at these levels. It will shift dramatically, one way or the other - as seen in today's remarkable intraday trading. If it really is the dominant market leader of the next big financial asset class - aka BlackRock circa 1995 - it should be at a substantial premium to NAV. 
If not, and the economics of litigation finance are not as amazing or its future is not as secure as was once thought, then there should be a discount to account for that. Right now BUR says its net assets are $1.57bn. With shares in issue of 218,649,877, that makes for NAV of around $7. The current share price (which is jumping around all over the place and making my life a nightmare) of 805p at a £/$ exchange rate of 1/1.21 equals $9.74. 
A target price of NAV would be something like $7 / 1.21 = c580p.
A lot of it depends on what kind of multiple this company deserves, and that is open to interpretation. On the one hand, it is the leader in litigation financing and its rivals do not come close in terms of scale or reach. On the other hand, a lot of Burford's remarkable rates of returns have been generated from just four large cases and serious questions have now been raised about the authenticity of said returns.
Burford Capital: just another speculative Woodford stock?
Another interesting angle to this saga is the Woodford / Invesco angle. With Woodford fundholders now locked in until December at least, seeing one of the former star's few successes stumble so spectacularly must be concerning, to say the least. Are there any other investments currently defying gravity, preparing to fall to earth? We are working on some research in this area now and should have more to show in the coming weeks and months.
Woodford continues to hold other companies with interesting economics such as IP Group, which invests in private, start-up, speculative story stocks as a matter of course. The market has so far valued it accordingly: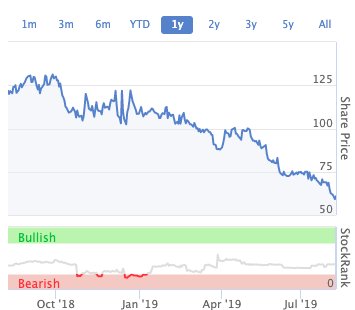 It makes you wonder if there are any other skeletons in the closet.

Either way, with regards to Burford and however this all ultimately plays out, we can see that the quantitative measures really were telling us something - and not just in terms of StockRank. Here is a graph of the group's Piotroski F-Score over time, courtesy of our intern Zoe: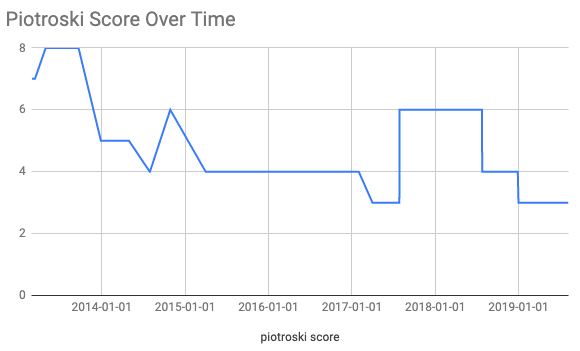 And today's breakdown of Burford's financial health trends: