Smarter searching for all-weather stocks
At the start of October, the FTSE All-Share fell by nearly 7% in a week. Good companies are still cheaper than they were.
But how best to find them?
October 2018 was a story of fear overcoming greed, with investors haunted by the spectre of a bear market. Very appropriate for Halloween. We have built up a loose body of commentary over the past couple of weeks, when not hiding under the bedsheets. Once the dust settles we can forget how things felt in the heat of the moment, so it's helpful to have a record showing that, ah, yes, at one point, some of us - maybe - were a tad concerned.
Acknowledging these things, while not flattering to the ego, can better prepare us for the future. It will happen again, after all. Here are some of the articles and comments (from most recent to oldest):
Thursday 25th October: How falling markets present tough questions to investors
Friday 19th October: Stable stock ideas for volatile markets
Anyway, back to identifying those investment opportunities. We need to narrow the field. One method of investing comes to mind.
Blitz, van Vliet, and the low volatility anomaly
There is a growing body of academic work that supports the 'low volatility anomaly'

It shows that low-volatility stocks tend to have higher returns per unit of risk than higher-volatility stocks

This begs the question: are we better off being boring?
There is a method of investing out there that has been used by some of the best fund managers in the world. Its successful application used to require many man-hours and entire teams of investment professionals due to its quantitative nature and the calculations involved. We have set up our own easy-to-use take on it that and, so far, as we see below, it has yielded encouraging results.
I'm talking about the low volatility anomaly. There is a growing body of academic studies that proves it works - here are a few of the more influential articles:
The argument in a nutshell: lower volatility securities tend to outperform higher volatility securities after taking into account how much risk is required to produce those returns.
In their influential paper, The Volatility Effect (2007), David Blitz and Pim van Vliet find that 'low-risk stocks exhibit significantly higher risk-adjusted returns than the market portfolio, while high-risk stocks significantly underperform on a risk-adjusted basis.'
Blitz and van Vliet found that volatile stocks outperformed in up months (when markets rose) 'but not by enough to offset the underperformance during down months.' Meanwhile, low-risk portfolios' underperformance during up market months was 'considerably less than outperformance during down months.' This effect is partially countered in the study by the more frequent occurrence of up months (59% up compared to 41% down months).
Ang et al. also found in their 2006 study that U.S. stocks with high volatility earned disappointing returns over the 1963-2000 period. It's worth noting that this study used a one-month volatility measure as opposed to three-year.
RiskRatings: performing the volatility calcs so you don't have to
Stockopedia's RiskRatings allow investors to instantly gauge the volatility of a company

The system is split into five categories (Conservative, Balanced, Adventurous, Speculative, Highly Speculative)

Stocks are assigned a RiskRating according to their annualised volatility

This might be a superior way of identifying defensive stocks than by sector, size or beta
The RiskRatings classification system groups companies according to annualised share price volatility. It makes Stockopedia crunch the numbers so we don't have to. It is geared towards identifying stable stocks and exploiting the low volatility anomaly and is calculated as a measure of volatility based on the standard deviation of three year daily price returns (adjusted for autocorrelation and sample size).
For more on the subject, the team has written a 20-page ebook on the system as well as this article, here.
The resulting groups end up being sorted like this: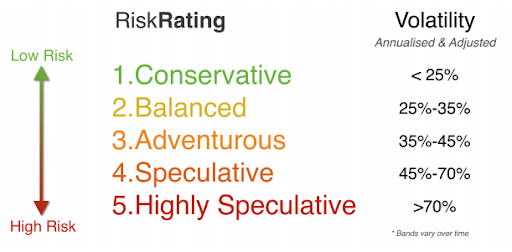 By screening for RiskRatings, we can see how low volatility stocks have performed over the past six months. We want to see if investing in Conservative and Balanced stocks might lead to long-term success regardless of market conditions.
To test how well the RiskRatings have held up over the past month or so, we downloaded the share price performances of all the stocks across all the Ratings, checked their volatility, and measured their performances against the FTSE All-Share over the past six months.
We took their betas and 1-year volatility measures to see what they told us as well. Here are the results, with some bullet point findings and a couple of pretty pictures.
Results - Share price and benchmark performance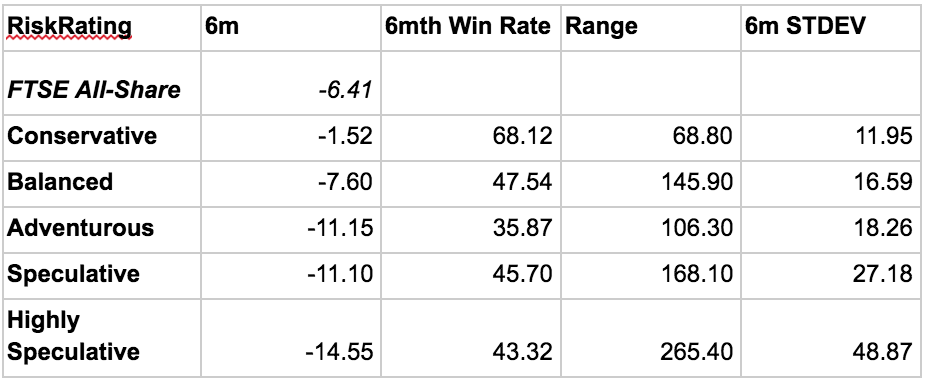 This table shows that RiskRatings appear to have worked over the past six months but Conservative was the only group to outperform the All-Share

On a six month view we see that:

Conservative stocks outperformed the FTSE All-Share by 4.89%. All other categories and stocks underperformed

Balanced stocks lagged by 1.19%

Adventurous lagged by 4.74%

Speculative lagged by 4.69%

Highly Speculative lagged by some 8.14%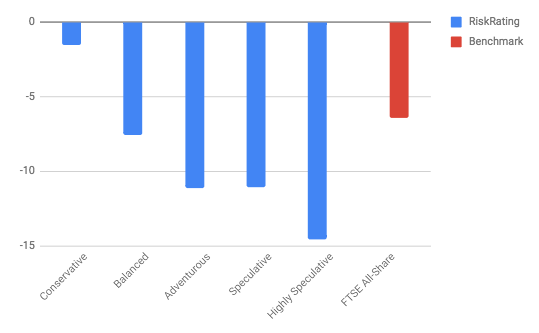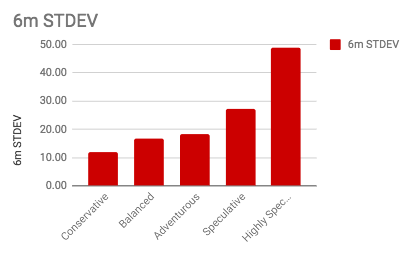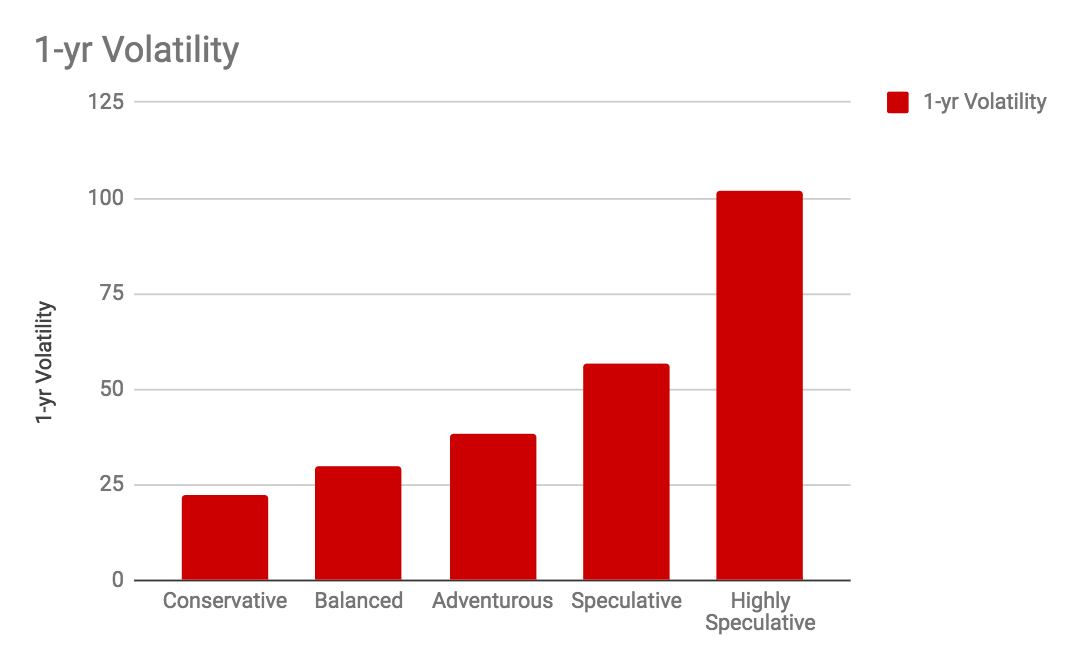 The QualityRank and StockRank increases for safer stocks, with a step-change between Speculative and Adventurous followed by a plateau

This suggests that a safer RiskRating is more likely to have a higher QualityRank, a higher StockRank, and lower volatility

However, the bar chart below highlights that StockRanks alone do not capture the low volatility anomaly: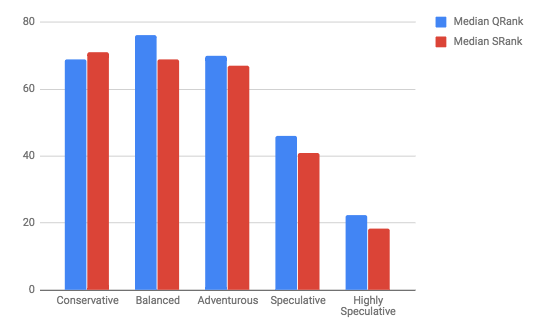 Yet, as we see in the chart below, performances over the six-month period vary: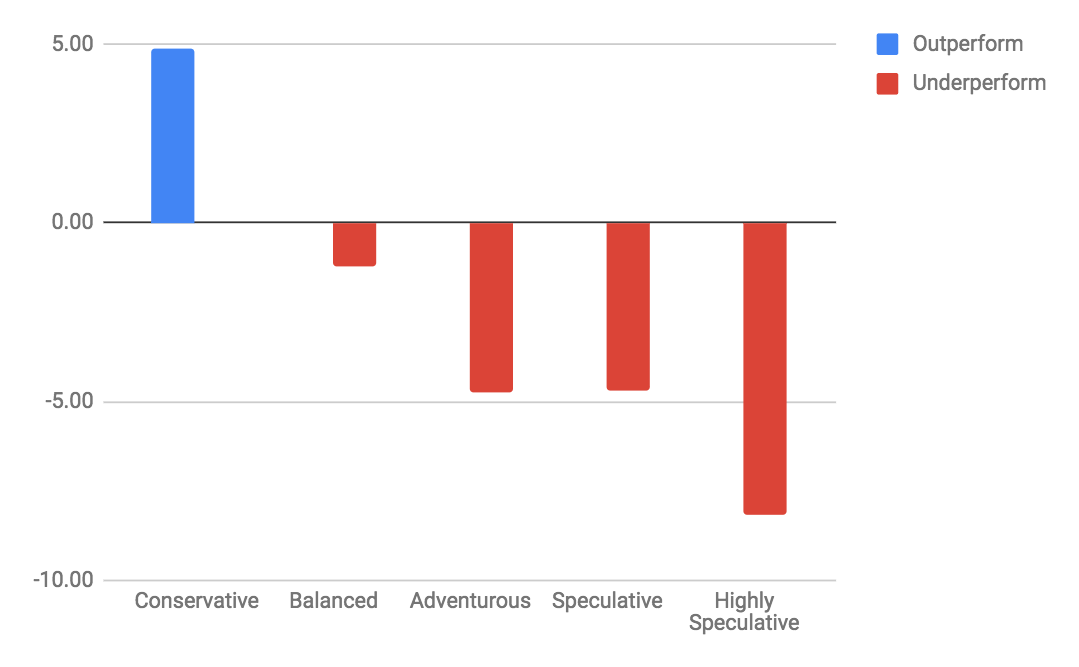 This suggests that looking at high StockRank Conservative stocks might make all the difference
The median beta measures are much less informative

Standard deviation of beta increases dramatically for Speculative and Highly Speculative stocks

This means inferior RiskRatings contain a broad range of betas, raising questions about its ability to describe risk
One final point is that the RiskRatings are a great way to approach StockRanks from a slightly different angle. You can see in the graphic below just how pronounced the difference in overall quality is between Conservative and Highly Speculative - and we get this result purely by analysing volatility:

A full quarter of Conservative stocks are High Flyers. Low volatility high flying shares sound like a good fit for the low volatility anomaly theory. Another 15% are super stocks - the highest of any of the Ratings and a total of 46.6% of the classification is green vs. 9.9% red.

More than 50% of all red stocks are classified as Highly Speculative, as are the majority of Sucker Stocks. If we exclude Highly Speculative stocks from our universe, we avoid 54.8% of Sucker Stocks, Value Traps, Momentum Traps, and Falling Stars. When picking stocks at the most volatile end of the market, we have much less chance of selecting a Super Stock, Turnaround, Contrarian, or High Flyer.
Low volatility seems to be working - now what?
Successful, balanced portfolios can have a variety of investments with distinctive characteristics. Growing small-caps can bring positive momentum and multi-bagging returns but are often risky. Deep-value stocks tend to come with a quantifiable margin of safety but they can also remain at depressed valuations for years.
It can be prudent to have a core part of the portfolio allocated to high quality, defensive, stable companies. Filtering by RiskRating might well be the best way to screen for this type of investment.
If you want to follow this up with any screens or studies of your own, it's very simple to set up. Here's how I did this one:
Go to 'Screens' drop-down box in the toolbar and select 'Create a Screen' on the right

'X' off the starting box and click 'Add New Rule', then click on 'Style / Risk / Size'

Select 'RiskRating', 'Includes', and type in or pick 'Conservative' (or whichever class you would like to screen for)

We excluded the following financial industries and venture capital trusts to make the data series more meaningful

To do this: 'Add New Rule'

'Sectors / Indices', 'Excludes', and type in 'Banking Services', 'Investment Banking & Investment Services', 'Residential & Commercial REITS', and 'Collective Investments'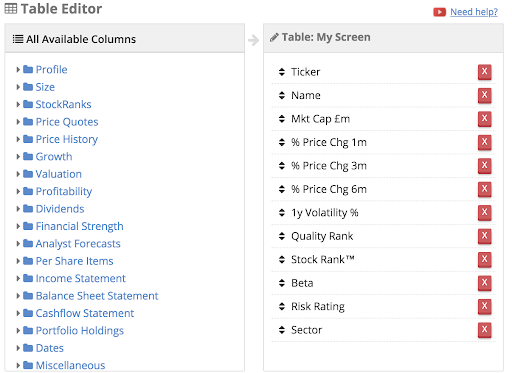 Repeat this screen for Balanced, Adventurous, Speculative, and Highly Speculative stocks.
And that's the test, more or less. We also excluded stocks with a market cap of less than £10m. There are many other inputs that could generate more insights into this system. Feel free to rummage around.
So - dare to be boring?
If you're anything like me, holding low-volatility stocks can be surprisingly hard to do. I get bored and then find the next big thing. Then I convince myself that I must act on said big thing or else I will forever regret it. Don't blame me, blame my neural wiring.

If I get it right I'm a genius.
Unfortunately, it's hard to get it right. And sometimes when I do get it right, I've already moved on to the next big thing months before what's supposed to happen actually happens. Picture a dog chasing cars, excited by all the horse-powered engines and honking horns.
There is plenty of research out there that suggests we are our own worst enemies when it comes to investing. Sometimes the best move is to buy good companies at good prices and then do nothing at all for quite a long time. Simple, but not easy.
This reminds me of 'Thinking, Fast and Slow' by Daniel Kahneman. The book does a thorough job of highlighting the blind spots and biases that affect our behaviour in pretty much all walks of life - not just investing. If you assume that these behavioural heuristics don't apply to you, maybe you have an overconfidence bias…
Screening for stocks with certain characteristics makes for a more disciplined investor. For those seeking out quality long-term holdings, including RiskRatings in those screens might help cut through the noise.