Technological developments in recent decades have given investors the ability to access endless levels of stock market information within a matter of seconds. Key fundamental and technical data is available on a number of platforms, such as London South East (LSE.co.uk). Founded in 1997, this particular platform has grown to attract millions of visitors from over 200 different countries.

Whilst LSE.co.uk provides a range of services such as stock market news, Level 2 trading data and brokerage services, one of the main attractions are its bulletin boards. On these boards, investors are able to exchange ideas, publish their research findings and discuss potential opportunities.

These chat forums captivate huge numbers of investors, many of whom view and contribute to the pages on a daily basis. Some investors then make purchasing and/or selling decisions based on the information. It raises the question of whether individuals can actually outperform the market by using bulletin boards such as LSE.co.uk?

In this article, we will assess the performance of LSE.co.uk's "most discussed" stocks over the past few years, to see whether investors can improve their chances of market-beating returns.
---
What is the Hot Chat Topics list?
With so many individuals visiting and contributing to the site, its bulletin boards have become increasingly prominent over the years. To highlight popular stocks, LSE.co.uk created the "Hot Chat Topics" on the site, which essentially tracks the most discussed stocks. This list is updated frequently so that investors can see the "Hot Chat Topics" on a daily or weekly basis.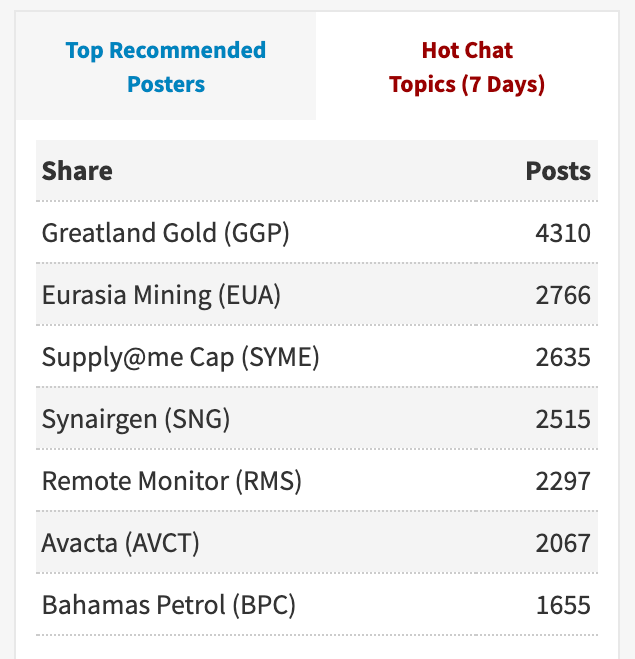 Source: LSE.CO.UK
Whilst the "Hot Chat Topics" are keenly followed by private investors, it's worth noting that there are several advantages and drawbacks of using this approach…
---
Benefits & Risks of following the Hot Chat Topics list
Investors can gain good insights into stocks by learning from more knowledgeable investors on LSE.co.uk forums and can even grasp a good idea of which stocks are in the news, or are trending, by viewing the most discussed stocks.
Picking up ideas from seasoned investors, who have seen it all before or from individuals who have more time to research can be of great help. Equally, industry experts can also help guide investors to make better, more informed buying and selling decisions.

However, bulletin boards can also be a place where misinformation can be posted and stocks are portrayed in a positive or negative manner by individuals with their own motives. This is important for investors to keep in mind so as to avoid any unwelcome influences on their personal investment decisions.
---
We decided to assess how a basket of LSE.co.uk's top Hot Chat Topics stocks would typically perform over time. To do this we took the stocks from the Hot Chat Topic list at the start of every January, since 2017 and rebalanced the stocks within the portfolio each year to account for the new updated list in the following January.

The results of this analysis highlight a few key points. As you can see from the graph below, the portfolio significantly outperformed the FTSE All Share benchmark during the period from Jan 2017 - Dec 2020. However, this outperformance was solely due to the success of one particular holding, Eurasia Mining, which rose by over 1,400% in that time.

In fact, up until Eurasia Mining was added to the portfolio, losses stood at over 60%. Of the 17 holdings held over the period Jan 2017 - Dec 2020, only 3 of them generated positive returns. This is the equivalent of a 17.6% win rate...

---
Learning lessons about the Most Followed list
Whilst LSE's Hot Chat Topics list may be seen as a good starting point to identify stocks in the news, or that are currently popular with investors, it always pays to be wary, carry out further due diligence and detailed research. A 17.6% success rate does not suggest that this is a sensible or sustainable way of building a portfolio, even if there is the odd exception to the rule.

Curiously this is a similar but different finding to what we found after studying ADVFN's "Most Discussed" stocks. What both lists share in common is that while it is possible to find some stocks that deliver significant gains (such as Eurasia Mining), the overall success rate is often very low.

Investors should seek much more favourable odds of success, which can be achieved with even the simplest of diversification strategies. At Stockopedia, we created the NAPS portfolio several years ago to illustrate the performance that can be achieved from selecting stocks with highest exposure to the three factors of 1) attractive valuation, 2) high quality, and 3) positive momentum and systematically diversifying them across the 10 major economic sectors. The results of which can be seen below…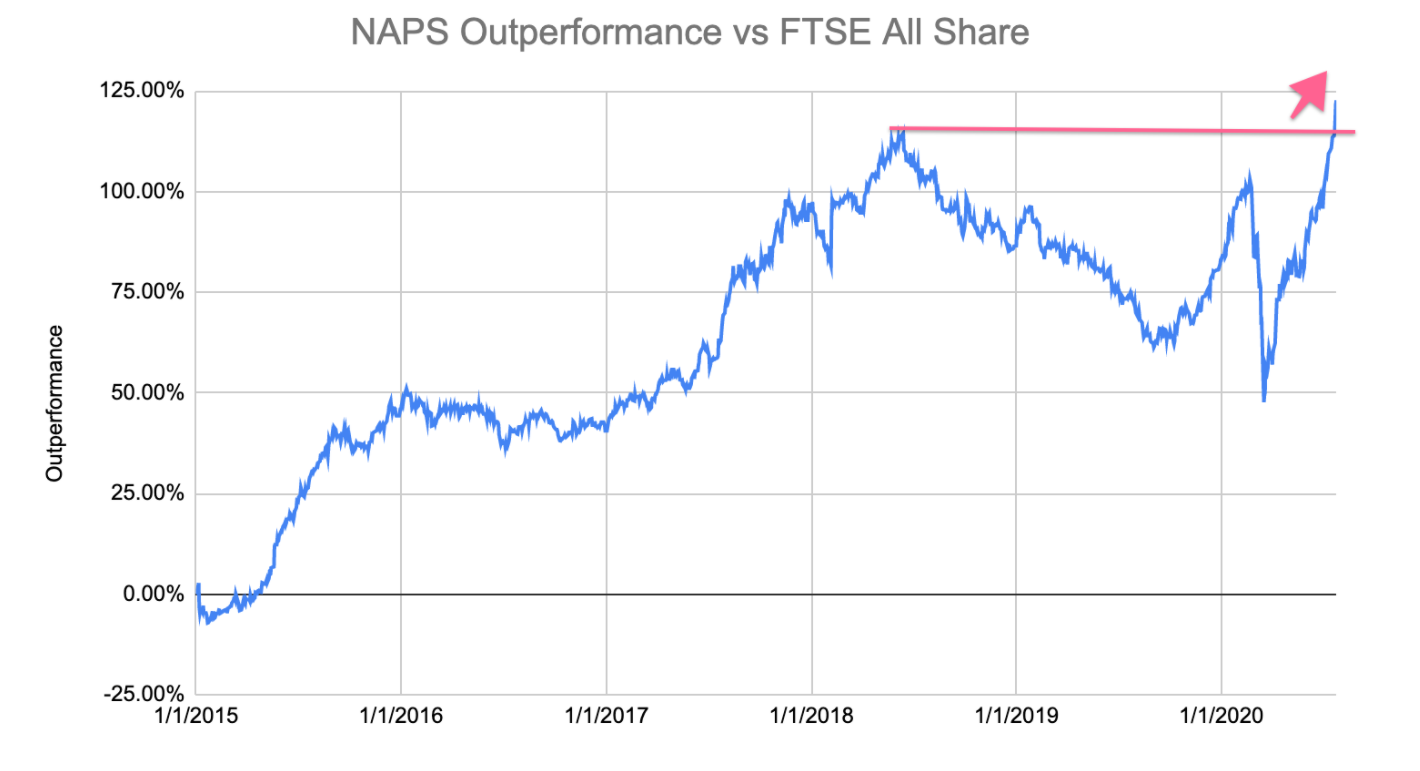 There are countless ways in which private investors can now access information and subsequently improve their chances of achieving market beatings returns. Depending on your objectives, temperament and strengths: we've documented some of the approaches of famous UK investors in our book, Inside The Minds of Great Investors, which you can download for free.

---
Methodology
The stock market performance data was compiled by tracking the performance of 17 companies listed on the London Stock Exchange over the period from Jan 2017 to December 2020.

The portfolio was rebalanced when the newly Hot Chat Topics list was published at the start of January each year (*data for 2020 taken from December 2019).

Any companies from the 'most followed' list that have since been delisted were not included in the portfolio and an equal weighting was allocated to each equity position. Dividends and transaction costs were excluded from the performance calculations to give a better idea of the capital appreciation of the portfolio vs the FTSE All Share benchmark.

Below is a list of the holdings for each year:

Jan 2017
88E Energy
Ascent Resources
Angus Energy
Vast Resources
Premier Oil

Jan 2018
UK Oil & Gas
Greatland Gold
Valirx
Premier Oil

Jan 2019
UK Oil & Gas
Eqtec
Bushveld Minerals
GCM Resources
Angus Energy

Dec 2019
UK Oil & Gas
Eurasia Mining
Rockfire
Metro Bank
I3 Energy
Immupharma
Hurricane Energy

About Keelan Cooper
After having approached the investing scene at the age of 12, I decided to follow lots of different Bulletin Boards in the UK and look for the most trendy resource stocks on the market. Aged 14, I was left with little over 20% of my original investments, with most of the companies bankrupt. I came across Stockopedia in 2013 and I was intrigued by the ranking systems and screening features that were on offer. I was a devout follower of Warren Buffett and I loved the idea that I'd be able to track the shares that would fall under his investment philosophy. Having read plenty of books on Warren Buffett, and Benjamin Graham's The Intelligent Investor I am inherently a contrarian investor. Stockopedia has given me the tools to scour the market for marked down unappreciated companies and analyse their valuation and quality characteristics. I created a fantasy fund to mirror this approach in 2015, to see how the strategy would work, and after continued market out-performance, I have integrated this strategy into my personal investing life.
In 2015, I flew from Dubai, where I attended school for my GCSE's and A-Levels, to the UK in April, to attend the UK Investor Show. This was where Ed and the Stockopedia team would be presenting the site to investors, and the perfect opportunity for me to speak to them and ask for an internship. After some conversations with Alex and Ed, they agreed for me to come for an internship in the summer. After such a rewarding experience I was fortunate enough to return again as a research analyst. During my second internship, I learned about technical chart analysis, contributed to various help pages on the website, and helped with the research for the eBook "Profit Warnings - the ultimate investor survival guide".
I have since carried out a series of internships with Stockopedia, working within the Product, Growth, Marketing & Support teams. I am delighted to be on my fifth internship with the company, carrying out a year-long placement as part of my BSc in Banking, Finance and Management at Loughborough University, due to complete in summer 2022.