If you are anything like me, when you started investing in the stock market you read furiously to generate ideas. I subscribed to every newsletter I could get hold of. I hunted high and low for stocks that had the capacity to change the world. I searched the web for proof that other investors were buying them. This led me to the big bulletin board websites.

As a UK investor, I found advfn, iii and lse where there seemed to be thousands of investors bantering on almost every stock imaginable. I lurked for months, intimidated by the apparent expert knowledge of all the loudest voices before gradually contributing myself. It was the most expensive mistake I'd ever make.
I'll explain why it was so expensive for me in a short while, but it wasn't just me. Reading bulletin boards may be the most expensive mistake that anyone makes.
Since my own calamities in 2008, I've taken a huge interest into how and why bulletin boards are able to so deceive us into losing money. A few years ago I decided to start tracking the performance of the 100 most discussed stocks on the most popular online bulletin boards. I first revealed this chart at the UK Investor Show and haven't updated it since, but even so, the results are damning.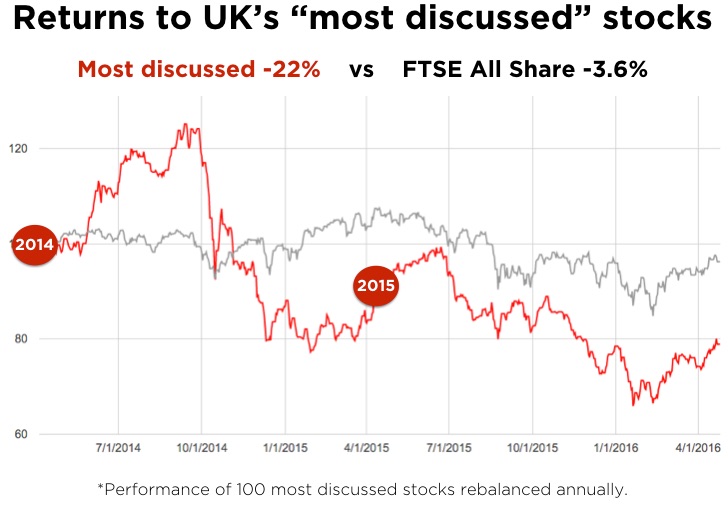 It's a picture of heart-wrenching ups and downs and consistent underperformance. For every story of someone who paid off his mortgage and sent his kids to private schools by ten-bagging on Rockhopper, there are hundreds of others whose crowd following have led to serious capital losses.
The typical punter investing in a collection of the most discussed stocks online would have been zeroing in on failure. A 10% average failure per year. So much for the wisdom of crowds !
Why do we get pulled into mob thinking?
It was the bull period between 2003 and 2009 that I used bulletin boards the most. I had some savings from my time as a wealth manager and had bolstered my funds with an inheritance after my mother passed away. Being Scottish, I had very good discipline 'on the buy'. I never liked to overpay. At the time I used a strict rules-based purchase criteria that was very Jim Slater inspired, and for much of the period my exit rules were solid.
But Bull Markets create their own logic. Having initially purchased a sizeable position in a biometrics and RFID stock called RCG quite soon after its IPO in 2004, I gradually pyramided up my position as it kept breaking out to new highs. I grew increasingly confident till at one stage it was as much as 50% of my portfolio.
Now this was a profitable, growth stock. It actually had earnings, sales growth and a viable product. As I ventured online, I became part of a community of investors that were quite vocal about the company's prospects. The summary of the story was…
"RFID chips are going to replace bar codes. Biometrics are going to be on every device in the world. This company is growing profits at 75% annualised and can keep growing at this rate for a decade. It's only on a P/E of 8 and a PEG of 0.1. The brokers aren't onto the story yet. Buy, buy, buy."
Our community of investors online ventured offline too. About 30 of us met the management at the Mandarin Oriental Hotel in London. Everyone I met appeared extremely intelligent. Business analysts, successful business people, accountants, full-time investors. We were making big profits, I'd almost quadrupled my stake…
But what happened next was the worst of groupthink…
Why are bulletin board crowds dumb ?
One of the best books on mobs is titled "The Wisdom of Crowds" by James Surowiecki and it holds some great lessons for online investors.
Surowiecki talks about the four conditions that need to be in place to form a wise crowd:
Independence - where people's opinions aren't impacted by the opinions of those around them.
Diversity of Opinion - where every individual in the crowd makes decisions based on their own private knowledge.
Decentralisation - where every individual is located separately and able to draw on different local information.
Aggregation of Results - where there's some mechanism to bring individual perspectives to a collective decision (e.g. a market).
The problem with bulletin board crowds is they break the first three of these rules.
Firstly, the initial frames for a stock pitch are often made by just a few very vocal, highly intelligent and confident people. People often defer to authority figures (known as authority bias) and so these ideas are shared and accepted by a growing number of people without critical thinking. This creates an information cascade that denies independence of thought, especially amongst time poor private investors. It also leads to over-confidence.
Secondly, diversity of opinion on bulletin boards is not welcome. Time and again when a critical, bearish thinker appears on a bulletin board he's blasted as a 'deramper' or a 'troll'. Often he's banned from the thread. Investors only seek confirmation and confidence that their decision to stay long is correct, they seek to silence challenging or contrary opinion.
Thirdly, while most investors may sit in their home offices or at work, they often aggregate in a single forum to think and share all information together. This is the antithesis of decentralisation.
All these factors are completely contrary to wise crowd formation - and they tend to lead to groupthink.
In the cacophony of voices in a bulletin board the best storyteller with the best story wins. Funnily enough, the stocks most discussed rarely display the classic profile of winning stocks before their runs - in fact, on deeper analysis - they normally display the profile of losers !
As an illustration of this fact, I'm sharing a bubble chart of the 100 most discussed shares online (from the 2015 set) using the Stockopedia Value Rank and Quality Rank. These bubble charts show Value on the horizontal axis (from expensive to cheap), and Quality on the vertical axis (from junk to good). Good, cheap shares (which historically have outperformed the market) are in the top right corner, while expensive junk shares (which historically underperform the market) are in the bottom left corner.
As we can see, only four of the 100 shares in the list can be classified as "good, cheap" shares. The majority are worse than average and heavily leaning towards "expensive, junk". The only reason to buy expensive, non profitable shares is because they hold the promise of exceptional future returns… a future that can only be sold in a great story by an authoritative storyteller.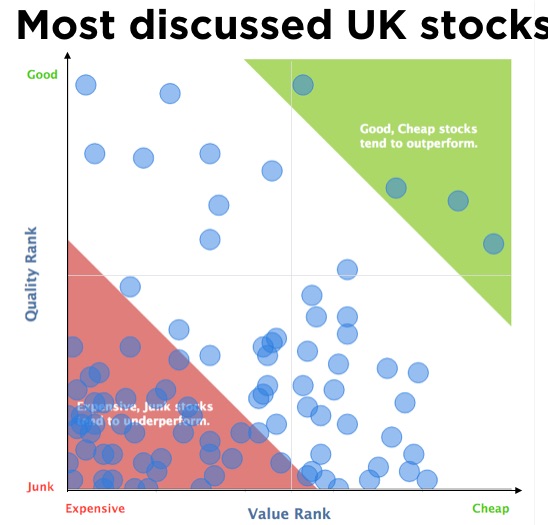 How to use bulletin boards successfully
RC Group - the biometric share previously mentioned - was found out as a fraud. But the fraud took quite some time to unravel. The psychology of those who were long the share while the fraud unraveled was very telling.
It became a typical DABDA grief sequence… first the stock plummeted and most were in denial, then came anger but most stayed long. Then came the bargaining phases which is when I managed to sell out - a 50% loss from the peak, but thankfully still a profit on my original investment. But I know plenty of others who held on only to see a share that was once at a high of 144p fall to under a penny.
Since that rather painful experience, I've learnt that the simplest secret to making money reading bulletin boards is simply don't ! As many Stockopedia subscribers may know, the site's investment philosophy is to align with the historic payoffs available in the market and try to act contrary to the emotional crowd. It's a philosophy that has worked and ought to continue working until the market is a lot more efficient than it is today. To do this one doesn't need to read bulletin boards… one needs to understand what works in investing, and read, analyse & use company data.
To understand the amount of performance that bulletin board investors are missing out on, it is useful to look at the  differential between their performance and a statistical benchmark. If you compare the performance of the 100 most discussed bulletin board stocks, to the top 10% of shares ranked by their Stockopedia StockRank (which is a simple model based on quality, value and momentum factors) we see a huge 96% differential over a 2 year period (see the chart below). As James Montier, the famed analyst and fund manager, has said "the evidence suggests that quant models tend to act as a ceiling rather than a floor for our behaviour… there is plenty of evidence to suggest that we tend to overweight our own opinions and experiences against statistical evidence."  The chart below is a few months old, but again serves to illustrate the point.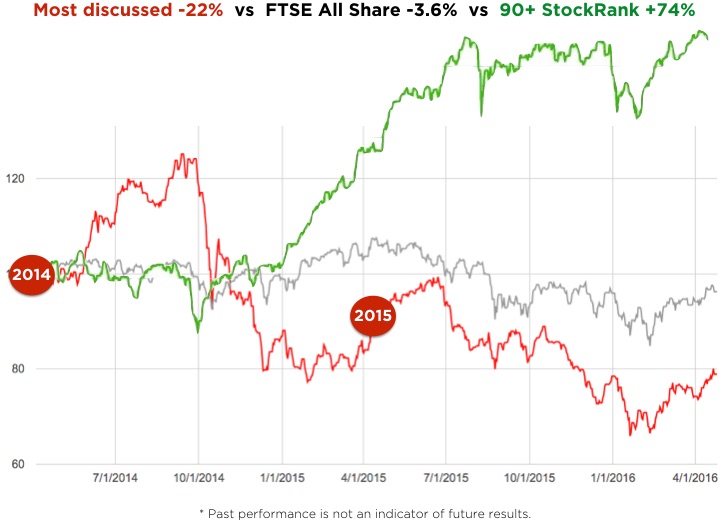 Frankly, the above analysis ought to put everyone off reading bulletin boards, but that would be short sighted. We're social animals, we seek and crave validation, and the internet is an awesome vehicle to discover new information, more quickly than we could otherwise.
The key to using discussion boards successfully is to avoid using them as a primary source of ideas but use them for testing ideas, to keep Surowiecki's comments in mind and to structure your thinking to counter our inherent behavioural biases.

Here are a few pointers to prepare one's mindset whenever reading a bulletin board:
Frame your reading with a sound understanding of what statistically works - when one understands the typical attributes of winning shares it's much easier to spot a blatant, low probability story or 'sucker' stock.
Avoid confirmation bias. If you find yourself reading bulletin boards just to back up your own opinion… don't.
Seek out contrary opinion - especially if it comes from intelligent "trolls". Experience generally shows that they are more right than wrong.
Beware of intelligent consensus - consider the opposite side of an argument if one side is in the ascendancy.
Beware of Authority Bias - be skeptical of trusting the authority of any self-proclaimed 'guru', especially if hides his real world identity behind a pseudonym.
Read Blogs rather than Forums - blogs are often written by independent thinkers who come to decisions from their own research rather than groupthink.
Don't buy stocks just because people are talking about them. Buy stocks when people aren't talking about them. Sell them when they are.
And just to sign off, here's a great parable that rather sums this all up…
A group of medieval scholars were debating how many teeth were in a horse's mouth. To answer the question, each person stood up and cited their favourite authority--but there was still NO agreement. A junior member of the group, then suggested that the group should go outside and simply "COUNT" a horse's teeth--to resolve the question once and for all! Upon hearing this, the rest of the group became so alarmed that, according to the manuscript, they "fell upon him, smote him hip and thigh, and cast him from the company of educated men."
Safe investing !