After a couple of minor roles in the City, I wound up at Goldman Sachs in their ultra high net wealth private client division. As is usually the case as a junior you are keen to make a good impression and find promising investments to pitch. The problem was I was rather independent minded and preferred to come up with my own ideas…. which were rejected. I was told my idea would always be rejected if it wasn't on 'the recommended buy list' and I hadn't "checked the idea with the analyst upstairs" personally. Who were these gurus upstairs, and why did their opinion matter so much? Could they really hold the secret to infinite wealth? As I was soon to find out, in the most painful way possible, their opinion was worth diddly-squat.
Understanding analyst incentives
If you are a novice you might not be sure how the City pumps out its stock ideas. Here's how the game works. The City is split into the "buy-side" (fund managers who run the assets) and the "sell-side" (brokers who place their trades). The sell-side is always trying to pick up commission by encouraging the buy-side to trade. So their research departments write flashy research reports and their sales teams get on the phone.
If you've ever been given a flower by a Hare-Krishna on the street 'for nothing' you'll know how this works. Whenever we receive a gift, we feel obliged to give something back in return. It's a well-worn Jedi mind trick. So fund managers often send their trades (and pay commission) to the brokers who have most influenced their thinking.
But investment bank research departments don't just cater for their brokerage clients, they have historically had their arms twisted by the suits further upstairs - the corporate financiers. These are the slick guys who do corporate mergers & acquisitions and raise the equity and debt capital to fund them. They really don't want any negative research published about their clients, and they're a bit like the Men in Black…. so most research analysts don't dare mess.
If you consider these skewed incentives it's hardly surprising that most sell-side research is rather biased. It's either written as a great pitch (to encourage trading) or given a positive spin (to not upset a corporate client). Now I know a lot of people will object to the above comments (as research departments are generally more independent these days) but implicitly or explicitly we'll see how these incentives impact reality in the numbers below.
First pitch…
Back to 1998… having scoured the GS Recommended Buy List for some time I'd made a watchlist of stocks whose stories I liked. There was this stock called CBT Group, and I can still remember the ticker - CBTSY. It was Nasdaq listed, made online educational software, and the dotcom boom as on. It had had a pretty stunning run, more than doubling over the previous year.
Everything was bullish. It had been on the 'recommended buy list' for most of that time. The analyst was all over it in his research reports, gushing about their prospects and business model.
But one day the stock opened down about 20% on no news. This seemed highly unusual. Was now our chance to get in on the cheap ? I drummed up the courage to call the analyst upstairs and he gave a pretty clear message… "I spoke with the CEO this morning. Business is great, there's no change in recommendation, it's still a buy."
So, I'd ticked the box. I made my pitch. My bosses were impressed. We initiated an initial 1% position across all proportion of our discretionary client portfolios. We were running the best part of $2bn at the time so it was a pretty big trade. All was promising, but something felt wrong... 
Understanding consensus estimates
Private investors learn pretty quickly about broker research. There are lots of these reports, normally in PDF format, flying around the web getting shared by those in the know. Normally there's someone who knows someone who has the login details of someone who can download a research paper.
These notes have a standard format:
The cover publishes a Recommendation. Each bank uses their own terminology… but it's normally a four or five tiered system which spans: STRONG SELL - SELL - HOLD - BUY - STRONG BUY.
There's usually a clear set of detailed Earnings per Share (EPS) Estimates for the next several years. There are other estimates for figures such as sales, EBITDA, book value etc etc, but the key figure that moves the market is normally the EPS projections.
There's often a Target Price. The price at which the analyst believes the shares ought to be trading at within some time frame. This will often be accompanied with a detailed valuation model, with some peer comparables to justify it.
There's normally a good yarn attached. Sometimes they make good reading as there can be some pretty good writers employed by investment banks.
There can be anything from one to dozens of brokers publishing competing research on each stock - each with different recommendations, EPS estimates, and target prices. So data firms consolidate these into averages… called Consensus Estimates. 
At Stockopedia.com, we publish the consensus of the broker recommendation in a visual way in a meter as follows:

Tom Firth, who works with me has done a great analysis of the numbers. If you take a look at the distribution of consensus estimates on the London Stock Exchange you'll find something startling… there are barely any sell recommendations.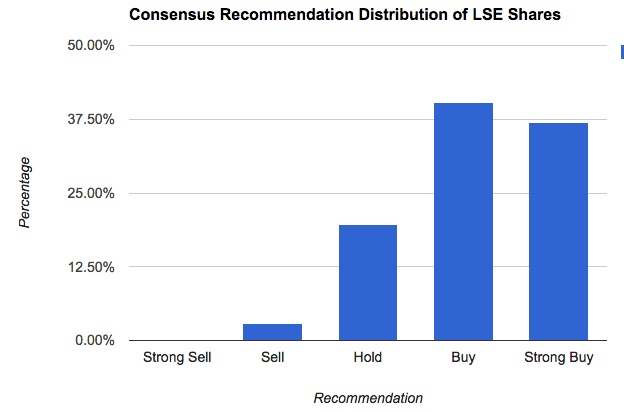 I'm not sure if there are many private investors who realise that 77% of shares are listed with a consensus recommendation of buy or strong buy. Right now there's only a one in 33 chance that any stock you're looking at is listed as a consensus sell.
Pear shaped…
So, the GS Technology analyst (an English chap) had reiterated his buy recommendation to me on the phone. We'd bought, and my nerves were eased when his voice started blaring out through the squawk box to the whole sales team with a similar buy reiteration later in the day. The stock rallied.
But next day it fell 40% at the open. Still on no news. I called the analyst again. Couldn't get hold of him. Several times.  Thankfully I worked for someone with a lot more market experience than me. He reversed the trade instantly.  We'd lost our clients a lot of money.  I felt like a chump. 
The performance of broker buy recommendations
When you've got a distribution of recommendations that is so skewed away from "sells" it's very hard to calculate the average performance of each type. We thought about it and split the recommendations into four buckets that are a more equally composed - sell, hold, outperform and buy. It helps to visualise the limits of these new segments against the Stockopedia.com 'recommendation' meter as follows:
We've created 3 annual portfolios of stocks in each of these segments and tracked the performance versus the FTSE All Share over the last 3 years. The results are pretty startling.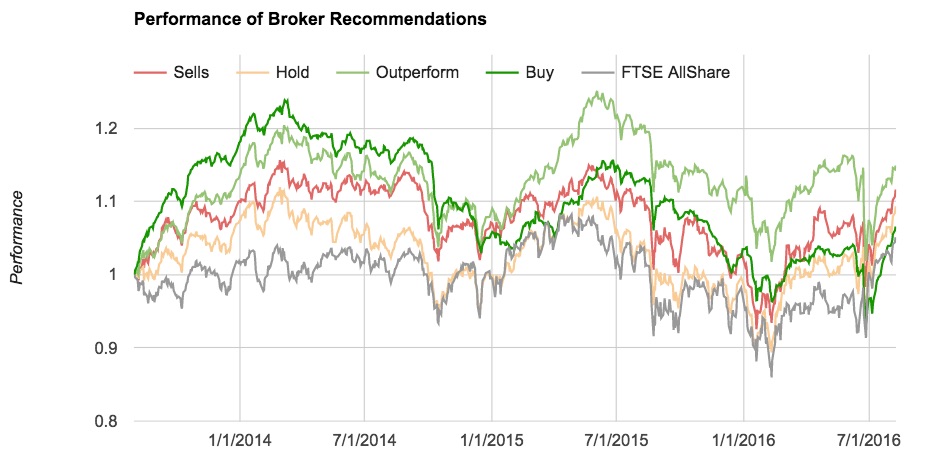 In summary:
All segments have beaten the market (FTSE All Share), but none significantly.
BUYS (dark green) performed the worst of all four sets.
SELLS (red) outperformed both holds (amber) and buys.
"OUTPERFORMS" (light green) performed best, but only beat sells by a shade.
Make of that what you will. The 3 year performance period may not be a long enough sample, but it pretty much validates what's been found in most of the academic research on this topic. Broker Recommendations have very little predictive value.
Why are the strongest consensus buys the worst performers?
We can answer this with a little thought. If there's only a single broker covering a stock, and they put out a 'strong buy' recommendation then the 'consensus' recommendation will be 'strong buy'. So the stocks with the highest consensus recommendation tend to be those with the fewest brokers covering them.
If there's only one broker following a stock, it's often either the house broker (who is conflicted), or an independent research provider paid for by the company themselves (who is also conflicted). It's little surprise then that these buy recommendations just don't perform… they aren't exactly the most unbiased nor the most honest.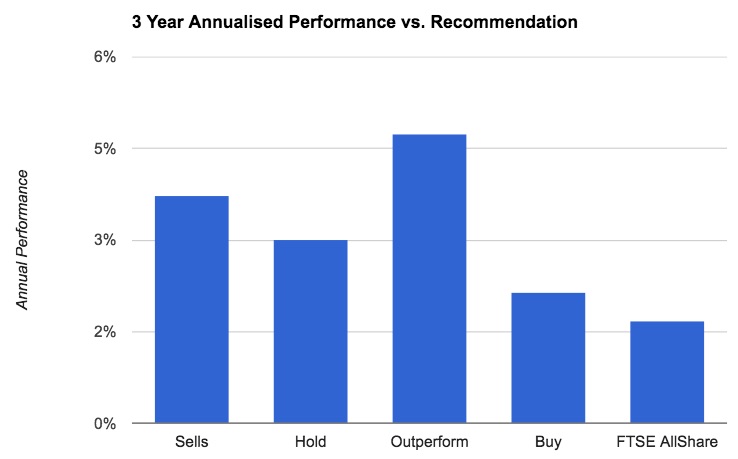 How to improve the performance of buy recommendations
CBTSY was a classic growth stock, and had a very expensive market rating. It was on a high P/E ratio. When it disappointed it was cruelly punished by the market. It fell much further after we sold. We bought at about $45 and we sold the next day at under $30. From memory, an insider trading suit took over and it eventually delisted at about $8 six months later. It was a very painful experience and I took some valuable early career lessons from it. Don't fight the tape. Admit your mistakes. Cut your losses fast.
Brokers love growth stocks. Growth stocks come with exciting stories and are a much easier sell to clients. It's hard to pitch a story about an old stodgy value stock in trouble. Perhaps, given that value investing works, amongst this blind spot there's an opportunity…
As Stockopedia regulars will know, cheap value stocks tend to beat expensive growth stocks even though they do give a hairy ride at times. So we've split the set of 'hold' and 'outperform' stocks into equal buckets according to their Stockopedia ValueRank and reassessed the performance.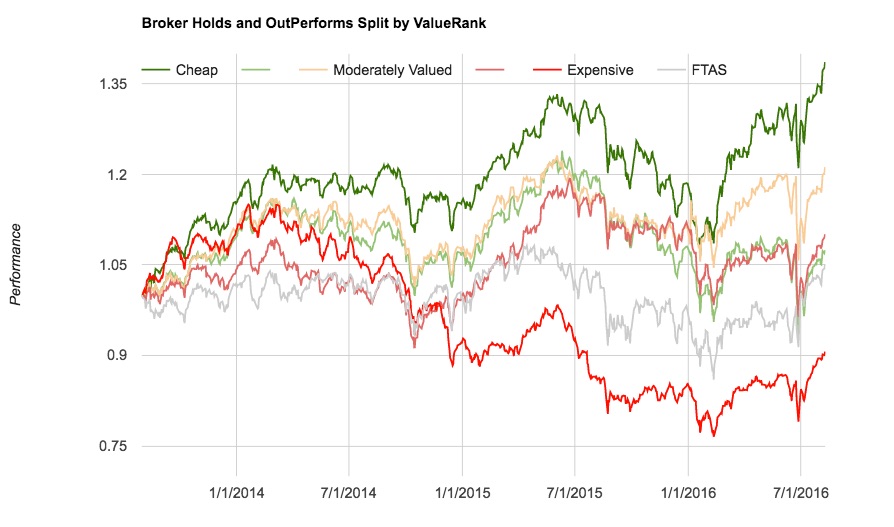 The Value Rank scores companies from zero (most expensive) to 100 (cheapest) . In the above chart the cheapest set of stocks is marked green, the most expensive red. The clear message here is that sticking to the cheaper set of buy & hold recommendations is the best way to find value in broker recommendations.. there's a 38% return over 3 years to show for it.
It does also seem that this set of high Value Rank (cheap) shares with broker coverage has significantly outperformed those that don't have broker coverage - to the order of 10% over the same timeframe. I don' t have a chart handy, but you can compare at the StockRanks Performance Portal and choose the ValueRank.  So another message is that sticking to Value stocks that do have broker coverage may help with performance.
Conclusion…
It's vitally important to understand that consensus estimates come from analysts who in aggregate are highly biased towards publishing 'buy' recommendations. They suffer from incentives which aren't aligned with your own investment success, so it really pays off to mistrust them.  This isn't to say there aren't fabulous analysts out there who do provide a huge amount of value... of course there are.  But private investors often have to deal with averages, and as the statistics show, in aggregate analysts barely outperform. 
The very best research comes from the buy side (the fund managers), but that research isn't published. It's acted upon. Ultimately, it's what people DO that matters most, not what they say. Perhaps brokers could learn from Lao Tzu, the 6th Century BC Chinese philosopher who once mused…
"Those who have knowledge don't predict. Those who predict don't have knowledge."
Hopefully these insights proves useful. Thanks to Tom Firth for his excellent research. In future pieces we'll investigate whether the changes in broker recommendations have more value than their absolute values, but in the meantime we'd welcome any comments you might have on the subject below.