With just a few weeks to go until the end of the year, it's inevitable that thoughts start turning to portfolio housekeeping and making new investment resolutions for 2018.
Overall, it's been a strong year for equities. Strategies that target small-cap growth companies have done particularly well, and we've seen noticeable strong returns in higher quality value strategies, too.
But the consequence of these kinds of trends is that they can leave some portfolios drifting well away from their intended investment target. If you were an investor in small GARP (growth at a reasonable price) shares in early 2017, you might now be holding a group of larger and more expensive looking stocks. While that's clearly a good thing, your exposure to that successful small-cap GARP strategy would have drifted away. To continue with that investment style you'd need to tackle the thorny issue of rebalancing.
Why rebalancing causes confusion
Even if you do nothing with a portfolio, its initial weights will slide out of balance over time as valuations change. The idea with rebalancing is that it cuts the risk of being overexposed to a small number of large positions, where an unexpected disaster could be seriously damaging.
Yet rebalancing is one of those subjects that rankles with some investors. That's because, conventionally, it means trimming back successful holdings and feeding funds into lagging stocks. This kind of trading is counter-intuitive to many investors because it racks up trading fees, spread costs and potentially even taxes. Plus it doesn't sit well with the idea of running winners and selling losers. All these reasons are enough to send rebalancing to the bottom of the list of priorities.
Indeed, rebalancing not only has disadvantages, but it's arguably unnecessary for some types of investors. In Stockopedia's Four Investor Suits, active traders and stock market 'hunters' (like our own Paul Scott) build and weight portfolios based on detailed analysis and conviction. In some ways, this kind of constant adjustment dispenses with the need for periodic rebalancing.
Staying focused on investment styles
But for more passive 'owners' and 'farmers', rebalancing can be a very important part of some strategies - especially those that aim to harvest powerful market premiums like value and momentum. For stock market 'farmers' who run portfolios based on these kinds of investment styles, there is a constant risk of style drift without rebalancing.
What this means in practice is that value stocks that rise in price, like we've seen in 2017, will eventually cease to offer the value premium any more. The same goes for momentum, which can persist for extended periods, but will eventually fade. With the portfolio no longer exposed to those kinds of factors, it's obvious that rebalancing is important.
As David Blitz, the head of quant research at asset management firm Robeco, has written: "Without rebalancing, the factor exposures of a factor investment strategy would gradually deteriorate, until no exposure at all would be left. So rebalancing is an essential aspect of factor investment strategies."
Rebalancing considerations
So how often should a portfolio be rebalanced so that the stocks in it have the highest exposure to whatever style the investor is pursuing? In the coming weeks Ed will be rebalancing his NAPs portfolio, which is currently refreshed annually and semi-annually. His strategy targets stocks with high StockRanks broadly diversified across sectors. And in his review at the start of 2017, the jury was still out on whether six or 12 months is preferable.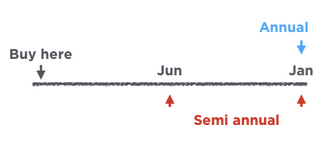 In deciding when and how often to do it, it's worth thinking about the the nature of those investment factors. For example, in the case of value, the wait for a price re-rating (mean reversion) can take years. But with momentum, the returns have been shown to occur much sooner. But generally, according to some of the leading lights in this area - from fund managers like James O'Shaughnessy and Joel Greenblatt and financial theorist Robert Haugen - rebalancing is only necessary once a year. Even then, some investors will only start refreshing positions that have moved beyond a certain threshold.
So whether you're a hunter looking for areas of improvement in a portfolio, or a farmer looking to maximise exposure to market premiums, rebalancing can be very important. After strong performances from some strategies in parts of the market in 2017, it's worth considering the risk of style drift to ensure your portfolio is fully fit for 2018.
Don't forget - you can check the weightings, exposures and style analysis of your portfolio with Stockopedia's Portfolio tools.