There's a saying in investing that "time in the market beats timing the market". In other words, long-term trends in stock markets are overwhelmingly positive. The longer you stay invested, the more you can take advantage of the compounding effects of being exposed to them.
On the other side of that argument however, is the idea that selling up when you anticipate volatility might save you from the agony of near term losses. Given that humans feel the pain of loss so much more than the joy of gains, the tendency to avert losses is a very powerful influence. When prices start falling, panic sets in quickly.
The risk of making poor decisions in a panic is a big reason why "time in the market" has become accepted wisdom. In particular, it takes away the need to make correct decisions that would be tricky in calm conditions, but near-on impossible in moments of high stress. To put that another way, timing the market increases your chances of being wrong in a couple of critical ways…
First, it means choosing the optimum moment to sell and get out before prices fall. But it also means you have to judge the optimum time to buy back in. From a psychological perspective, being right about both is an extremely tough call.
Terry Smith, the plain-speaking British fund manager, once wrote that "when it comes to so-called market timing there are only two sorts of people: those who can't do it, and those who know they can't do it. It's safer and more profitable to be in the latter camp."
So in summary, staying invested in the market as long as possible can make a lot of sense. But does that mean you should simply soak up periods of heightened volatility, when prices may be falling sharply?
The answer is that there's no single way of immunising a portfolio against broad market sell-offs. But there are tactics you can employ - when you're either selecting stocks or seeking to understand the profile of existing holdings - that can guide you on how they might behave in the face of volatility and market distress. There are no magic rules, but a few key checks could be worth keeping in mind.
How to defend against volatility
It's no secret that some stocks (and even entire industry sectors) are less sensitive than others to the ups and downs of the market. For example:
Over time, some shares have prices that move around much more (and some much less) relative to the rest of the market less. This is measured by what's called Beta.
Some stock prices trade in a narrow range and don't have wide swings either side of their longer-term average, while others deviate much more. This is measured using standard deviation.

Stocks in different industries can be less sensitive to market sell-offs.
Before we explore these ideas, it's worth briefly examining the point that 'low volatility stocks' aren't just a degree of protection against periods of market turmoil. Some research shows that 'low-vol' stocks hold their own against (and even outperform) much higher volatility stocks across the market cycle.
The late professor Robert Haugen was a keen advocate of this idea and wrote extensively about why low-volatility outperformance existed. He reckoned that behavioural flaws were a reason for it.
Haugen found that investors - including professional fund managers - were too hung up on the idea that high risk equals high reward. Overconfident in their own stock-picking abilities, they are drawn to risky shares like a magnet, which causes them to become popular and overpriced. By contrast, lower volatility stocks can become cheap, and while they are slower to rise in bull markets they don't fall as far in bear markets.
What Beta tells you about price sensitivity
Measuring volatility can be done in different ways, but one useful measure in the investor's armoury is Beta. Beta is a direct measure - often taken over several years - of how sensitive a stock price is relative to the movement of the wider market.
If a stock's price tends to rise more than the market on up-days and fall more than the market on down days, it will have a Beta greater than 1. But if it isn't as sensitive to market movements, rising or falling less than the market, then it will have a Beta of less than 1.
Beta won't give you the full picture of volatility but it can be used as a risk indicator to show how a stock tends to react to market movements over time. With that knowledge you can start to gather an understanding of which stocks in a portfolio might suffer more in a correction, which will help to shape ideas on whether more diversification is required.
In the Stockopedia Screener, Beta is in the Momentum section, where you'll also find other Volatility measures (see below). In the Screens section, create a new screen and then click 'Add Rule' to launch the rule picker: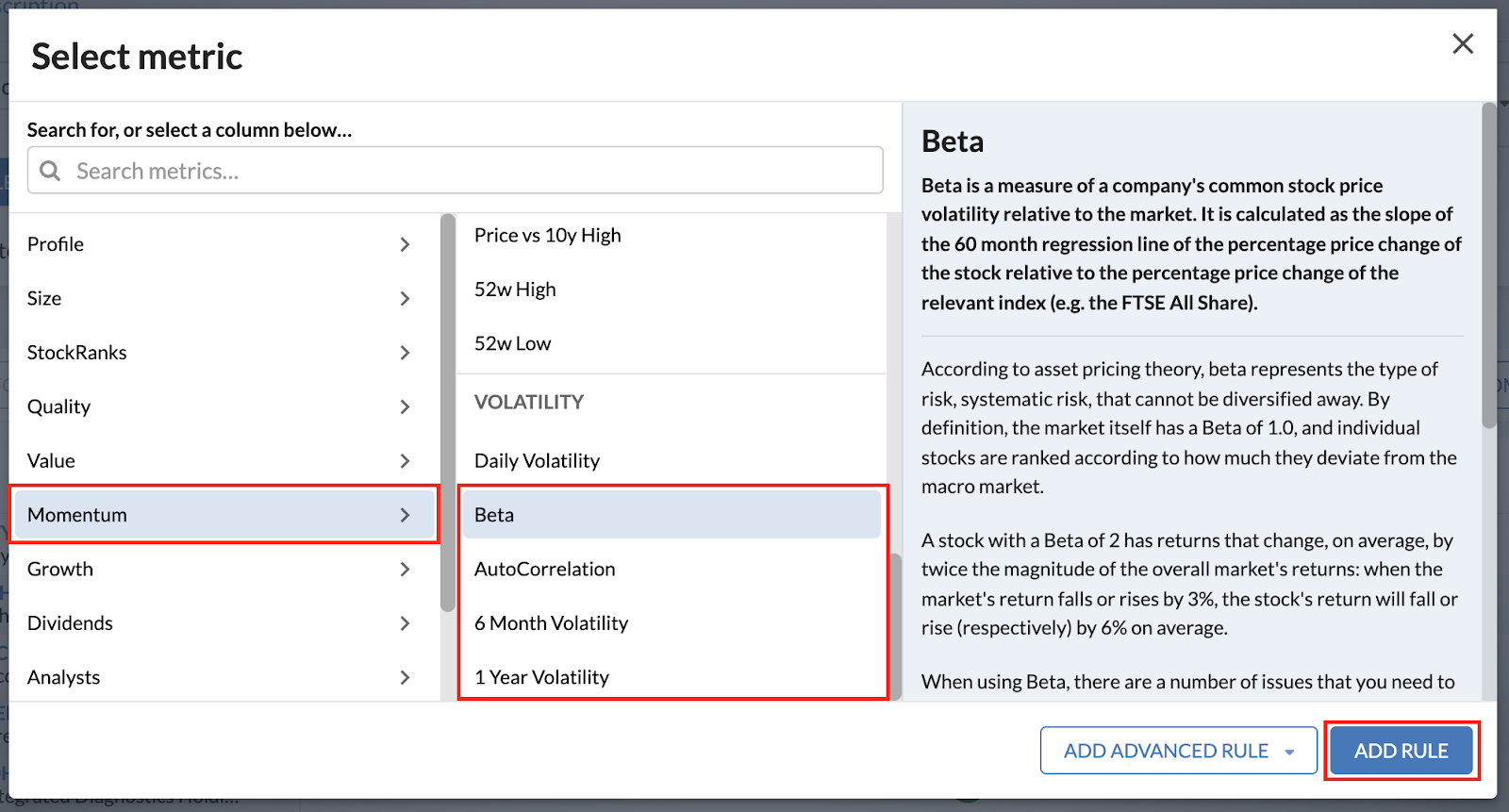 (see below for how Beta can be used in the Screener)
Measuring volatility with standard deviation
If Beta is all about the sensitivity of a share to the daily ebbs and flows of sentiment, volatility is about how much a share swings around its own longer-term average price. The mathematical way of measuring this is called standard deviation, and in this particular instance, standard deviation and volatility are essentially the same thing.
A measure of volatility is useful because it can offer a guide about how predictable a stock's price is, and how it might be affected by unsettled conditions. Low volatility shares generally move in a tight range, making them more predictable.
By contrast, higher volatility shares will have seen much wider moves. There could be good reasons for this or it might be that the underlying business has experienced some kind of change or exceptional development. It could be that it's a very small company, or the market has fallen in (or out) of love with the stock. Another possible cause is low liquidity (where low share availability causes the price to move easily on relatively low volumes of trading).
Whatever the cause, high volatility is worth watching when it comes to balancing risk in a portfolio. While high volatility shares aren't necessarily bad, too many in a portfolio could cause mayhem in a correction.
Stockopedia's RiskRating classifications use three-year standard deviation. But the Screener also carries one year and six months volatility measures.
The RiskRatings classify volatility on a spectrum ranging through Conservative, Balanced, Adventurous, Speculative and Highly Speculative. This makes it easy to understand the volatility risk profile of a share. With the rule in place, you can select which of those RiskRatings you want in the screen:

Managing risk with sector diversification
A final consideration when it comes to managing volatility and exposure when markets are in turmoil is the issue of sector diversification.
On the map of the stock market, there are three main super-sectors: Cyclicals, Defensives and Sensitives, and divided between them are 10 sectors
Cyclicals: Basic Materials, Consumer Cyclicals, Financials
Sensitives: Industrials, Energy, Telecoms, Technology
Defensives: Healthcare, Consumer Defensives, Utilities
Cyclical sectors are generally the most sensitive to macro trends and the health of the economy. This is where you find areas like retail, construction, restaurants and entertainment, as well as mining and banking. Companies in these industries often do very well in periods of economic growth but are first to get hit when there are clouds on the horizon.
In between are the Sensitive sectors where you find industries that prosper in strong economic conditions but don't necessarily depend on it.
Defensives, on the other hand, tend to be less reliant on the domestic economy because they sell goods and services that are often in constant demand. They include pharma companies, supermarkets, food and drink manufacturers, tobacco and utilities.
When market volatility is triggered by economic uncertainty, or concerns about a deteriorating outlook, sector diversification can play a role. Balancing a portfolio between sectors ahead of time, and integrating companies with defensive traits, may provide some insulation.
You can do this in the Stockopedia screener by selecting the Profile area and then choosing from either Sector or Industry Group.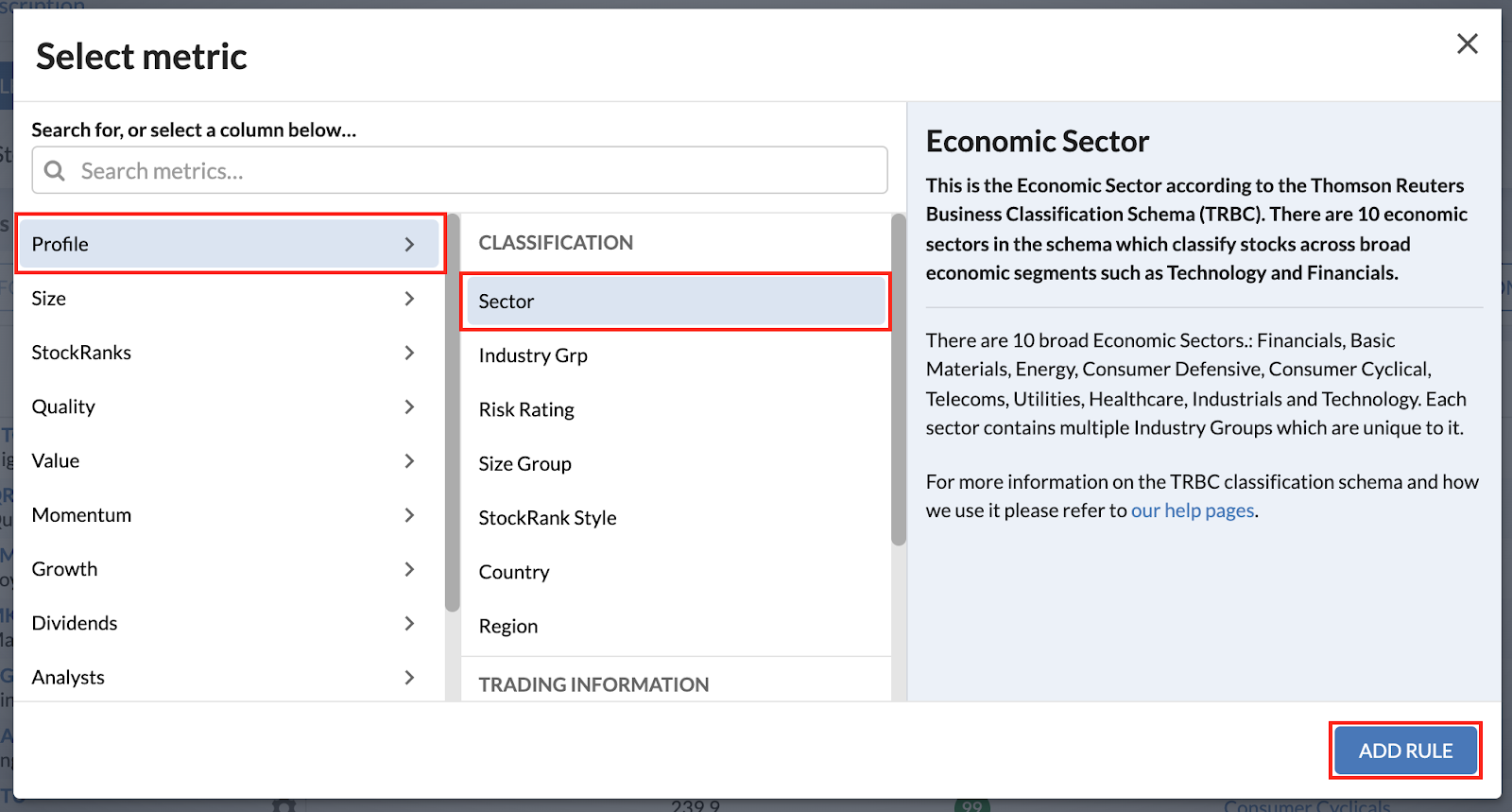 In the screen, you can then include or exclude sectors based on what you want to do:

A volatility checklist for any portfolio
It's worth remembering that volatility is a natural feature of the stock market and a contributing factor in equities being one of the best sources of investment returns over time. But it's undeniable that periods of heightened volatility, when prices can fall sharply, are hard to stomach and can lead to bad decision-making.
If you're committed to "time in the market rather than timing the market", then a few portfolio protection measures could be worth thinking about.
While there are no guaranteed rules for avoiding drawdowns altogether, just being aware of which stocks might be more susceptible to volatility can be useful. The rules explored in this article are included together in this screen and this identical checklist.

While you're unlikely to use them together like this, they offer some ideas about how different measures of volatility and portfolio protection can be used.