Stock market investors don't usually have to concern themselves with inflation. For the first two decades of the 21st century, central banks kept the rate of increase in prices well within their target ranges. And even in an environment where inflation is rising, the stock market tends to be seen as a good place to be. But is that really the case?
Well, the idea that the stock market is some kind of hedge for inflation is based on some broad assumptions that may not always hold true. To understand why, it's first worth thinking about the basics of what inflation does. Put simply, rising rates of prices reduce the purchasing power of cash over time. And that accelerates when inflation rises.
For example, the same goods and services that cost £100 in the year 2000 would have cost around £172 just 20 years later. That's based on a modest average inflation rate over that time of 2.8% (you can try this out yourself with the BoE's inflation calculator)
Economists still debate the phenomenon of inflation and how it influences consumers, companies and the economy. But for investors, it's worth knowing about how companies can be affected.
Generally, the assumption is that if your cash is invested in stocks, then it's protected from inflation. That's because companies can just pass on rising prices to their customers. In fact, this is precisely why rising inflation is often seen as a side effect of a strengthening economy. The idea is that (when it's under control) growing demand propels company profits, which leads to rising production and stimulates the economy in a virtuous circle.
But the catch is that not all stocks are equal when faced with rising prices. Any investor reading market news at a time of rising inflation will know how many companies mention "rising input prices". When the cost of raw materials goes up, they have to either absorb those extra costs or pass them on. The problem is that not all companies can easily pass them on - and that affects profitability.
In this article we're going to explore some of these ideas and the financial indicators that might prove useful in finding companies that are less likely to be impacted badly by rising prices.


Grappling with rising prices
For much of the past 25 years, major economies around the world have enjoyed a period of largely stable, low-level inflation. Central banks in the UK, the US and Australia have long-term inflation rate targets of 2%, with the Australians aiming for between 2% and 3%.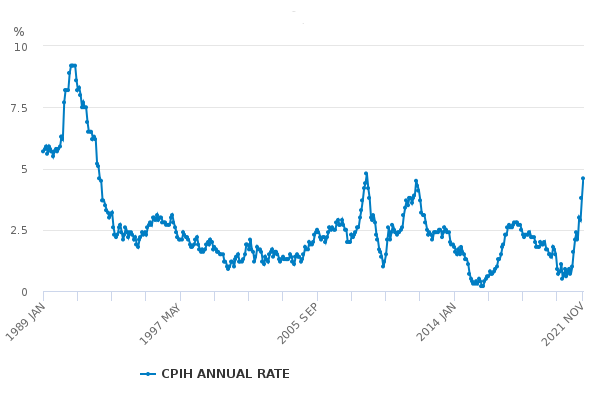 UK inflation, 25 years | Office for National Statistics
During the early phases of the Coronavirus pandemic in 2020, inflation in these economies fell sharply. This was in large part due to depressed economic activity and tumbling fuel prices.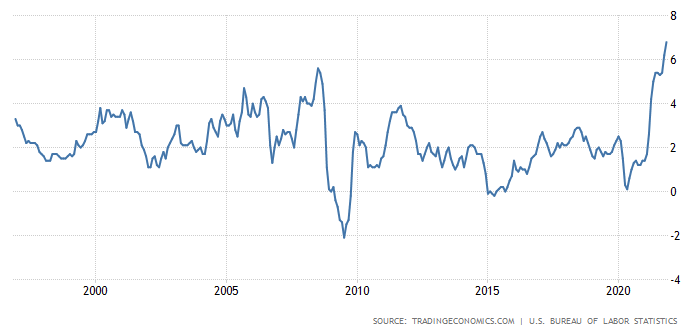 United States inflation, 25 years | Source: Trading Economics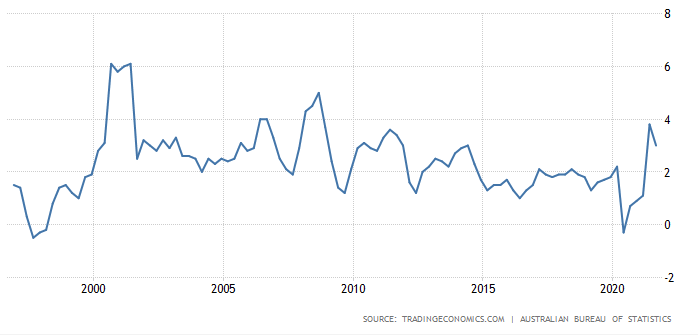 Australia inflation, 25 years | Source: Trading Economics
What happened next was that inflation soared, particularly in the United States and the UK. For many, it was unclear whether this trend was "transitory" or something that would be more entrenched.
Inflation and the stock market
Given that the stock market is often perceived as a safe haven from inflation, it's worth exploring how shares perform through different inflation phases.
Research by Sean Markowicz at the investment company Schroders, shows that US equity returns in the 47 years to 2020 were strongest when inflation was lower than 3% but rising. Substantially worse returns were achieved in phases when inflation was high (at greater than 3%) and rising.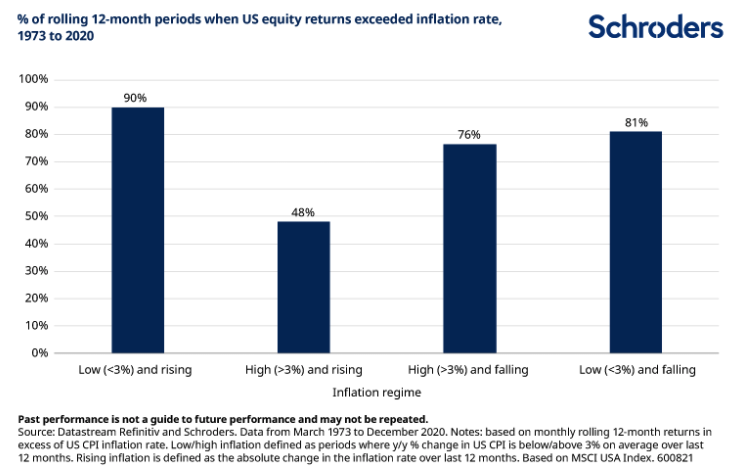 On this evidence, it's clear that the market doesn't much like high and rising rates of inflation. That's because in these phases companies have to find ways of passing higher costs onto their customers.
Over time, this readjustment evens itself out and revenues stabilise. But in the short term, revenues and earnings can be disrupted not only directly by higher costs but also factors like customers deferring their spending plans.
What can you do about this?
It's unlikely that many investors will want to use inflation as a central pillar in an investing strategy. But it's worth bearing in mind how it can impact the market, what to expect and how to navigate it. Here are some ideas:
A common, albeit potentially speculative inflation hedge is to look to natural resources - such as mining and energy stocks - for protection. That's because these companies can benefit from rising demand and higher prices in strengthening economic conditions.

Be wary about the valuations of growth companies (especially pre-profit companies) . Stocks are often valued based on the perceived value of future cashflows. If inflation compromises those future cashflows, then those stocks may lose their appeal. By contrast, some evidence suggests that value stocks perform better at times of high inflation.

Dividend paying stocks may require caution. Inflation can soften the value of cash returns from companies whose dividends remain unchanged year to year. It may be preferable to look for dividend stocks that are growing their annual cash payouts above the rate of inflation.
Prioritise 'pricing power'. An important factor to think about when weighing how a company might be affected by inflation is to look for those that have the power to easily pass on price rises. Pricing power is one of the key features of what quality-focused investors look for in "economic moats". Being able to control prices can be a major competitive advantage but it's also desirable when input costs are rising. Here's a closer look at that:
How to find companies with pricing power
Pricing power can manifest itself in companies for all sorts of reasons. It might be that a business has an unusually faithful customer base (or customers that have little option but to use it). It could be that the products are highly desirable (fashion, high-end technology), essential (pharmaceuticals), addictive (tobacco) or just scarce.
Over the years, researchers have looked for an optimum way of measuring pricing power. But a simple, useful starting point is to look at a company's Operating Profit Margin.
The Operating Margin is a measure of how much income a company has left after paying all of its operating costs, such as rent and staff salaries (but before paying debt interest and taxes). It is calculated by dividing its operating profit by its revenue.
The point of this measure is that it tells you how good the company is at being profitable from its operations. It's most effective when used to compare companies in the same industries, because they often have similar cost structures.
Generally, high margins can be a pointer to companies that are efficient at controlling their variable costs. The higher the margin, the less financially vulnerable they may be. And if you can find operating margins that are growing, it can suggest that profitability is improving.
This approach can put you on the trail of the most profitable companies in each industry. From there you can investigate the factors (such as pricing strategy or operating efficiency) that make them exceptional. You can also use it in tandem with other profitability measures to laser-in on stocks with the very strongest competitive edge.
But from an inflation perspective, operating margin can be an early indicator of companies that are either benefiting from rising inflation, or starting to see their profitability eroded by it.
Using operating margin in the Stockopedia Screener
Operating margin can be a useful quality check in almost any screen that you construct. Here are a few ideas about how it can be used:
To begin with, create a new screen in the Screens area and click "Add Rule" to launch the rule picker.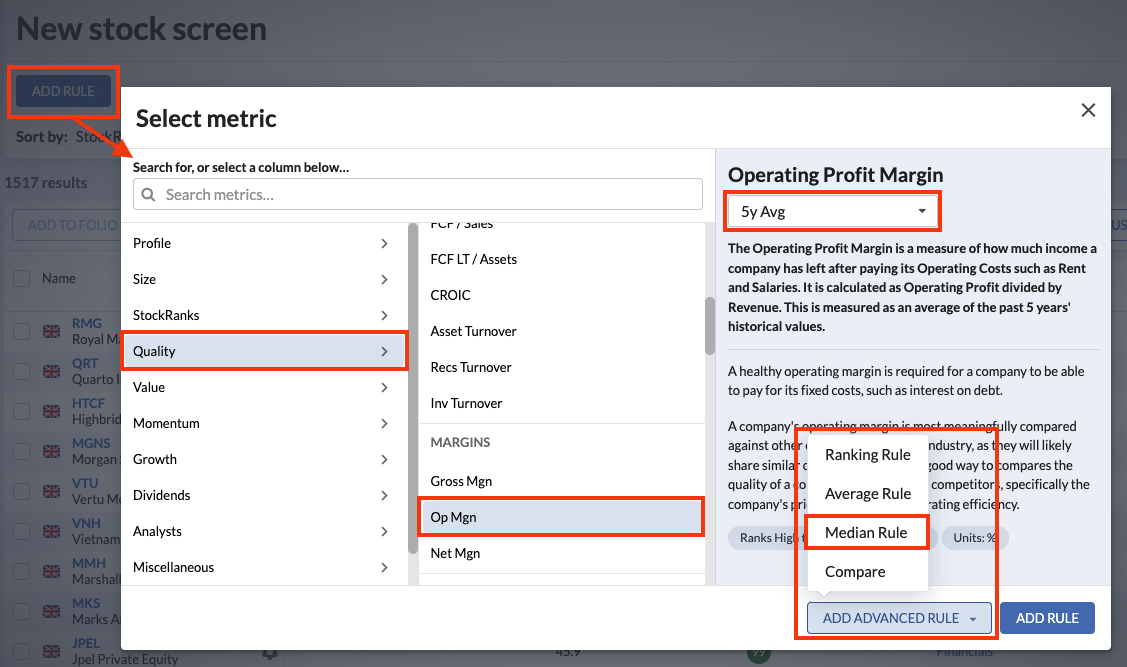 Operating margin (Op Mgn) can be found by selecting "Quality" and then scrolling down. Stockopedia offers this as either TTM (trailing 12 months, which covers the last four reported financial quarters), Last Year or 5 Year Average.
In this case I wanted to use the 5 Year Average in a rule that would allow me to measure it against industry averages. That's because operating margin is most effective when comparing companies on an industry basis. To do this, select "Add Advanced Rule" and select the Median Rule.
In the screen, the median rule lets you look for a 5 Year Average Operating Margin that is a multiple of either the Industry, Sector or Market Median. In this case I used 2 x the Industry Median.

In addition, the screen uses another Advanced Screening Rule - the Compare rule - to look for companies with an Operating Margin that is higher than it was last year.
It also uses a simple rule to ensure that all companies in the results had a positive operating margin in the last year.

Given that this is an inflation-busting screen, I've used some sales growth rules to ensure that the resulting companies have been growing their revenues in previous years and are forecast to keep growing them over the next couple of years.

The screen results will look a little like this. You can copy, change and save this particular screen here.

Navigating periods of inflation growth
Given that central banks and economists struggle to predict and manage inflation, there's little point in investors trying to do the same. While some inflation can be a benefit to stocks, evidence suggests that periods of persistently high inflation can be problematic for many companies in the end. The tell-tale signs can be seen as more and more of them raise it as an issue in their earnings reports.
For investors, it's worth keeping in mind how these phases can impact different companies. Operating margins can be a useful indicator to watch, because profitability is at risk when companies struggle to pass on rising costs.