I had a fascinating conversation with one of our subscribers back in March 2020. We speculated whether the economic climate of the 2020s would resemble the 1970s. Unfortunately, the comparison has become something of a cliche. Newspapers say the coming months will be like the Winter of Discontent (1978-79), when widespread strikes and industrial action resulted in rubbish piling up in the streets. Stagflation (inflation and low economic growth) is a trending buzzword and the economic historian, Niall Ferguson, recently said, 'Why shouldn't it be as bad as the 1970s?' In a similar vein, the former Governor of the Bank of England, Mervyn King, suggested that we could be in for a 'very unpleasant period'. King did add a sanguine caveat. We're not there yet and we just don't know what will happen next. We don't have a crystal ball and the economic models could be wrong, but some noteworthy comparisons with the 1970s can already be made…
Could the FTSE 100 sink towards 2500?
Readers may remember the three-day week introduced back in 1973 by the Prime Minister, Edward Heath. The state limited the commercial consumption of electricity to three days a week. Perhaps the lockdowns of 2020-21 can be compared to the three-day week in the sense that in 1973, and again in 2020, the government of the time imposed severe restrictions on economic activity. It would be 'good' if the comparison ended there, but unfortunately there are more similarities…
In March 1978, Aldo Moro, the former Prime Minister of Italy, was found dead, assassinated, in the back of a truck. 44 years later, in July 2022, the former Prime Minister of Japan, Shinzo Abe was assassinated with a homemade firearm. These tragic and sad events may signal that we have returned to an era where people have very little faith in the ability of the political class to 'control' –for want of a better word– events and resolve crises. Political commentators argued that Britain was 'ungovernable' in the 1970s. In more recent years, successive UK governments have tried and failed to provide 'strong and stable leadership'.
The 1970s and the early 2020s were marked by a comparable set of economic trends. Let's take a look at these trends and consider what they mean for the stock market…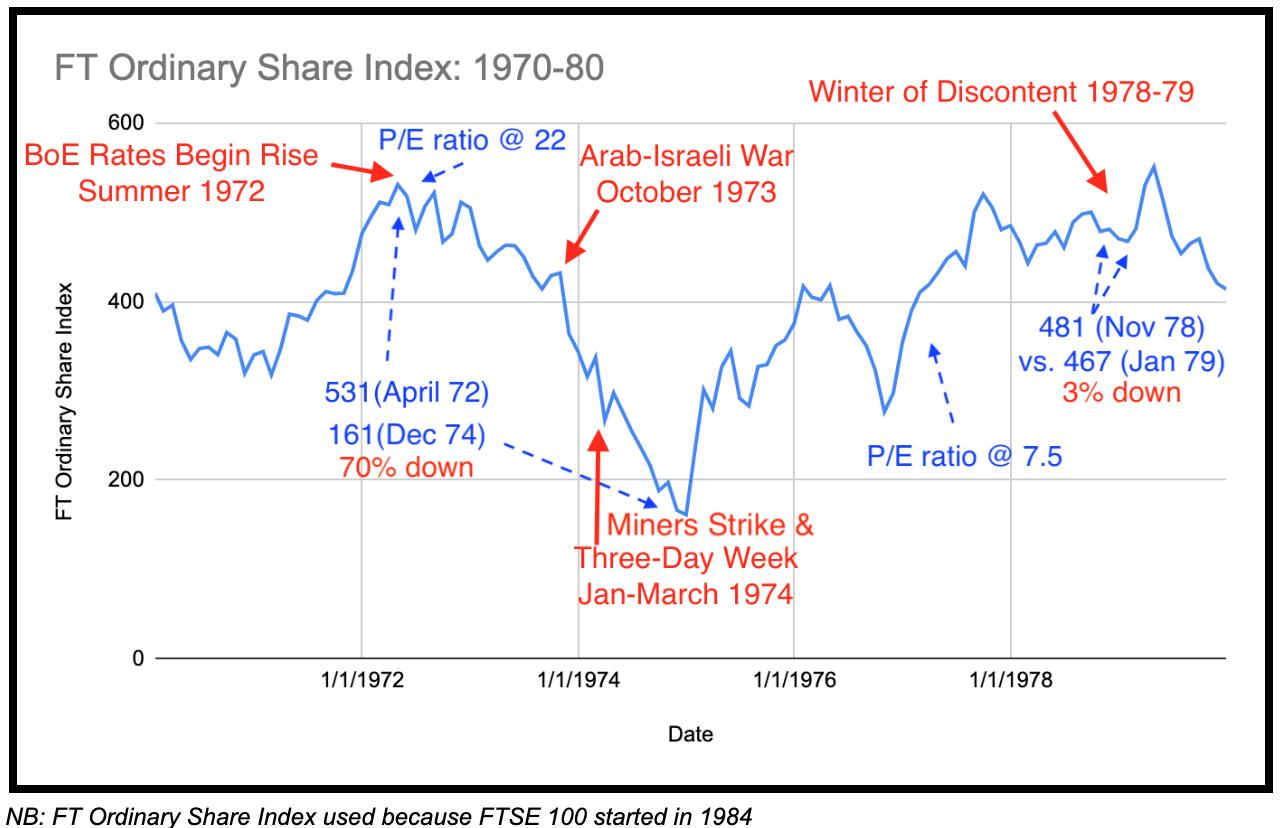 Trade union strikes –alongside afros, disco music and flared trousers– defined the general mood of the 1970s, but strikes on their own did not induce a bear market. Widespread industrial action culminated in the 1978-79 Winter of Discontent, when the market fell by a mere 3%. It was the combination of several interlinking factors – namely rising inflation, rising interest rates, rising oil prices resulting from war in the Middle East, a miners strike and state imposed restrictions on economic activity (i.e. the three-day week) – which all combined to produce the perfect storm between 1972 and 1974, when the market lost a staggering 70% of its value. The market suffered rollercoaster volatility throughout the decade.
Another band of 'apocalyptic horsemen' threaten to raid stock market returns today. Since 2020, we have seen rising inflation, rising interest rates, rising energy prices resulting from the war in Ukraine, state imposed restrictions on economic activity (i.e. lockdowns) and industrial action. If the FTSE 100 follows the exact trajectory of the 1970s, then it could hit rock bottom at around 2500 (see below). Niall Ferguson said we should even 'consider the possibility that the 2020s could actually be worse than the 1970s'. Today we have lower productivity growth and higher debt levels.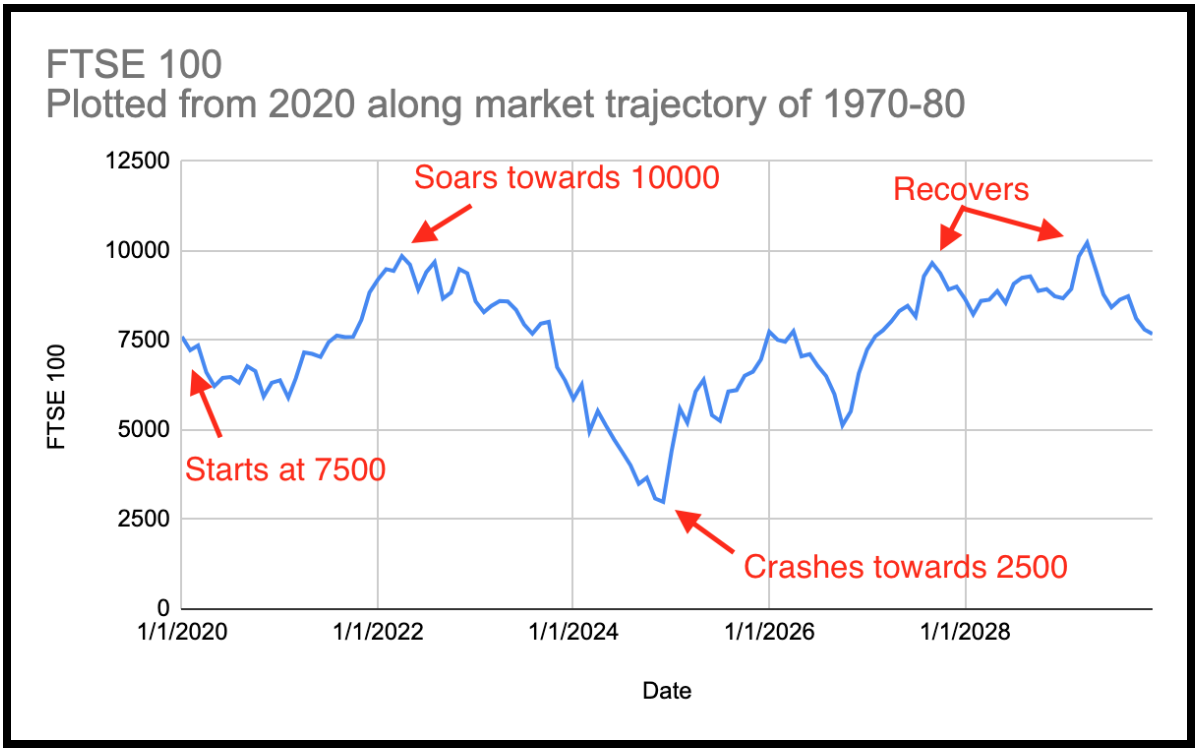 The above trajectory is of course bumpy and scary, but the market has weathered the Ukraine war better than it weathered the Middle East war (so far). In reality, the market briefly fell below 7000 in March 2022, but otherwise the FTSE 100 has been between 7000 and 7500 since the Russian invasion, nowhere near the 2500 mark shown in the above chart. Maybe Ferguson has overlooked factors that could make 2022 different from 1973.
Shares had further to fall in 1972, when the average P/E for UK companies was over 22, compared to today's figures of 12 for the FTSE All Share and 13 for the FTSE 100. The crash of 1972-74 came off the back of a massive bull rally. For the sake of a very crude analogy, it was as if Covid and Ukraine both happened at the peak of the dotcom bubble.
So far, energy prices have risen by a smaller amount in 2022 compared to 1973-74, when crude oil quadrupled. In the future, there may be a longer-run trend away from Russian gas and nonrenewable energy resources more generally. In theory, this could alleviate demand-led inflation.
Trade unions are perhaps politically weaker today than they were in the 1970s.
Technological breakthroughs, for example in AI, may boost productivity.
We simply do not know exactly what the economy will look like as we go forward, but even if Ferguson is excessively bearish, it does seem that we are going through what Ray Dalio calls a 'paradigm shift'...
A paradigm shift?
Labour markets
A paradigm is a relatively long period (about 10 years) in which markets 'operate in a certain way'. Dalio insists that in the current paradigm, since around 2009, 'profit margins grew rapidly due to advances in automation and globalisation that reduced the costs of labour.' These trends may not persist. Labour markets are 'tight', not just in the UK, but elsewhere too; unemployment is low and there are many unfilled job vacancies, meaning that workers are better placed to drive wages up and profits down.
Globalisation
Commentators are also talking about a 'post-globalisation' era. The Economist has used the term 'slowbalisation' to describe the fragile state of international trade and commerce. In June 2022, the newspaper wrote this:
"After the go-go 1990s and 2000s the pace of economic integration stalled in the 2010s, as firms grappled with the aftershocks of a financial crisis, a populist revolt against open borders and President Donald Trump's trade war. The flow of goods and capital stagnated. Many bosses postponed big decisions on investing abroad: just-in-time gave way to wait-and-see."
It is still not clear whether globalisation faces a blip or extinction. The current paradigm depends on countries getting along and trading with each other. It depends on the Cold War being over. Recent geopolitical events in Ukraine and Taiwan suggest that we may be entering a new, potentially less harmonious era in international relations.
Interest Rates
Dalio explains that in the current paradigm, stock prices have been propped up partly because central banks have been lowering interest rates in ways 'that are unsustainable'. The same sentiment has been echoed by other commentators, including Mervyn King, who recently said that interest rates had been held too low for too long. The Bank of England has of course been raising interest rates. This trend could very well persist upwards, just as interest rates trended upwards throughout the 1970s.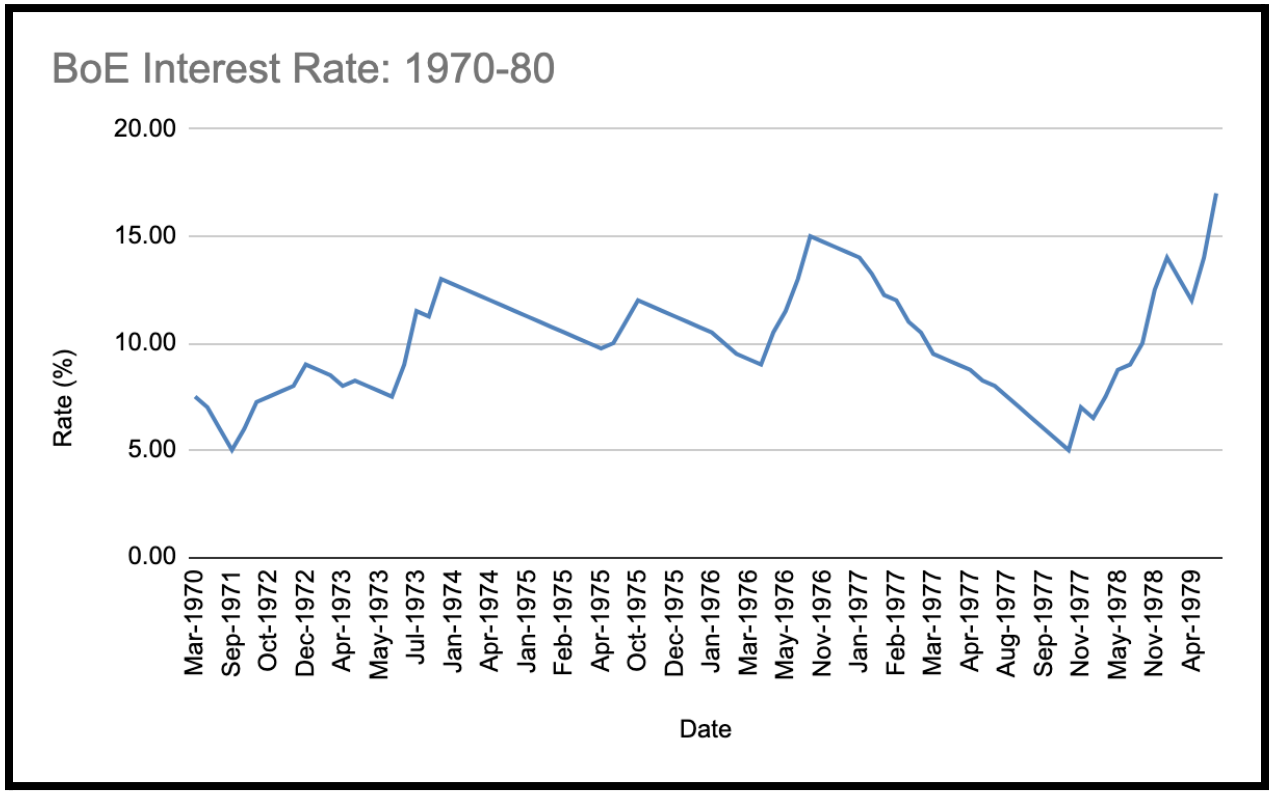 I am not saying that interest rates will go as high as 15%, but various factors could push interest rates up. The Truss Government has promised to freeze energy prices. If it does this by borrowing money, rates could rise if creditors regard Britain as a riskier, more indebted country. Even if the policy does tame inflation (by curbing energy price rises) it probably won't eradicate inflation; the BoE may still face pressure to raise rates to control inflationary pressures that persist due to the tight labour market and other supply-side problems. Furthermore, on the FX market, sterling has fallen relative to the dollar. Interest rates may therefore rise to bolster the pound.
As a general rule of thumb, higher interest rates could mean lower stock market returns. This is partly because the yield on government bonds is regarded as 'risk free', unlike stocks, which are 'risky', so investors may jump out of stocks and into risk free assets if the 'risk free' interest rate rises. In the 1970s, stock markets generally went down as interest rates went up (see below). That being said, some stocks are arguably well placed to benefit from a rate hike in the future…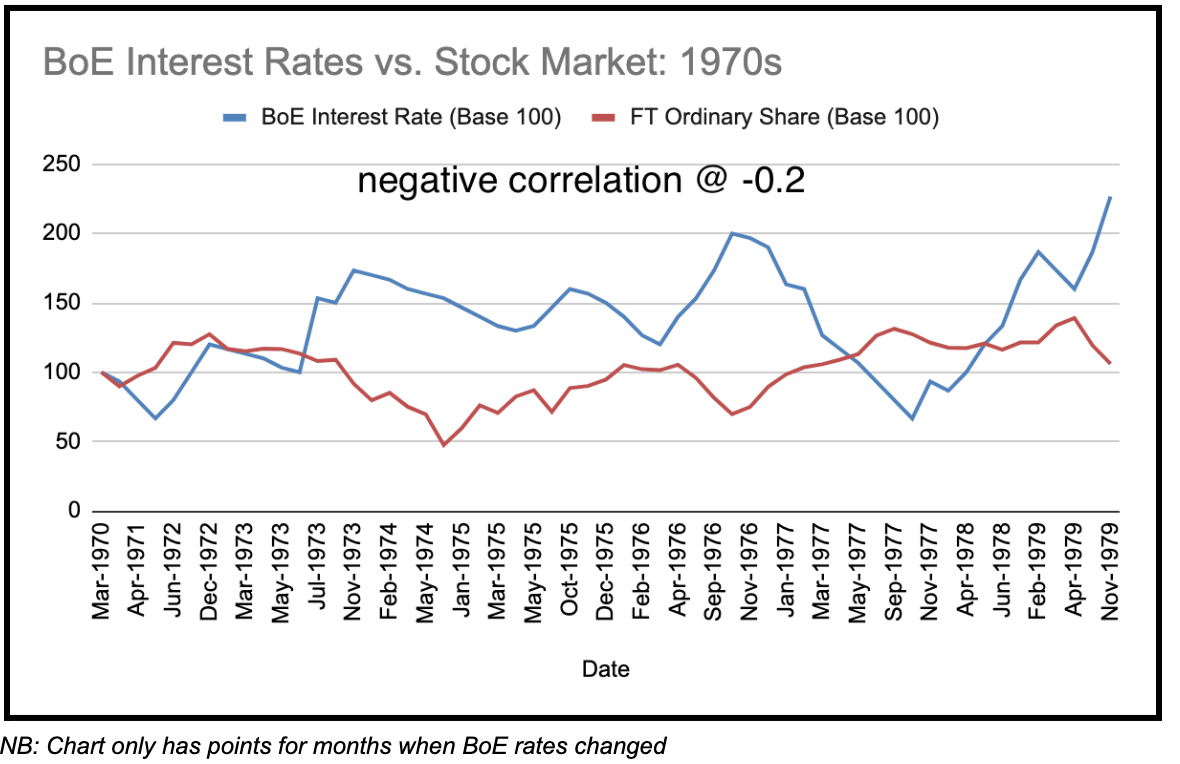 Which Stocks could Benefit from Rate Hikes?
Insurers
In an interview with Reuters, Legal & General's CEO, Nigel Wilson, said 'We are beneficiaries of rates rising across the world'. Life insurers are arguably well placed to gain from higher interest rates, because they have to set aside less capital now to make future pension payments. This helps to explain why the firm posted a positive earnings announcement at the start of August. These results had a positive impact on the StockRank, which moved from around 65 to 90…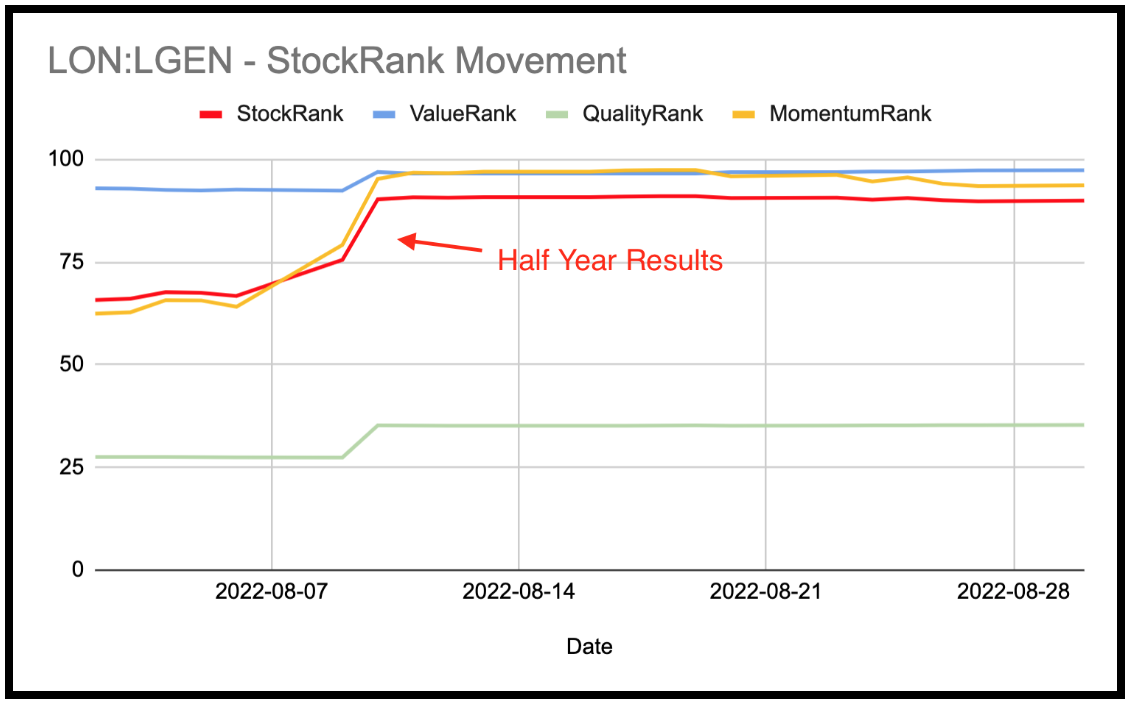 Banks
If the Bank of England rate rises, regular banks, like Barclays and Lloyds can in theory earn more from 'risk free', highly-rated government debt. The table below shows us that several of the UK's major banks have all enjoyed strong momentum, in terms of price change and also relative strength - i.e. the extent to which a stock has beaten the market. All four companies have a MomentumRank above 90.

An Opportunity to Buy Quality Stocks
Charlie Munger, the business partner of Warren Buffett, once said, 'If you can't stomach 50% declines in your investment you will get the mediocre returns you deserve'. He has a very direct and curt way of communicating, but perhaps his stoicism presents investors with lessons for future bear markets.
In 1974, as the Dow Jones hit a generation low point, Buffett and Munger did not jump out of the stock market. They bought around 10% of The Washington Post. For Munger and for Buffett, bear markets represent opportunities to buy quality merchandise that has been marked down. In particular, Buffett likes companies with a strong return on capital employed (ROCE). His 1992 letter to shareholders said:
"The best business to own is one that over an extended period can employ large amounts of incremental capital at very high rates of return."
The table below shows constituents of the FTSE 100 with the highest ROCE. It is worth taking a closer look at Rio Tinto, because it is exposed to the macroeconomic trends we have been discussing above. In late July, Rio announced that higher costs, labour shortages and weak demand in China had all contributed to lower iron ore prices and a decline in earnings. Brokers responded by cutting their forecasts and the share price has fallen from £61 (April) to around £46 (today). Despite the fall in profits, Rio still enjoyed wide operating margins (40%) and a solid ROCE (27%) – a potential opportunity if the market has overreacted to Rio's recent bad news.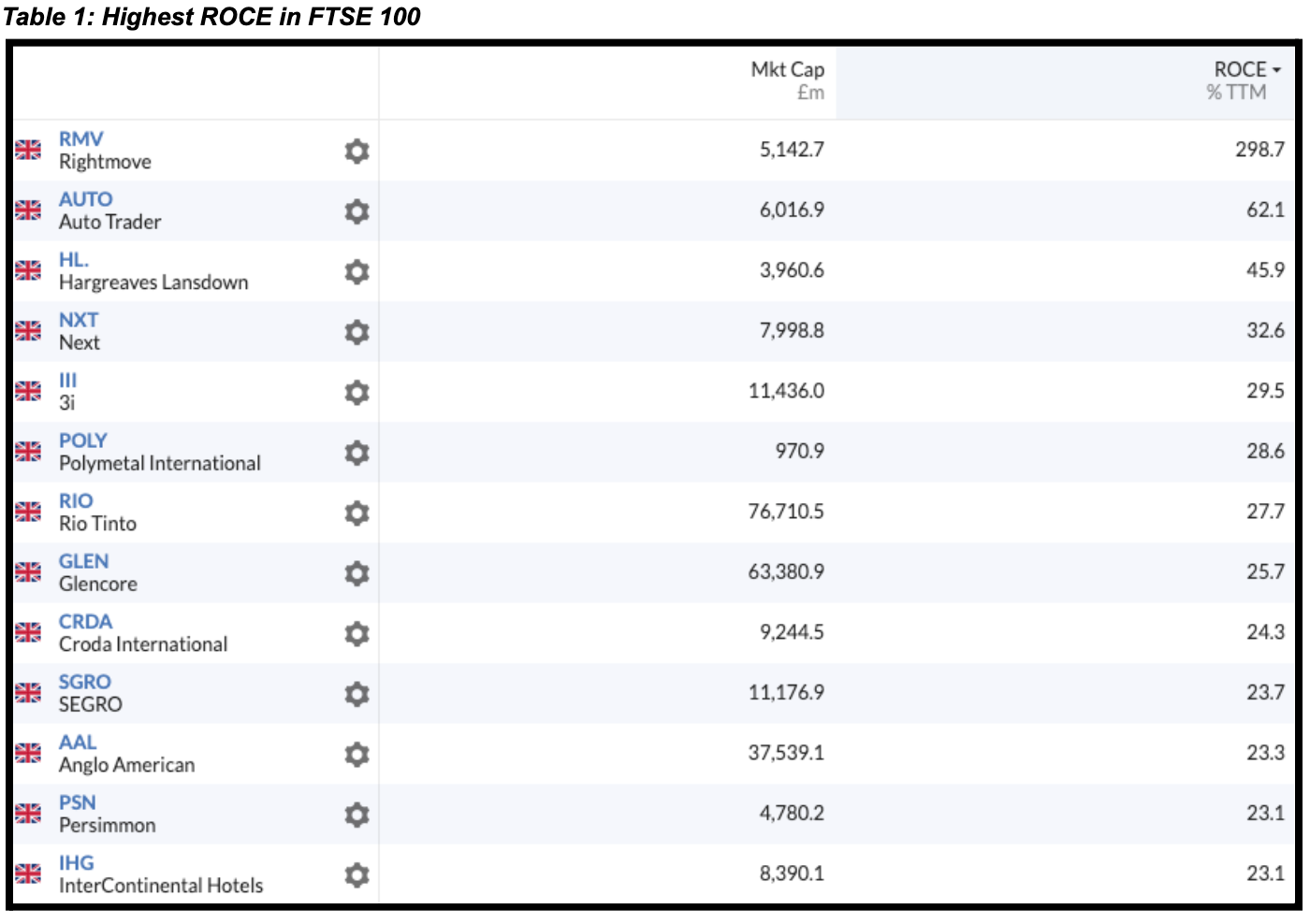 There are many ways to measure quality. The ROCE is just one metric. Stockopedia's QualityRank encompasses a broad range of datapoints and is designed to help investors identify stable, growing, cashflow generative businesses with high returns (see here). The FTSE 100 companies with the highest QualityRank are shown below. It is worth taking a closer look at Taylor Wimpey, the house builder, because it is exposed to interest rate fluctuations. Expensive mortgages could mean a slump in the housing market. Perhaps this will present opportunities to buy good quality at a bargain price, although special care must be taken when investing in cyclical companies during a bear market…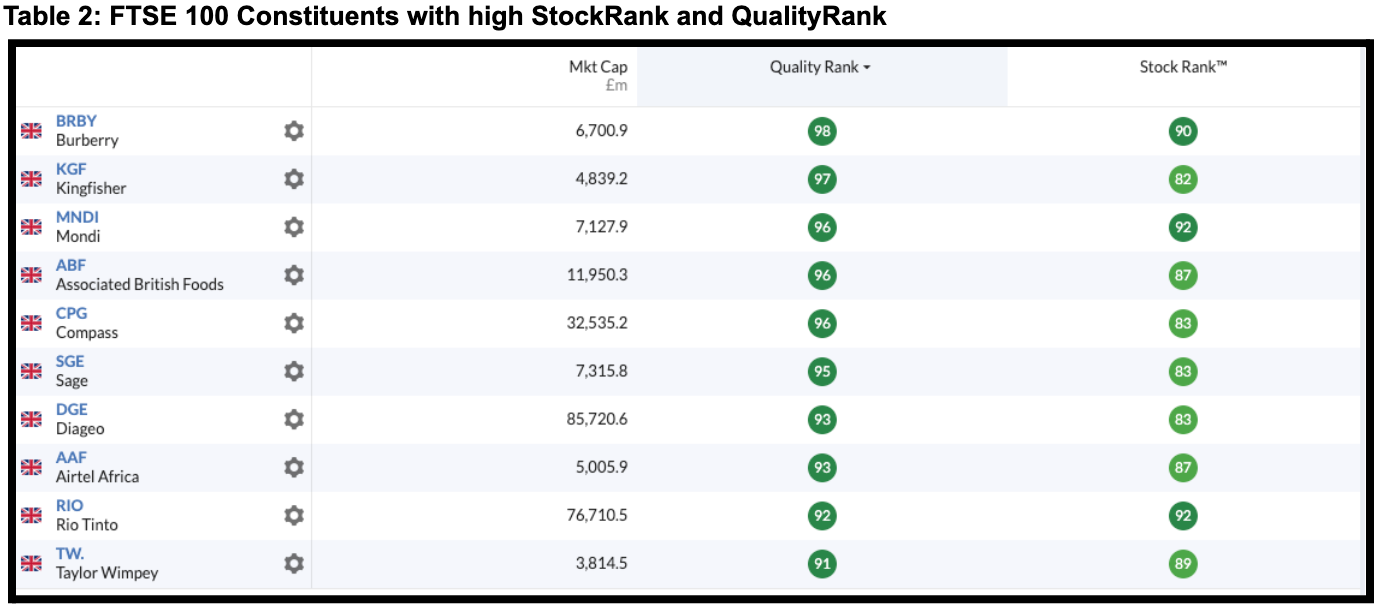 Investment Criteria for Cyclicals
When economic conditions are harsh, cyclical companies, including housebuilders like Taylor Wimpey, suffer more than most, but they typically beat the market as the economy recovers. As such, they are cyclical in that their fortunes rise and fall in line with the broader business cycle. Investing in cyclicals can be hair-raising stuff, but in his book, The Zulu Principle, Jim Slater wrote that 'there is plenty of money to be made if you can get your timing right'. Slater dedicated an entire chapter to cyclicals and outlined several guidelines which investors could use to hone in on potential investments in these companies…
Identify Cyclicals With Strong Institutional Ownership
Slater argued that a firm could be well placed to survive a downturn if that firm has strong institutional backing - e.g. if investment funds hold or are buying shares in the company. This is because institutions that want to protect their investments are perhaps more likely to help companies raise the requisite capital and financing to survive a downturn. Readers can analyse institutional ownership using the StockReports (see here).
Identify High ROCE Cyclicals
There is arguably no substitute for good quality. Slater said that investors should:
"Seek out companies with familiar brand names and other kinds of strong business franchises. Look particularly for those companies which usually have a high return on capital employed"
Identify Strong Balance Sheets
Slater insisted that investors should avoid high levels of debt if they hope to target cyclical companies.
"The magic word 'borrowings' brings me to another important point. You should draw the limit at total indebtedness exceeding the net asset value. In other words, gearing should not be more than 100%."
There are of course many ways to measure 'borrowings'. Readers can seek out companies with low levels of debt using the broad range of liquidity and solvency measures available in our screening tools (see here).
How to Respond to a Bear Market
We all had a lot of time to kill during lockdown. I passed the hours by watching films, including Ingmar Bergman's Seventh Seal. It was quite dour, but the premise is certainly life affirming and can perhaps help us navigate a stock market downturn. It's worth going over the film's opening scene. During the Black Death, a Swedish knight, played by Max von Sydow, is relaxing on the beach when Death (i.e. the Grim Reaper) shows up. The conversation goes like this:
Knight: Who are you?
Death: I am Death.
Knight: Are you coming for me?
Death: I've already walked by your side for quite some time
Knight: I know.
Death: Are you ready?
Knight: My body is ready, but I'm not.
[Death approaches the Knight, as if to strike him down]
Knight: Wait a second!
Death: So they say, but I don't reconsider!
Knight: You play chess, don't you?
Death: How do you know? I am a pretty skilled chess player.
Knight: But I bet you're not as good as me
Death: Why do you want to play chess with me?
Knight: That's my business
Death: Indeed
Knight: The condition is that I live for as long as I can stand against you. If I win, you let me go.
How on Earth is this movie script relevant to the stock market? It is worth getting a little bit philosophical. Death is the bear market. The Knight is young, but Death, like the Bear, shows up when you least expect it, like Nassim Taleb's Black Swan. No-one expected Covid and no-one expected the war in Ukraine, but the harsh reality of the stock market is that the Bear, like Death, overshadows us from day one and it is only a matter of time before the next downturn comes…
So perhaps we shouldn't ask whether 2022 will be a repeat of 1973; maybe investors, like the Knight, should prepare for the worst and accept that the Bear will swing at us sooner or later, whether we like it or not. Once we accept that reality, it is easier to decide how to respond. The Knight responds by celebrating life, by tricking death and by doing everything he can to get one last laugh out of his allotted time on Earth. In a similar vein, Charlie Munger said, 'I believe in doing as well as you can and keep going as long as they let you'.
When Death asked, 'Why do you want to play chess with me?', the Knight responded, 'That's my business'. So it is our business to respond to any oncoming recession in the right way. Charlie Munger, Warren Buffett and Jim Slater all had their own winning strategies. Munger accepted that sooner or later, share prices go down, sometimes by as much as 50%, but Munger, like Warren Buffett, also realised that where there is risk there is also opportunity, to buy quality companies at a bargain price, for instance.
Jim Slater saw bear markets as an opportunity to buy cyclical companies before they bounce back. Perhaps that is the key lesson of the 1970s… things do bounce back, eventually. The FT Ordinary Share Index hit rock bottom at 161 in 1974, but hit a decade-high point of 551 in April 1979, just months after the 'winter of discontent' and after a decade of socio-economic turmoil. We can never time the trend, but we can know what to do when the market trends down.
Some sectors, including banking and insurance, could do well during a bear market. Cyclicals could do well during a recovery. Readers can hone in on sector specific investment using the Sectors section of our Browse tool here.
Bear markets may provide opportunities to target good quality stocks that have been marked down. Our StockRank system can be used to find high quality, high value bargains (see here).
Investors that want to filter the market using specific criteria, like the ROCE or debt levels, can do so using our screening tools (see here).
Of course, none of what I have said is investment advice, but I hope this provides food for thought and helps readers navigate any oncoming recession…