And so the bear rolls on. At times like this it can seem that every stock in your portfolio is getting hammered, especially if you skew your portfolio towards sectors & styles that become out of favour. But there's rarely a bear market everywhere all the time.
As Ed Shing noted last week, the energy sector is a strong point in a weak tape. Last week I showed just how weak the tape really is. The average FTSE All Share stock had fallen by more than 23% in the last year (now more than 27%). I thought this week I could investigate just how strong the oil & gas industry group has been, and what the ramifications are for the future.
Finding Oil & Gas Shares
We host a hierarchy of ten "Sectors", each of which contains several "Industry Groups". Energy is the broader Sector, which has subsidiary Industry Groups including Oil & Gas, Renewables, Uranium, Coal and so on. There's two ways to access the Oil & Gas Industry Group stocks on the site:
Firstly, you can use the Browse > Sectors pages to filter down to the Energy > Oil and Gas group.
Secondly, you can set up an Oil & Gas stock screen very easily. Create a new screen and search for "Industry Group" as a rule type. Then select Oil & Gas.
The benefit of doing the latter approach is that you can add other filters, for P/E ratios, Yields and so on.
Oil & Gas vs FTSE All Share
In my experience, you should never take 'sector' charts provided by most sites & services at face value. They are invariably market cap weighted (read last week's post for issues with that) and they really do little to help orient the typical active private investor - who is more interested in what's going on in the market as a whole not just a few megacaps.
What I've done is run a few screens for variations of the Oil & Gas sector, then add them into a "Folio" - which generates a simulation chart of the last 12 months of performance history for the list. I've then compared the performance from this chart against the equal weighted FTSE All Share into the chart below.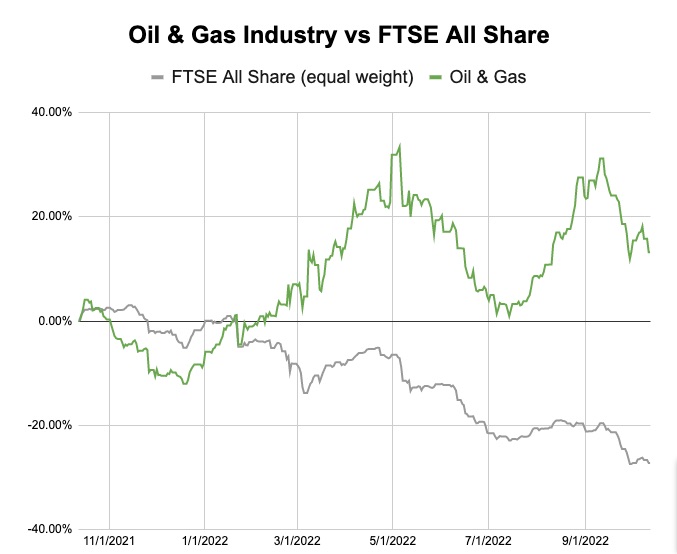 The average Oil & Gas stock has risen by 13.2% in the last 12 months versus -27.3% for the average FTSE all Share stock. That's a 40.5% outperformance ! The chart below shows the performance of the Oil & Gas sector minus the performance of the FTSE All Share over this 1 year lookback. It's a consistent picture.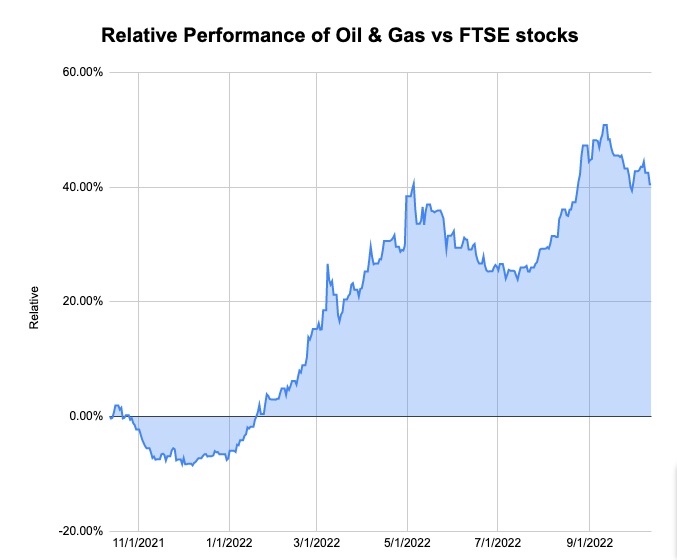 Profitable vs Unprofitable?
My curiosity took me further this morning. I wondered whether the market had been bidding up for profitable oil stocks. So I split the list of 77 oil & gas stocks into profitable (33) and unprofitable (44) and compared the performance.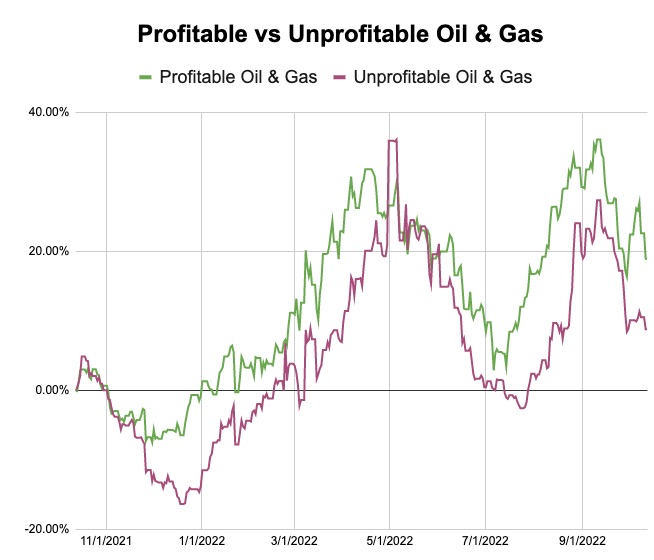 As you can see the profitable oil & gas stocks have outperformed the unprofitable stocks. It's worth noting also that the unprofitable list includes Borders & Southern Petroleum which has risen by 470% in the last year - without this the difference would be far larger.
Thoughts
We live in a very climate conscious age, and investors have starved the fossil fuel economy of capital for the best part of a decade. It's been a noble trade, but one that denies reality. It could take decades for the economy to wean itself off fossil fuels completely - and this needs prudently managed. Depending on one's point of view, there's been a structural misallocation of capital across the energy sector. This is reinforced by the capital raising activities of fund management groups, many of whom have promoted themselves under an ESG (environmental, social, governance) banner for the last decade. Private investors on investing platforms are often nudged into ESG funds in order to 'invest for good'. Who would want to 'invest for bad'? They've hoovered up capital that certainly hasn't been invested in oil & gas stocks - the average P/E ratio of uk, profitable Oil & Gas stocks is 9.2.
At the moment, unconstrained active capital is trying to redress the balance.  They are making long term capital investments into the oil & gas sector. But these investments could take 5 years+ to pay off while in the interim the consumer will continue to pay higher prices. Meanwhile there's not much active capital around as the passive & ESG investing juggernauts dominate fund flows. This could all take time to unwind. The "deep value" energy trade looks good for some time to come.  Investing in profitable, or near profitable oil & gas stocks may continue to pay off - as long as your ethics can cope.