I genuinely do sympathise with anyone who started investing in stock markets for the first time in January 2016. It's not been an easy environment - but let's get one thing straight it's not exactly been bad. If you've invested through 2000 and/or 2008 you'll know what bad really is and it's much, much worse than it is now. The year to date return for the FTSE 100 is a 4.4% fall, which is pretty much on par with last year's lame showing and perfectly in the range of normal for stock markets. From comments on the Stockopedia.com website it's been clear that many investors are nursing losses worse than this and with all the recent uncertainty over Brexit they are wondering what to do. What's going to happen next? Well I've learnt the futility of forecasting so can proudly say I have absolutely no idea, but I do know what's happened in the past and while history never repeats, it often rhymes. So let's read the rhyme.

FTSE 100 return history
In my database I've got FTSE 100 price histories back to 1984. That's a period that covers 2 massive bear markets and one of the longest bull markets in history. It's not long enough for a complete analysis, but it's probably a pretty good proxy for what happens in the stock market in general. I don't like the FTSE 100 as an index at all, but it's the UK bellwether and widely followed so it's a good enough place to start.
The image below shows the annual percentage return each calendar year since the end of 1984. As you can see it's a picture that shows lots of positive years interspersed with some vicious setbacks.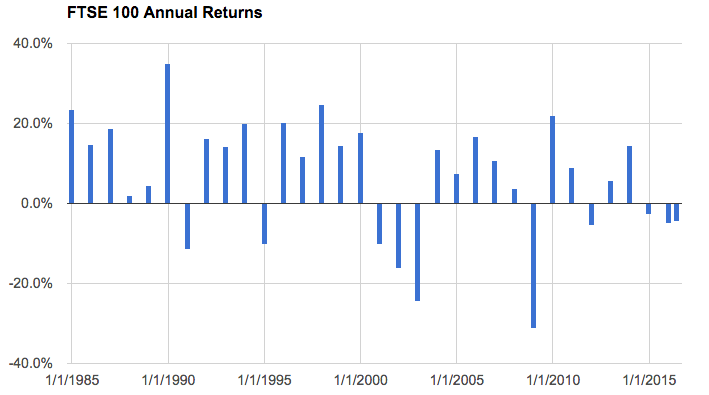 The FTSE has returned an average annual return (excluding dividends) of 6.7% per year in this period and the standard deviation from the average is 15% annually. So in a typical year the FTSE has returned anything between a loss of 8% and a gain of 22%.
In this 33 year period there have been 23 up years and 10 down years. The average investor in FTSE stocks will have seen a gain year on year around two thirds of the time. Below is a histogram of the returns which helps us visualise the distribution. The height of each column in the histogram is the number of years that have shown returns in each range. e.g. there have been 11 years that returned between 10 and 20% in a single year.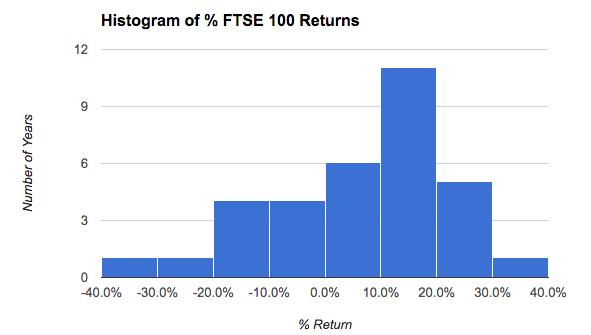 But it's the downside we're all worried about. Once in every three years there's been a loss. Once in every five years there's been a 'really bad loss' (greater than 8%). The worst single year loss was 2008 which saw a 31.3% fall, and the worst peak to trough drawdown over this time was around 50%.
Base Rate Expectations and handling losses
So that's the past, that's the reality and that's the range of results we can likely expect from stock markets in the future. The above statistics set a base rate for future expectations - we should expect to see stock market losses year-on-year a third of the time and bad losses once every five years. If you can't handle this idea you shouldn't even think of investing in stock markets - it's par for the course.
Warren Buffett once said that rule #1 is to never lose money, while rule #2 is never forget rule #1. Now we might be able to improve on the FTSE 100 returns by investing intelligently, but even if we have the best system in the world we should realise it's impossible to avoid these regular rhythmical equity market losses. Rather than avoiding losses, or denying them, the best mental approach is to accept them and put in place a strategy to minimise them.
The old maxim for stock market success is that we should 'run winners and cut losers' which everyone knows but almost everyone disobeys. What most investors do is hold onto their losers and sell their winners due to a cruel twist of evolutionary fate that has made our brains poorly wired for investing.
I love this story by Fred Kelly author of Why you Win or Lose that was recounted in Bill O' Neil's "How to Make Money in Stocks" that sums it up:
A little boy was walking down the road, when he came upon an old man trying to catch wild turkeys. The man had a turkey trap, a crude device consisting of a big box, with the door hinged at the top.

This door was kept open by a prop, to which was tied a piece of twine, leading back a hundred feet or more to the operator. A thin trail of corn scattered along a path lured turkeys to the box. Once inside, the turkeys found an even more plentiful supply of corn. When enough turkeys had wandered inside the box, the old man would jerk away the prop and let the door fall shut. Having once shut the door, he couldn't open it again without going up to the box, and this would scare away any turkeys lurking outside. The time to pull away the prop was when as many turkeys were inside as one could reasonably expect.

One day, he had a dozen turkeys in his box. Then one sauntered out, leaving 11. "Gosh, I wish I had pulled the string when all 12 were there," said the old man. "I'll wait a minute and maybe the other one will go back."

But while he waited for the 12th turkey to return, two more walked out on him. "I should have been satisfied with 11," the trapper said. "Just as soon as I get one more back, I'll pull the string."

But three more walked out. Still, the man waited. Having once had 12 turkeys, he disliked going home with less than eight. He couldn't give up the idea that some of the original number would return. When finally only one turkey was left in the trap, he said, "I'll wait until he walks out, or another goes in, and then I'll quit." The solitary turkey went to join the others, and the man returned, empty handed.
I'm sure I'm not the only one who has seen a few turkeys leave the trap in recent months… what we've got to do is learn to shut the door.
Shutting the turkey trap
Most great traders keep their losses a small as possible by using stop losses. It's hard to admit we're wrong, but great traders are humble and don't feel the need to be right. Steve Cohen, the controversial hedge fund manager, once said "my best trader makes money 63% of the time. Most traders make money only in the 50 to 55% range. That means you are going to be wrong a lot. If that's the case you better make sure your losses are as small as they can be and that your winners are bigger."
The research on using stop losses is clear. While they don't necessarily improve returns, they do reduce risk. More than this the use of stop losses effectively inoculates us from our evolutionary bias to hang onto losers and sell winners - known as the 'disposition effect' by behavioural scientists.
Every investor should ask themselves - "How will I feel if I find my portfolio 30% or 50% down?" I don't know of many people who have limited capital who can cope with that - I didn't cope well with it in 2008. But it's statistically likely and will happen again and again. If we can't tolerate falls of this size we either we put a risk management strategy in place to avoid it or we get the hell out of the stock market. 30%+ equity falls are perfectly normal... and no system used - whether the StockRanks or investing in a fund manager such as Neil Woodford is going to save us from it. Here's Neil Woodford's 32% fund fall in 2008 in a conservative dividend/value strategy.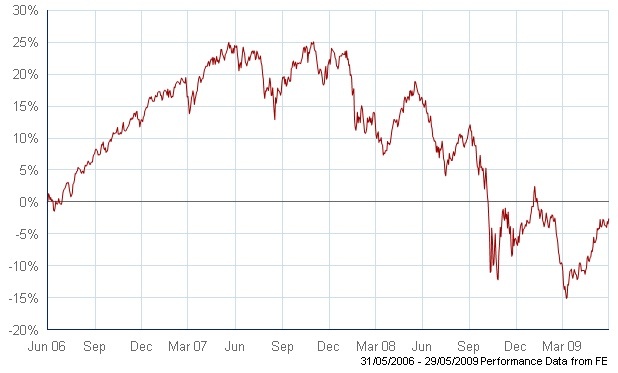 Where to set stops
There's no consensus on where to set stop losses but many professional traders use a rule of thumb where they risk no more than 1% of their capital on any single trade. We can translate this 1% risk rule into a rule of thumb for fully invested long-only portfolios with some simple maths.
If an investor owns 20 stocks in a portfolio, then they'd have an average 5% in each position. A 20% fall in any one equates to a 1% portfolio loss. So 1% risk management means cutting losses at 20% on each position. In a very worst case scenario where all our stocks fall by more than 20% our total capital risk is 20% of our portfolio. There are plenty of advocates of tighter stops (in the 8% to 10% range), but tighter stops require a lot more day to day management and market timing, something that most DIY investors don't have time for.
It can of course be galling getting 'stopped out' of a position only to see the stocks we previously owned bounce right back. But there's nothing stopping us getting back in to the same position when waters are less full of sharks. I've no crystal ball, but with global market momentum so poor risks appear to be more skewed to the downside than the upside so prudent risk management makes sense.
We all have to take responsibility for our own results in the stock market. We act even when we don't act. It can make a lot of sense to review our portfolios and ask ourselves  "Have I shut the door or am I waiting for my turkeys to return ?"