A reputation takes a lifetime to build and a second to destroy. Over the past two years, watching the Woodford Equity Income Fund (WEIF) go from more than £10bn of assets under management to less than £3bn has been like seeing a mountain turn to rubble. The aftershocks continue to be felt across the fund management industry.
A nasty combination of poor share price performances and fund redemptions did a lot of the damage. Another important factor, though, has been the accumulation of speculative, illiquid, private holdings that are both hard to shift and difficult to value. The latest example of this risk at Woodford Investment Management has been the 85% markdown in cold fusion hopeful Industrial Heat's valuation.
As we show below, this increased exposure to risky and illiquid stocks is important because it compromised the WEIF's ability to meet redemption requests. Some holders were sharp enough to spot the warning signs early like the folks at Jupiter Asset Management, who left the fund late in 2017.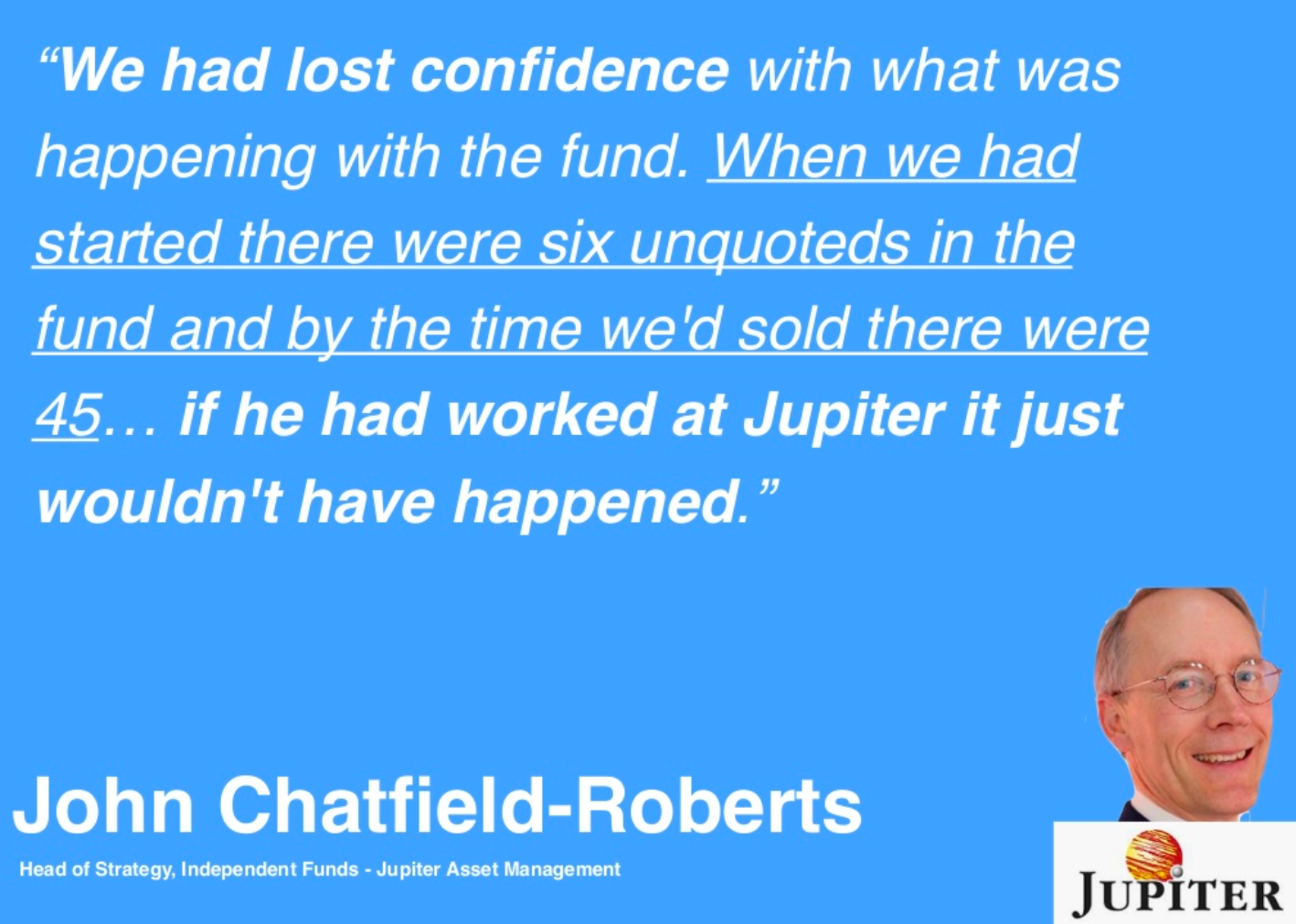 Many others backed Woodford based on his historic track record. But this fund was not like the classic Quality Income style of investing with which he made his name.
The FCA said in a recent policy statement that retail investors in the Woodford Equity Income fund 'were not aware of, or did not appear to understand, the liquidity risk to which they were exposed', and did not know 'the impact this [liquidity] risk might have on their ability to realise their investments on demand'.
All of this is easy to spot in hindsight, of course. But looking forwards, Woodford is not alone in putting more capital into private, illiquid holdings… Many open‑ended funds offer daily redemptions while investing in assets that can take weeks or months to sell. This creates the possibility of a liquidity gap.
You could argue there is a fundamental mismatch in the use of a daily traded open-ended fund format to invest in illiquid assets. The Bank of England's Financial Policy Committee says this 'mismatch between redemption terms and the liquidity of some funds' assets has the potential to become a systemic issue'.
This raises an uncomfortable question: just how safe are the funds we invest in?
WIM's increasing exposure to risky and illiquid stocks...
RiskRatings are a simple and easy way to understand the levels of risk in listed stocks by using share price volatility as a proxy. Our own research into RiskRatings shows that Speculative and Highly Speculative baskets of stocks tend to have lower benchmark returns and are also more likely to have lower StockRanks.
Applying the RiskRatings classification system to the WEIF over the 2014-18 period shows a startling shift in the risk profile of the fund.
The blue, green and yellow slices represent Conservative, Balanced and Adventurous stocks respectively. The shades of red, from lightest to darkest, show Speculative, Highly Speculative and Unlisted stocks.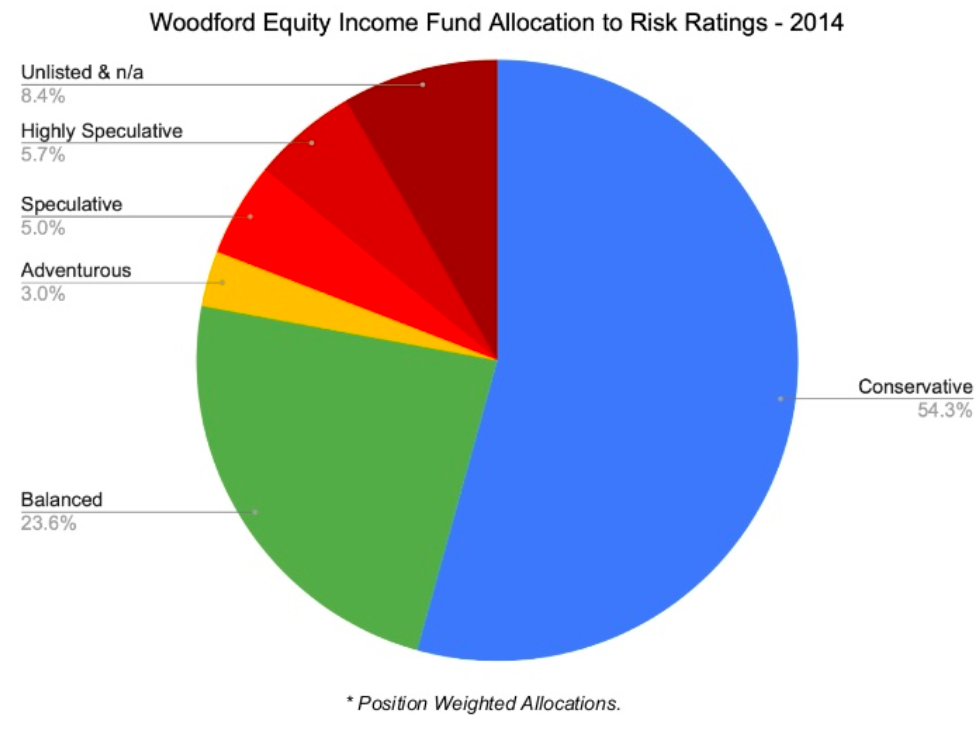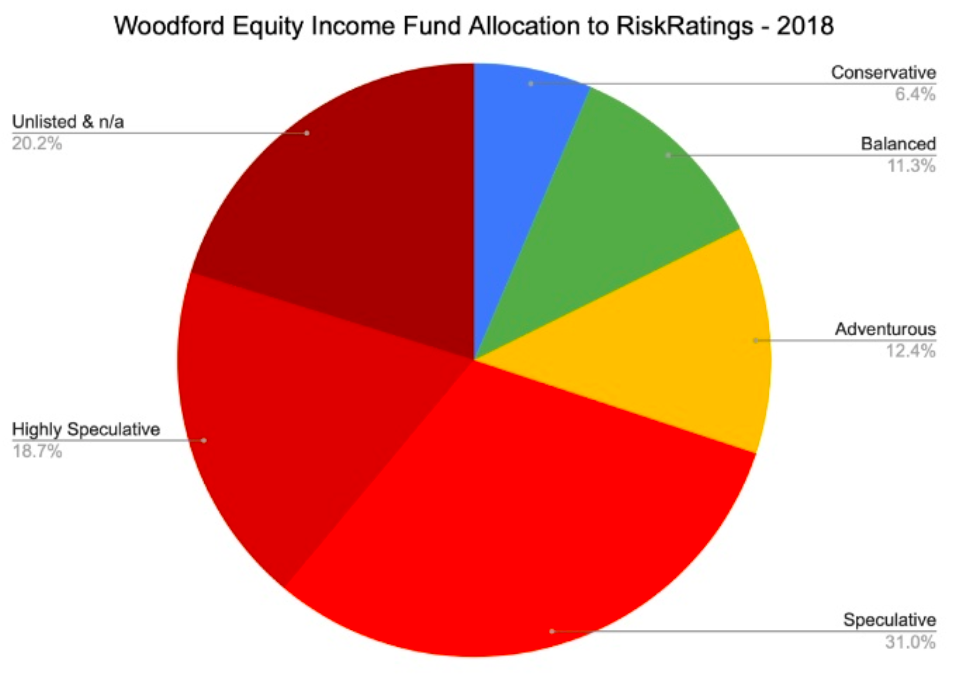 We can see a dramatic decline in Conservative and Balanced stocks in the 2014-2018 period, while the amount of Highly Speculative and Unlisted holdings ballooned.
This spike in volatility and riskiness is better visualised over time in the graphic below. Incredibly, by 2018 the vast majority of the Woodford Equity Income Fund's holdings were in either private companies or in the most volatile half of the stock market.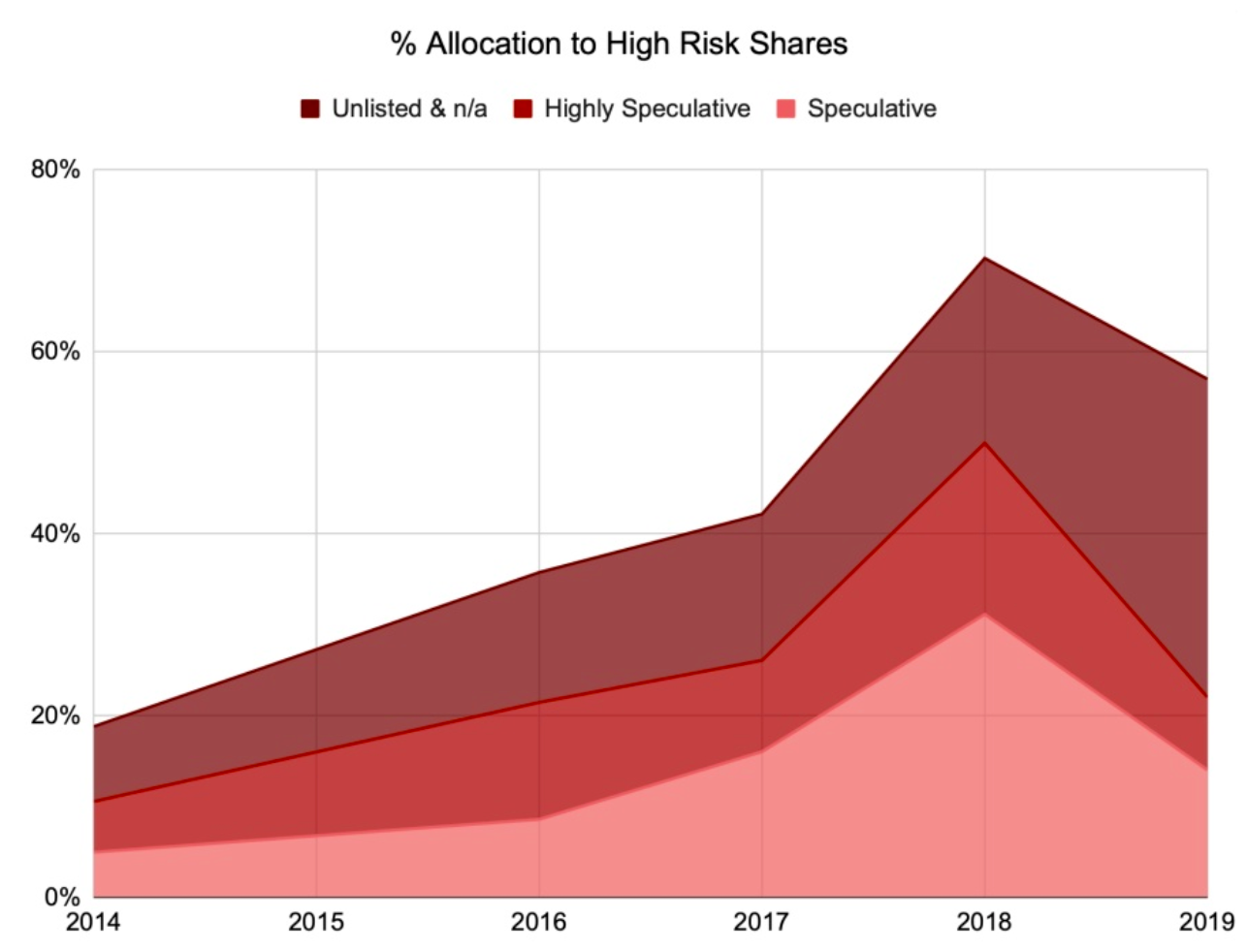 What drove this alarming increase in the riskiness of the Equity Income Fund?
...Compromised its ability to meet redemption requests
The truth is a combination of redemption requests and illiquid holdings boxed the WEIF into a corner and forced its hand. When the trickle of redemptions became a steadier stream, WEIF's liquidity mismatch compounded its problems and greatly enhanced the pain.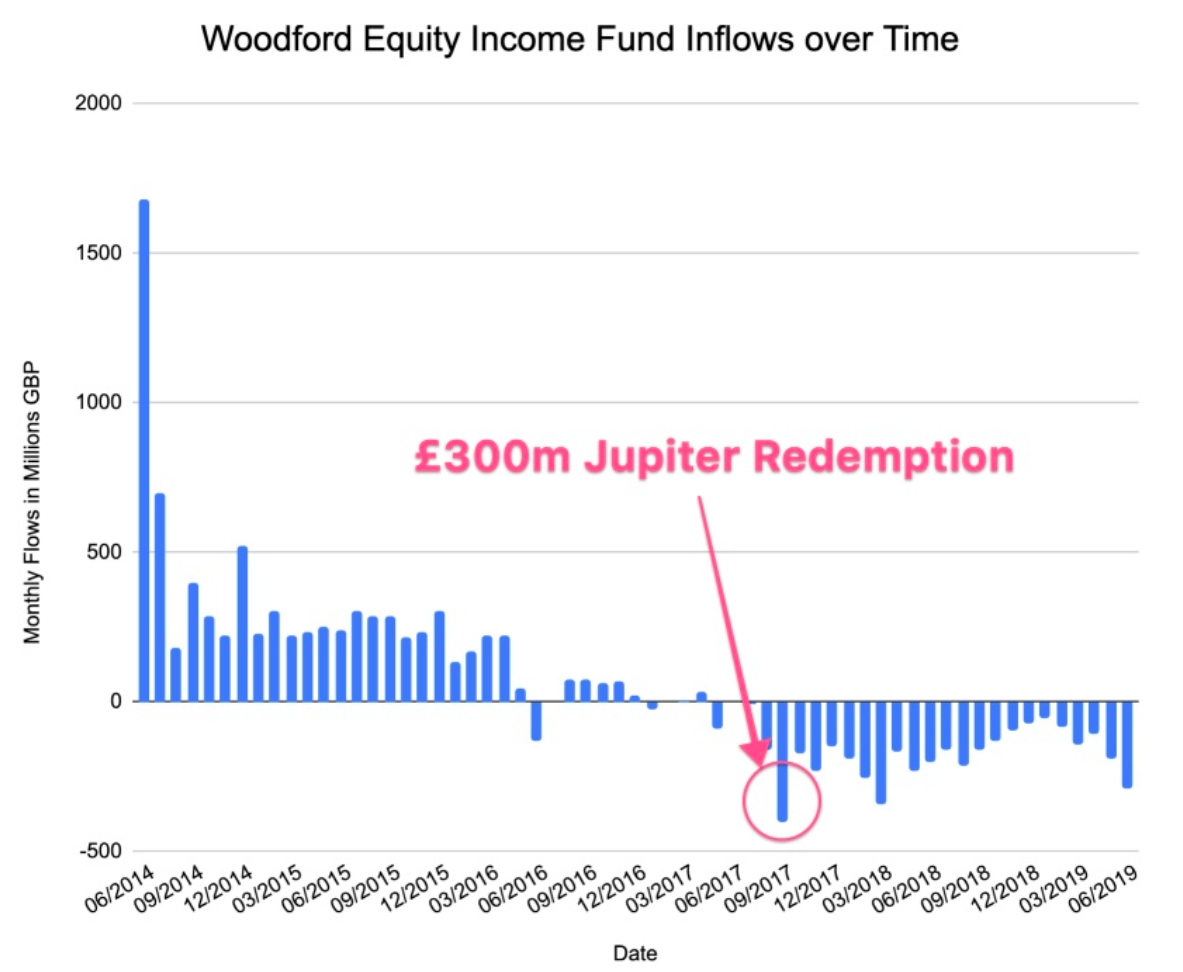 In order to meet redemptions, funds are supposed to sell equal proportions of their various holdings to ensure remaining investors are left holding a portfolio that is proportionately the same as it was before said redemptions. Woodford and team were unable to do this, however, due to a) the scale of redemptions and b) the number of illiquid assets they had accumulated.
These two factors greatly limited room for manoeuvre and forced the team into selling liquid, safe, winning stocks, meaning illiquid, risky, losing investments formed an ever-larger percentage of the portfolio. You can clearly see this in the chart below. Peter Lynch calls it 'cutting the flowers and watering the weeds'.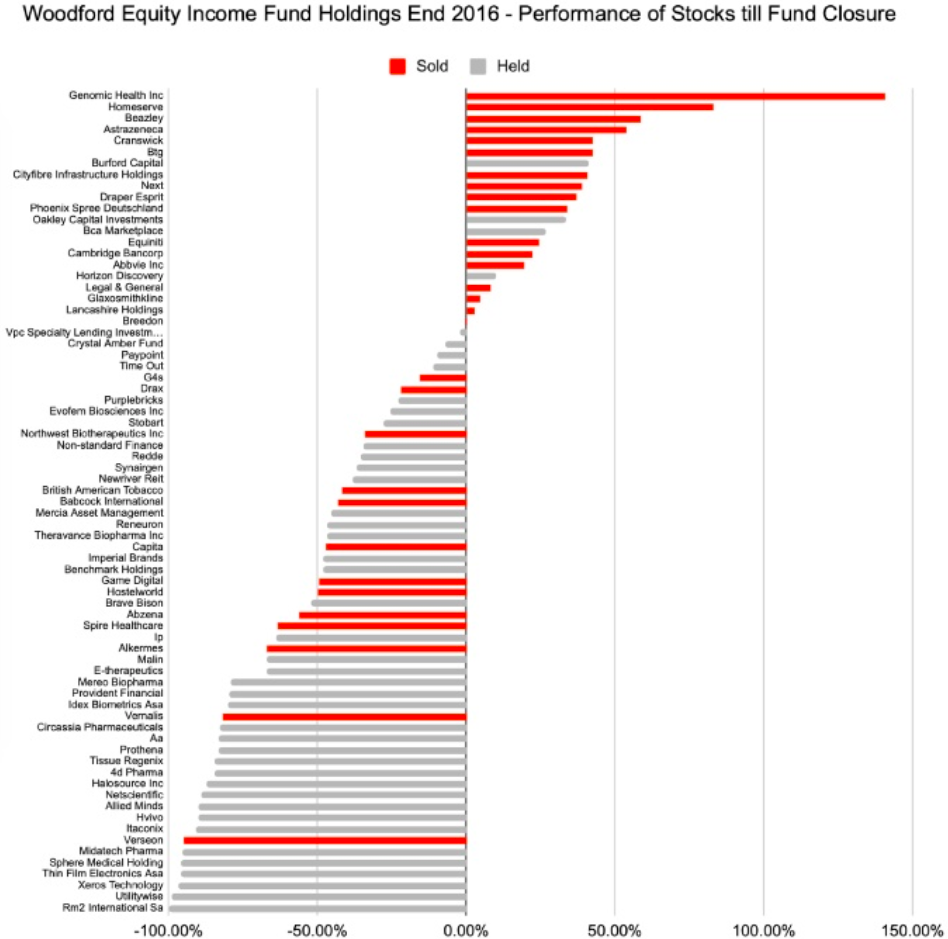 This look at RiskRatings, volatility and liquidity is just one filter through which we can analyse what happened here.
In their research into Woodford, Ed, Ben and Zoe have been able to generate many valuable insights into this whole saga. If you haven't already, it is well worth watching Ed's recent webinar presentation on the subject.
You can also find the deck of 100 slides on SlideShare.
One of the more important lessons to take away from all this research is that what happened here could happen at other funds. The same latent risks and liquidity mismatches have been planted across the industry like landmines.
The question of whether the open-ended fund format is compatible with illiquid assets remains to be answered. As we speak, the Bank of England and the FCA are reviewing 'the effectiveness of measures that are already used to deal with misalignment of redemption terms and asset liquidity.'
There are signs fund managers can expect higher levels of scrutiny because of as a result. Several fund managers have already been told by their authorised corporate directors that their funds could be suspended if they do not quickly increase fund liquidity.
It seems this story might not end with Woodford.