When we launched the 2020 Stock Picking Challenge late last year, it's fair to say that nobody was predicting the kind of drama we've witnessed in the first quarter.
Coronavirus is causing misery for many people. And from an investment standpoint, the sudden and severe economic impact has plunged markets into turmoil.
Earnings are unknown, forecasts mean nothing, valuations are difficult to gauge. It's hard enough to predict what will happen next week, let alone how equities might move over the coming months.
But of course not all stocks have been beaten back; there have been some winners. In fact, the winning stock selection in the Stock Picking Challenge in the first quarter of the year managed a stunning return of 161.8%.
That portfolio was entered by Rich The Newbie, and we've chatted to him about what he did to achieve it. He'll very shortly be taking delivery of a collection of our favourite investment books. But before we look closer at Rich's winning portfolio and some of the other highs and lows of Q1, here's a reminder of what the Stock Picking Challenge is all about...
Your top stock picks for 2020
Last December we launched a competition for investors everywhere to give us their top five stock picks for 2020. For the holder of the best performing selection over the year, a trip to New York City awaits. In the meantime, we're keeping a close eye on the performances and reporting back every three months on what we see.
In all, there were 2,153 entrants to the challenge…
Given that everyone picked five stocks each, that's 10,765 stock picks in total
Overall, 2,446 different stocks were picked...
1,123 were UK shares
1,323 were international shares
62% of entrants were Stockopedia subscribers and 38% were non-subscribers
Market trends
In the early days of the contest it was clear that the kinds of sharp percentage gains and losses you get in small, illiquid shares was having a big influence on the best and worst performing portfolios. This was something that Ed predicted might happen in his challenge webinar, which you can see here.
Triple (and even quadruple) digit gains in individual shares were catapulting some selections to the top of the board. Often these would unwind quickly, which meant there was quite a lot of churn at the top of the leaderboard - which you can find here.
As the weeks progressed, this heavy influence of high volatility portfolios settled down and other strategies started paying off. US large-cap tech was a big winner in the quarter. Owning Tesla, for example, looked like a smart move. But any kind of exposure to FAANG stocks would have seen you rack up strong gains right through until mid-February.
The initial bump in the road, which is now insignificant given what followed with Coronavirus, was an oil price war. This was important because Energy was the most popular sector pick among non-subscribers. It was also fairly popular with subscribers, although Stockopedia users tended towards more cyclical and economically sensitive sectors. The most popular stock pick out of all of the selections was RockRose Energy, a UK oilfield developer with a high StockRank. In total, 174 people picked it as one of their selections.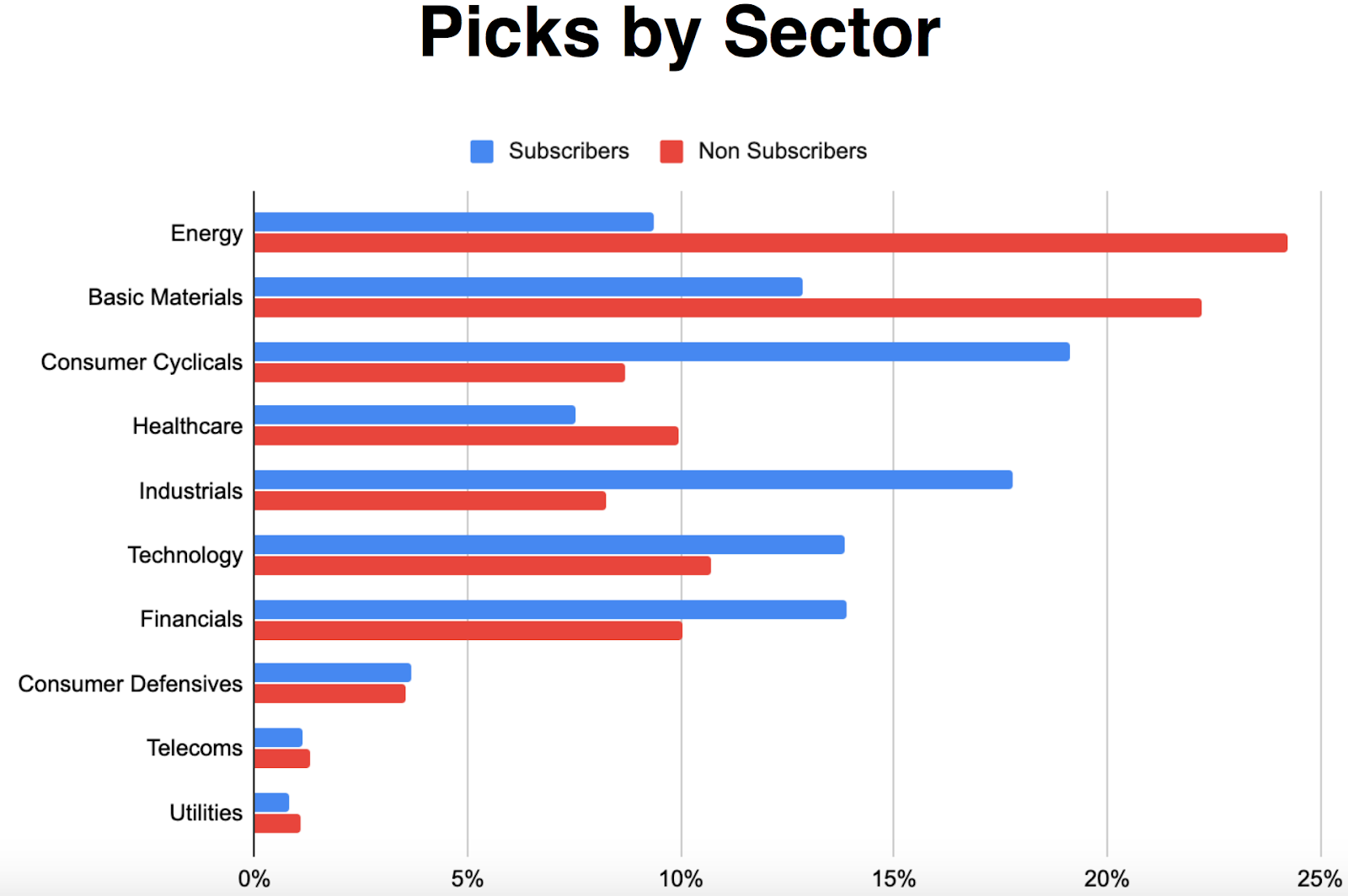 In simple terms, Opec and Russia fell out over policy in early March and Saudi Arabia started a price war by promising to boost supply. Initially, the oil price fell by 25% but the dramatic collapse in demand caused by the global pandemic is now a much bigger influence on the price, which has continued to fall. Generally speaking, it was all pretty bad news for the small oil & gas companies that are very popular with PIs.
It was February 21 when world stock markets began to sell off heavily. Over the course of a month, the FTSE 100 slumped by 30%. Where next? Who knows. But for the Stock Picking Challenge entrants, the average loss was around 30%.
On a brighter note, the top 10 performing portfolios all generated returns of between 33.8% (that was Doog in 10th place) and 161.8% (Rich the Newbie).
The overwhelming trend in those portfolios is towards small-cap biotech and pharma stocks, with most selections relying on one very big winning holding. Those winners included shares like Co-Diagnostics Inc, Ibio Inc, Greatland Gold, Trillium Therapeutics Inc and E-Therapeutics.
One exception to all this, in 9th place, was jasonman107, who deployed a large-cap tech strategy and had the foresight to include video comms group Zoom in his holdings, which soared on the shift to home-working.
But at the end of the quarter the biggest winning stock was Synairgen, which racked up a staggering 955.3% gain in Q1. Inevitably, this is a drug discovery firm working in respiratory diseases. It was enough to propel two portfolios to the top of the leaderboard - SeaRd, who recorded a 145.2% return overall, and Rich the Newbie, who took the Q1 win.
Richard's selections included Arix Bioscience (-45.1%), FastForward Innovations (-22.8%), JKX Oil and Gas (-32.7%), Pharmaxis (-35.1%) and Synairgen (+955.3%).
So why did Richard pick Synairgen? We asked him and here's what he had to say:
I'd had limited success on the AIM casino, with the occasional big win, but also lots of poor companies with management that included liars, incompetents, and con men. So a couple of years ago I decided to try a new approach, and started trying to wade through every AIM stock, essentially with my focus on very low market caps and that weren't aggressively diluted.

Once I removed all the zombie/ shell companies, investment companies and ones that regularly diluted like chucking out confetti at a wedding, I further ruled out companies with popular social media followings. Not only is that often a warning sign, it means that's a pool of people already invested, and reduces the chance of "the herd" buying in later.

After that it was a case of reading through the history of the RNSs from a number of different companies and trying to get a feel for the ones that had the most potential. Synairgen looked very credible to me and I could see wide application for their principle of inhaling interferon beta and the reason it had been dropped by major looked hasty. So I started to invest in them and at the time of this Stock Picking Challenge starting, they were approaching the quarter or two where results were expected from a trial to confirm their drug does indeed work.

Of course, being a broad-spectrum antiviral that helps with respiratory conditions, it's no surprise it's been further picked up and being trialed in conjunction with NHS assistance, which inevitably has boosted the stock price even further. I was originally targeting 50-200p (or more) on success of their trial but the virus outbreak has meant we got into that range before the trial was even concluded!

So, it was definitely not very scientific, but rather trying to fish the gems out of the murky pool of companies that many more sensible investors wouldn't touch or would rule out with sensible numbers-based criteria.
Congratulations to Richard on an excellent result.


What's next?
Looking ahead to Q2, it's obviously a very uncertain time for investors. Doubtless, given the chance to make those selections again, many of us would be rethinking our strategies in the face of a very different stock market landscape. In terms of companies, we've already seen some early casualties from this crisis and there are bound to be more as the economic fallout continues.
On that note, there was an interesting article by James Montier recently on some of the classic behavioural reactions to these kinds of market conditions. He wrote:
"Bear markets are generally characterised by low valuations, which we can see across global markets today. We would all do well to remember that, as Sir John Templeton put it, "The time of maximum pessimism is the best time to buy." Of course, no one knows exactly when we reach peak fear, but buying cheap is a good start."
Safe Investing.